If we had to give one practical skill learned or improved in 2020, cooking would be one of them. At home for the better of part of the year, we've cooked for our families, partners days after day. To renew the enthusiasm for everyday cooking, here are recipes from around the world we particularly enjoyed on our journeys across Europe and Beyond. And what better way to calm our itchy feet than by trying out new foods from around the world? From a family-friendly dinner of crèpes to Moroccan tagines, we kept it simple with dishes you'll want to cook again and again.
1. Chicken Tagine with olives and lemon (Morocco)
The ubiquitous dish of Morocco, tagines, come in all kinds of flavors and forms you'll be sure to experience abundantly on our Best of Morocco journey. Whether with Chicken, lamb, beef, or vegetarian, each tagine serves exciting combinations of sweet and savory ingredients. We've picked just one for you to start with, but by no means stop there. We love the fragrant blend of saffron, ginger, tangy lemons, and olives that works year-round.
Curious to try, here's our suggested recipe.
2. Wiener schnitzel (Austria)
No trip to Austria would be complete without a wiener schnitzel. Simple and yet so satisfying. What we love about wiener schnitzel is that cooking it is just as enjoyable as eating it. The satisfaction from pounding those veal or pork cutlets to quarter-inch thickness, the rhythmic dipping into flour, eggs, and breadcrumbs routine, and the sizzling in the pan until you get that golden, crispy crust makes this easy fun in the kitchen. Serve it with a potato salad, and no doubt you'll be as relaxed as on our Easy Pace Budapest, Vienna & Prague trip.
Time to pound, pound and pound those some more with this recipe here
3. New York Cheesecake (USA)
This silky, smooth dessert is mouth-watering, and while we are focusing on the classic version here, cheesecake also offers endless possibilities for the serious sweet tooths out there. Whether chocolate, Oreo cookie, strawberry, lemon, salted caramel, let's be honest, there is no wrong way to experience this all American classic.
Give it a try with this recipe:
4. Gazpacho (Spain)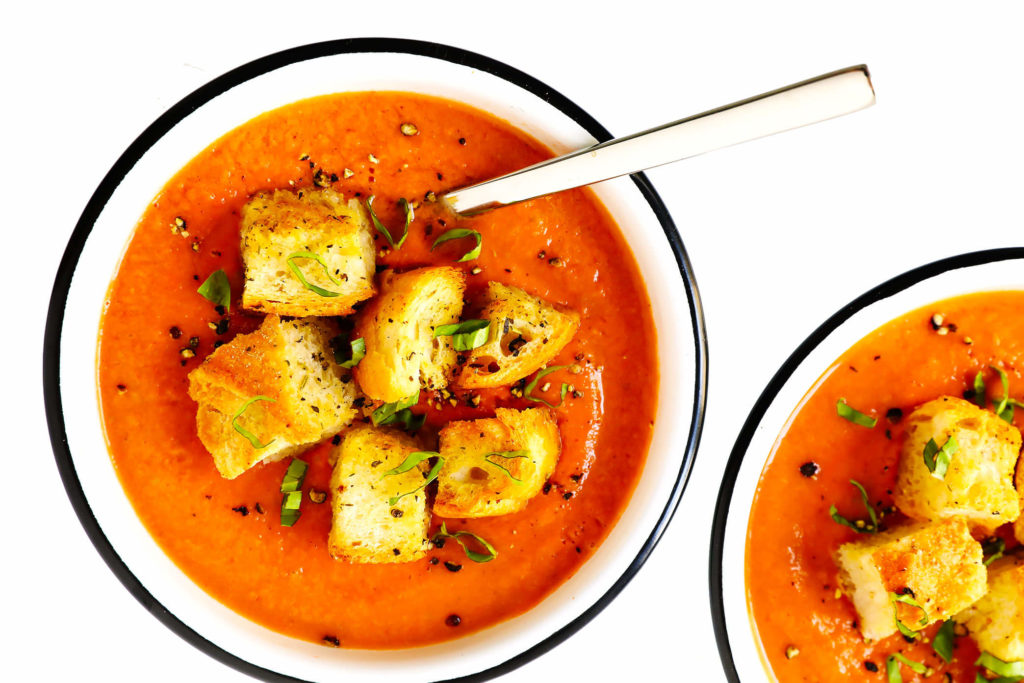 Enjoyed too much cheesecake last night and need a refreshing, light lunch for tomorrow? Think no further than Gazpacho. You will find this staple Andalusian dish on most menus across the Country Roads of Andalucia trip, and there's a good reason for it. Refreshing and nutritious this chilled soup is perfect for those hot summer days. We recommend waiting for tomato season, though, as this summer soup is only as fresh and delicious as its ingredients. And what's not to love about a no-cook dish ready in about 20 minutes?
Curious for a taste? Why not try this recipe
5. Crèpes (France)
A classic of Brittany you will likely discover on our Normandy, Brittany & The Loire Valley journey, what we love about crèpes is that work for breakfast, lunch, or dinner. Yes, purists will distinguish between sweet and savory crèpes; the latter is usually called galettes and made with buckwheat flour. However, if you'd like to keep it simple, using plain flour for both also works. The best part of a crèpe party is how creative you can get. For savory, try goat cheese and spinach filling or stick to the classic ham and cheese. And for dessert, why not give crepe Suzette a chance? You'll be sure to impress!
https://www.delish.com/cooking/recipe-ideas/recipes/a52114/easy-basic-crepe-recipe/
6. Butter Chicken (India)
A Classical India journey must include one of India's most loved, Chicken Makhani, butter chicken. We love it for its accessibility, as India's cuisine can overwhelm the senses. It's not a butter sauce, as French cuisine has, but a tandoori-inspired dish reinvented with the addition of butter for a creamy and smooth texture. Eaten with rice or Naan, the buttery sauce will convince any curry-skeptics or spice-averse foodies.
Find here a recipe by british chef Gordon Ramsay.
7. Pizza Margherita (Italy)
The original pizza from Naples, Italy, is just a classic we can never get bored of. Leave the everything pizza out the door, and welcome this timeless and delicious classic, enjoyed for centuries by all Italians. Sure, you might not have the wood-fired oven that will have to wait for your next visit to Naples on Country Roads Of Puglia & The Neapolitan Riviera. That said, resisting the urge of ordering in and preparing the dough and the sauce for a homemade version will get you feeling like the real deal!
Get your pizzaiolo hat on with this recipe.
8. Shakshuka (Israel)
For Mediterranean flavors reminiscent of our Israel & Jordan journey, we turn to Yotam Ottolenghi for inspiration. The perfect dish to spice up your brunch, Shakshuka is originally a North African dish brought to Israel by Tunisian Jewish immigrants. Made popular a few years ago, Shakshuka has traveled the world and taken the brunch world by storm in the last few years – and no reason it shouldn't continue doing so. The fragrant, stewed tomatoes, combined with eggs, has everything going for it.
Find our recipe suggestion here.