Humans love to travel. From camel caravans along the Silk Road to the ease of air travel these days, we have enjoyed exploring since it became possible. It opens our minds and helps us understand different cultures and ways of life. Even in the past 18 months, while many of us spent more time at home than ever, we planned our next adventure.
Travel is an industry that is constantly evolving, adapting to suit the needs of the latest traveler. Sustainable travel is a priority for more and more people, as we realize the importance of protecting our planet.
At Insight Vacations, sustainability has long been a focus for our company. Along with the other brands in The Travel Corporation, we helped found the TreadRight Foundation in 2008 to have a positive impact on the people and communities we visit. The TreadRight Foundation supports sustainable initiatives all over the world, helping us MAKE TRAVEL MATTER® for our planet, people and wildlife. We have also established a five-step Climate Action Plan to achieve carbon neutrality by 2030 at the latest, phasing in carbon-neutral trips for our guests.
We believe travel can – and must be a force for good. Insight Vacations guests will find MAKE TRAVEL MATTER® Experiences on our tours, which support local employment and heritage. These help you discover more about each destination while knowing that your travel money is being spent wisely. Each one is carefully chosen and approved by sustainable tourism experts.
Choosing Carbon Neutral Cities for Your Visit
Many countries around the world have developed progressive plans for carbon neutrality. From cycle lanes to renewable energy, global cities are adapting to an eco-friendlier way of life.
Insight Vacations can also discover sustainable cities on their vacation, supporting your own quest for carbon neutral measures. We have selected five of the top sustainable cities we visit on our tours to help you discover your next getaway.
Vancouver, Canada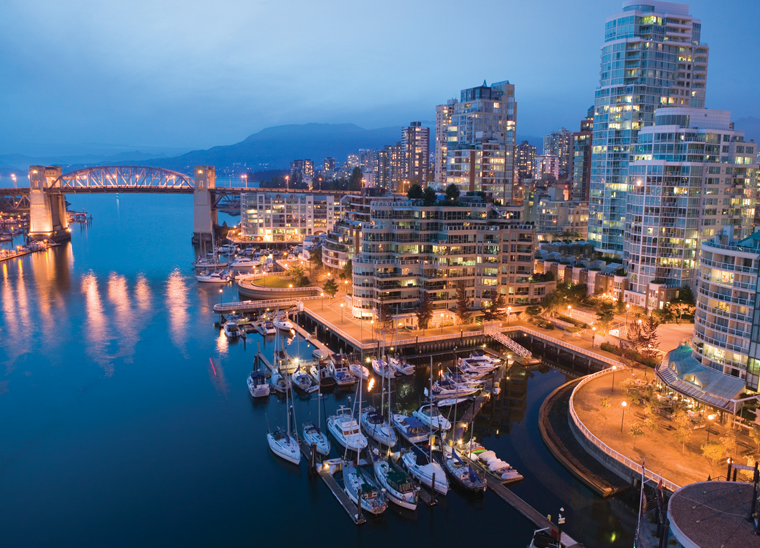 Guests traveling on the Canadian Rockies & Pacific Coast tour with Insight Vacations arrive in the greenest city in North America, Vancouver. Not only does it have the ocean, mountains and thick forests all within easy reach, but the city itself is a pleasure to visit.
Vancouver currently sits ninth on the list of the world's most sustainable cities, but it also launched the Greenest City Action Plan in 2015, full of achievable and measurable targets to make it more eco-friendly. It runs on more than 90% renewable electricity, which is in part due to its access to hydroelectricity.
Eco-conscious guests will love walking around the city. There have been 139,000 trees planted since 2010 and many public buildings and hotels have green roofs, which help manage rainwater and provide a habitat for bees. Vancouver Public Library has an accessible rooftop garden populated with drought-resistant native plants, which is wonderful to visit any time of year. The 28-kilometer Seaside Greenway is the longest uninterrupted waterfront path in the world, and visitors can grab a bike from the public share bike system for a greener way to enjoy the sights. The Stanley Park Seawall is glorious at sunset.
Vancouver aims to be zero waste by 2040 and already has the lowest greenhouse gas emissions in North America. This movement is reflected all over the city, from grocery stores to bars and cafes. Check out Nada, the zero-waste grocery store with attached plant-based café, Kind.
Reykjavik, Iceland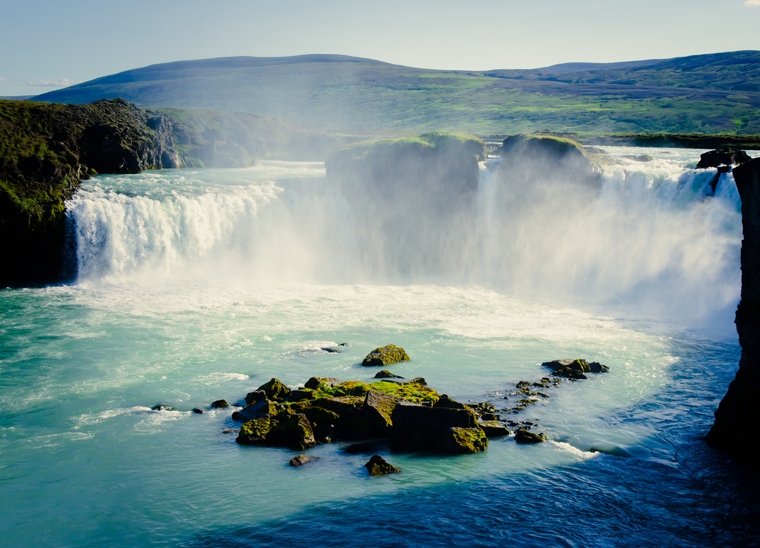 Reykjavik has set itself some lofty goals in terms of sustainability over the next 20 years. It aims to be entirely fossil free by 2050. However, no other country on earth uses such a large proportion of renewable energy resources versus fossil fuels. There are advantages to being built over a volcano.
The space is noticeable when visiting Reykjavik, as just over 126,000 people live in the city. Nine out of ten people live less than five minutes from a green space. New cycle paths are being added constantly and the public buses run on hydrogen.  Electric car use is encouraged for the 9,000 public employees by offering free parking and lower taxes.
Given that Iceland is known for its hot springs, it's no wonder that geothermal energy powers all the buildings in the city. Clean energy fuels industry, warms homes and even lights the greenhouses that produce most of the vegetables eaten in the city. It's estimated that over a 60-year period, this has reduced carbon dioxide emissions into the atmosphere by 110 million tonnes.
In terms of sustainable travel, Iceland is one of the most unspoiled countries on earth, with natural wonders such as geysers and luminous blue icebergs to discover. Travelers can visit Reykjavik on the Natural Wonders of Iceland tour with Insight Vacations, which starts and ends in the city.
Cape Town, South Africa
Cape Town's rapid response to severe drought has progressed its position in the table of global green cities. It began a sustainable development program back in 2004 and over the past few years it has reduced its water use by 60%. No other city in the world has achieved so much in so little time. It also uses wind farms to source renewable energy, with more than 10% of the city now getting their energy from renewable sources.
South Africa was the first country in the world to adapt a sustainable tourism policy, leading the way in 1996. The Cape Town Declaration, formed in 2002, aligned with the policy and became the foundation for the World Tourism Awards.
Hotels and restaurants lead the way with eco conscious water and waste initiatives. Visitors can check out The Test Kitchen, which has a menu designed around minimal water usage. Camphors at Vergelegen is another choice, situated on a historic wine estate on the edge of Cape Town. It was recently a recipient of the Eat Out Woolworth's Sustainability reward, which honors restaurants that seek out responsibly sourced local ingredients, support humane farming and provide fair labor conditions.
It's also incredibly beautiful. Surrounded by awe-inspiring landscape, the opportunity to get out in nature is ever present, boosted by the good weather that never gets too hot or too cold. That has helped cycling become popular, and tourists can take advantage of safe-cycle routes and even bring bicycles on board the bus for no extra charge.
Travelers can visit this amazing city with our sister company, Luxury Gold. The Spectacular South Africa tour spends five days in the Mother City, staying at the 12 Apostles Hotel & Spa, an eco-conscious property where sustainability is key. They have reduced water waste by 42% and plan to remove all single use plastics by 2022.
Berlin, Germany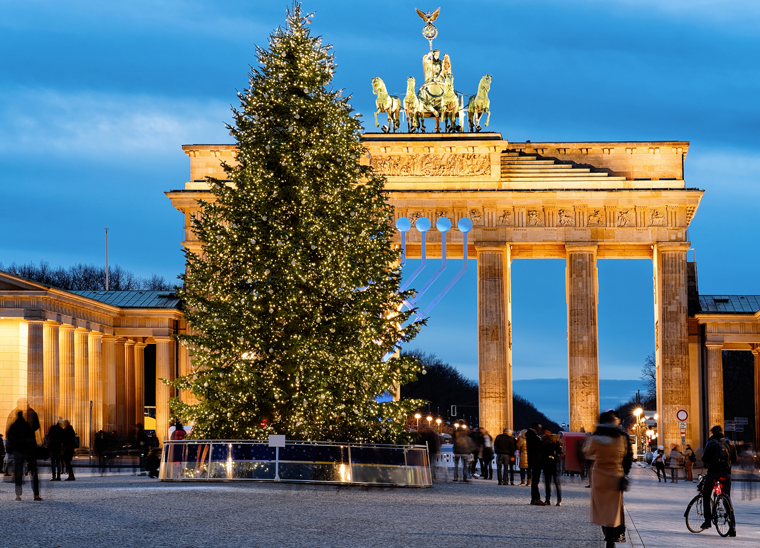 Long before it was fashionable to go green, Berlin was making sustainable choices. No matter which angle you view it from, it's clear that this is a city buzzing with renewable energy.
Eco-conscious guests can explore this thriving metropolis on the Insight Vacations Best of Germany tour, which begins with two days in the city. Since it has emerged from two World Wars, inhabitants have embraced self-sufficiency. It's common for people here to grow their own vegetables and learn how to make their own furniture with regular workshops scheduled.
Visitors are spoiled for green space too, as more than 30% of the city area comprises parks and woodlands. Almost everywhere you go, you'll find tree pits and creative urban gardening initiatives. The flourishing Schöneberger Südgelände natural park is home to 30 different bird species, 95 kinds of wild bees and over 350 types of plant.
Berlin has been ranked as a vegan and vegetarian capital, and you'll find that much of that produce has been grown locally in community gardens. Supermarkets, restaurants and hotels are all adopting glass-walled vertical farming units, which makes the shortest food supply chain possible. At Good Bank, customers can actually see their lettuce growing!
Residents are sharing cars and teaming up to ride in electric cars, with 400 charging points installed around the city. You'll also see plenty of cyclists as the self-service public bike hire stations are located across the city.
If you want to explore Berlin's latest green trends, there are dozens of city tours including GreenMe and the 'Future Berlin' bike tour. Your Local Expert or Travel Director can provide more details on the latest tours.
Amsterdam, The Netherlands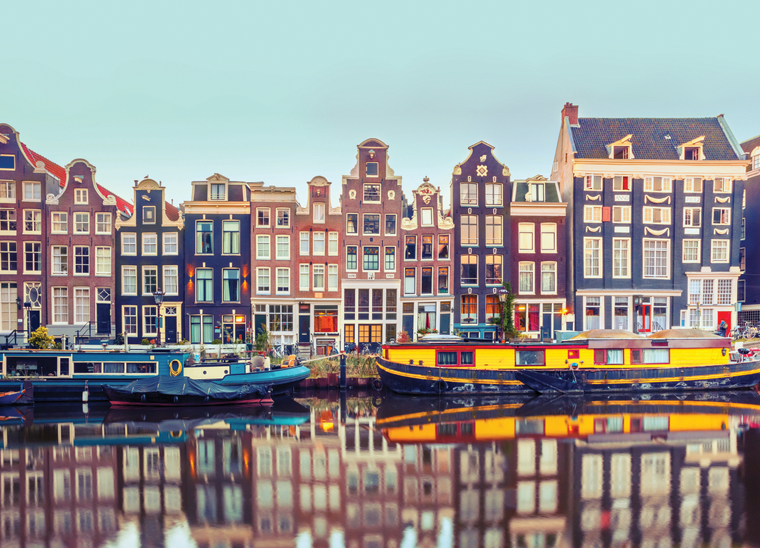 When you think of Amsterdam, bicycles are likely one of the first things to come to mind and that's because they are the common means of transport in the city. Even those who drive are likely to own an electric car, because there are 300 different charging points around the city.
However, Amsterdam's sustainability stretches far beyond its devoted cycling population, it has had an ambitious climate action plan in place since 2013, aiming to decrease CO2 emissions by 55% in 2030 and 95% by 2050. The city operates on a circular economy, which means that where possible products and materials are reused and production chains minimise use of resources.
The circular economy can be seen in action in De Ceuval, the creative hub of the city, located on the river in the north of Amsterdam. This bohemian hangout features cafes, workspaces and event venues that have been made out of repurposed houseboats and the waste from restaurant kitchens fertilizes the fruit trees in the area.
Visitors can check out the many farmers markets dotted around the city selling locally produced food and drinks. Take some time out at the 47-hectare Vondelpark to see the wild parakeets or admire 150 different species of trees.
If you'd like to spend some time in eco-friendly Amsterdam, join Insight Vacations on the Country Roads of Belgium, Luxembourg and the Netherlands tour. You will spend three nights in the city, giving you plenty of time to discover its picturesque canals and eco-conscious vibe.
Take the Pledge to MAKE TRAVEL MATTER®
Taking care of the planet is integral to sustainable travel. As an Insight guest, you can join us in making a positive impact through your travel. We invite our guests to join us and sign the Make Travel Matter pledge to protect the planet, people and wildlife.