In June, cities around the world will be awash with rainbow flags and people taking to the streets in celebratory parades. Why? To celebrate Pride – a movement about love and understanding started by the LGBTQ+ community in the United States. The month of June was chosen as that was when the Stonewall riots took place, a historic turning point for gay rights in America. Every year, the community can celebrate being out and proud, as well as promoting tolerance and educating people around the world about LGBTQ+ rights.
Insight Vacations is proud to fly the flag for our team members and guests during Pride Month. Diversity and inclusion are part of our core values as a company. We have more than 75 members advancing diversity and inclusion in TTC IDEA, our employee-led global platform to promote positive growth and we began a Silver-level partnership with the international LGBTQ+ International Travel Association in 2019. Increasing inclusion and diversity across all the brands within the Travel Corporation (TTC) is goal number 9 on our How We Tread Right strategy, with firm commitments in place for the next five years.
In line with Pride Month, we thought we'd shine a light on Denmark, a brilliant destination on our Grand Scandinavia tour. Denmark ranks highly as a LGBTQ+ Top Destination due to its tolerant atmosphere and friendly people. As well as being super welcoming for LGBTQ+ visitors, it offers excellent cultural sites, fascinating history and superb foodie experiences. If you're looking for somewhere to celebrate Pride, look no further.
Wonderful, Wonderful Copenhagen
The World Happiness Report 2020 by the United Nations ranked Denmark in second place, and with two cities in the top five for happiest citizens, it's clear that the Danes know something about a balanced life that many of us don't.
When you land in Copenhagen for the Grand Scandinavia premium guided tour with Insight Vacations, you quickly see how much it has to offer. Firstly, it's as colorful as the rainbow, from the brightly painted townhouses that line the 17th century harbor to the glittering lights of Tivoli Gardens, the 175-year-old theme park that inspired Walt Disney. Down quirky little alleys, you'll find eclectic stores and bodegas so you can shop or drink to your heart's content.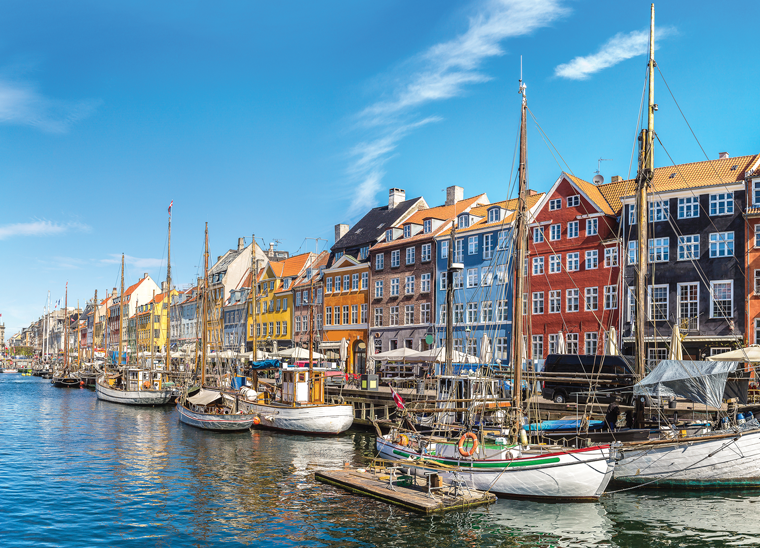 During the summer, temperatures hover around an average of 21 degrees, making Copenhagen a lovely place to dine al fresco between June and September. Join your Local Expert on a morning tour to see the architecturally stunning Christiansborg Palace, Amalienborg Palace and the unusual Round Tower.
When to Visit for Colorful Events
Although Pride Month is celebrated in June, Copenhagen has fantastic events for the queer community throughout the year. It has two Pride weeks – one in the middle of August and the other held on the first week of February, so choose your season or come for both.
The city hosts the MIX Copenhagen LGBTQ+ Film Festival in late October and this year, the most inclusive sporting event ever, World Pride & Euro Games is coming to Copenhagen from 18 – 20 August 2021. 6,000 international athletes will walk the Proudest Mile in the World at the opening ceremony. 29 different sports tournaments will take place with female, male and non-binary players, and some sports will have mixed gender teams.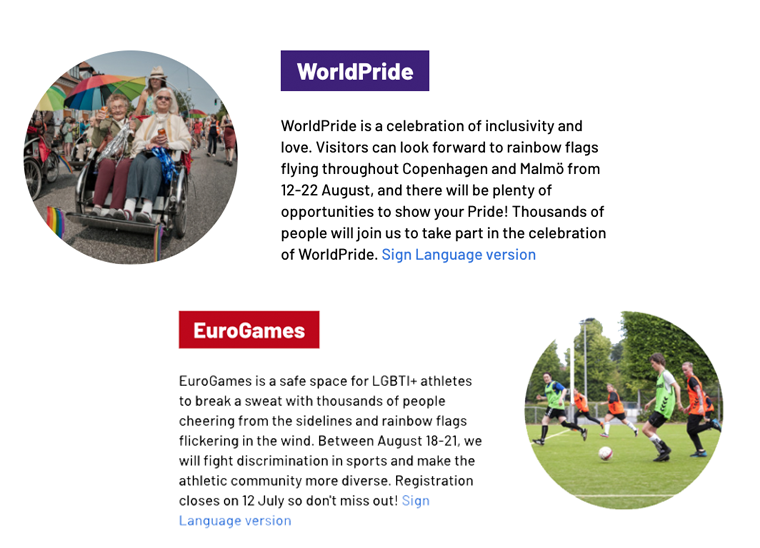 Back in 2009, Copenhagen held the World Outgames, where the slogan was "Love of freedom. Freedom to love." It's a concept that the city and country embrace.
The people of Copenhagen are welcoming and friendly; it's an open society where tolerance is standard. For this reason, when some people ask where the LGBTQ+-friendly areas are, most inhabitants will open their arms to indicate the whole city.
A Frontrunner for LGBTQ+ Rights
Denmark was one of the first countries in the world to decriminalize relations between men, which happened in 1933. LGBT Denmark was established in 1948, making it one of the world's oldest LGBTQ+ organizations in existence today. More recently, Denmark has been improving its rights for transgender citizens, becoming the first country in the world to allow transgender people to change gender legally, without any surgeries or hormone treatments.
Copenhagen is home to the world's oldest gay bar too, Centralhjørnet, which visitors can check out in the Latin Quarter of the city. The nightlife scene is gay-friendly throughout the city, but for some super Pride celebrations head to the area around Studiestraedet where the liveliest bars and nightclubs are.
The Erotic Museum presents both heterosexual and homosexual history side by side, in stark contrast to many other countries' repression of such art. A visit to Rainbow Square is also recommended, which received its name in recognition of those pursuing equal rights. It is located next to the City Hall Tower.
On the Grand Scandinavia premium tour, you have plenty of leisure time to get out and enjoy everything that Copenhagen has to offer. Don't forget to sample some of the incredible food here, whether you visit one of the local food markets or a gourmet restaurant. The city is known for its culinary flair.
Delving Further into the Danish Way
Aarhus is another gay-friendly city in Denmark, which you can visit on Insight Vacations' Scandinavian Heritage tour.
The arty city hosts a Pride parade in June every year that the majority of the city's inhabitants attend. It culminates in a festival at Officerspladen outside the ARoS Aarhus Art Museum and it's a joyous event that everyone is welcome to join.
Café Sappho is a center for many LGBTQ+ associations in Aarhus, while G-Bar is a fantastic place for a great night of revelry.
Out and Proud in Denmark
There's an incredible amount to please all ages and preferences in Denmark. Whether you come for the maritime history or marvellous architecture, the cutting-edge design or the funky nightlife, the country has something to please everyone.
If you'd like to end your tour in Copenhagen to coincide with one of the many vibrant LGBTQ+-related events, another option is the Country Roads of Scandinavia too, which also takes in neighboring gay-friendly Norway.