Where Prosecco is from
Sitting between the Alps and the Adriatic Sea, the historic hill town of Conegliano in Northern Italy is the epicenter of Prosecco production. Coneligano and the surrounding hills of the Veneto are a winemaker's dream; protected from the harsh northern European climate by the Alps, this aromatic, Italian sparkling white wine has been produced here since Roman times.
A controlled designation of origin (DOC) product, Prosecco DOC can only be produced within this region according to approved practices and strict quality control. From Conegliano to Valdobbiadene, the Glera grape, from which Prosecco is made, grows in lush hillside vineyards that thrive due to the area's cool climate. What's more, a staggering 8,159 Prosecco wine estates and 269 sparkling wine producers are active here, proving that our thirst for Prosecco shows no sign of being quenched.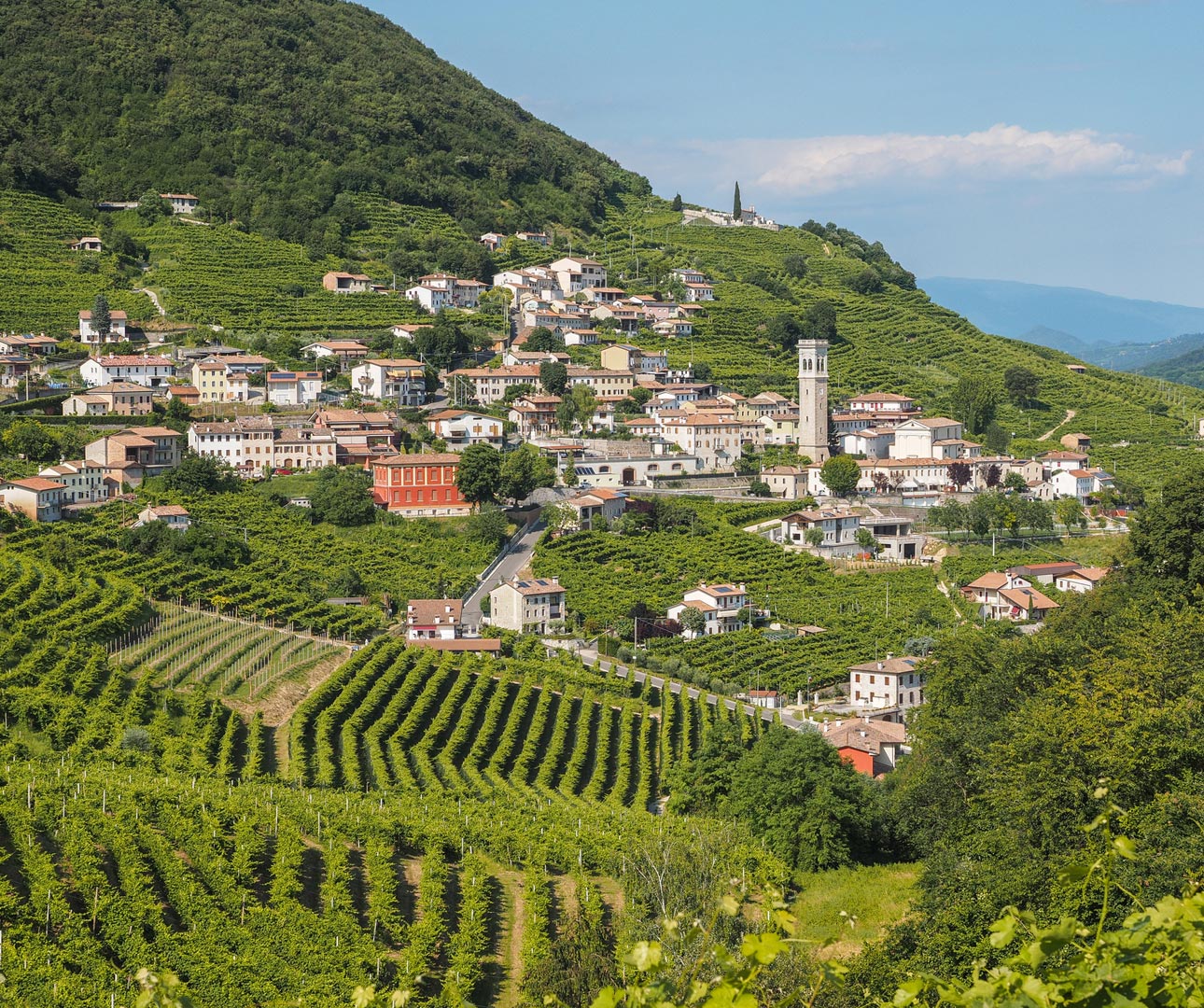 A short history
Despite its current popularity, Prosecco has a long and storied history, tracing its roots all the way back to ancient Rome. Some of the first references to this type of winemaking come from the village of Prosecco near Trieste, made using the juice of the Glera grape. By the 18th century, the region's wine production had expanded, but it wasn't until the 20th century that it spread to the low-lying areas of the Veneto and Friulu.
It was here that Prosecco's second fermentation processes were developed, a technical innovation that lead to the evolution of the wine as we know it today. This second fermentation process is also what sets Prosecco and Champagne apart. With Prosecco, the second fermentation occurs in large steel tanks, whereas with Champagne, the second fermentation takes place in the bottle. Unlike Champagne, Prosecco doesn't usually age well, and should be enjoyed young while its fruity flavors are still bold and bright.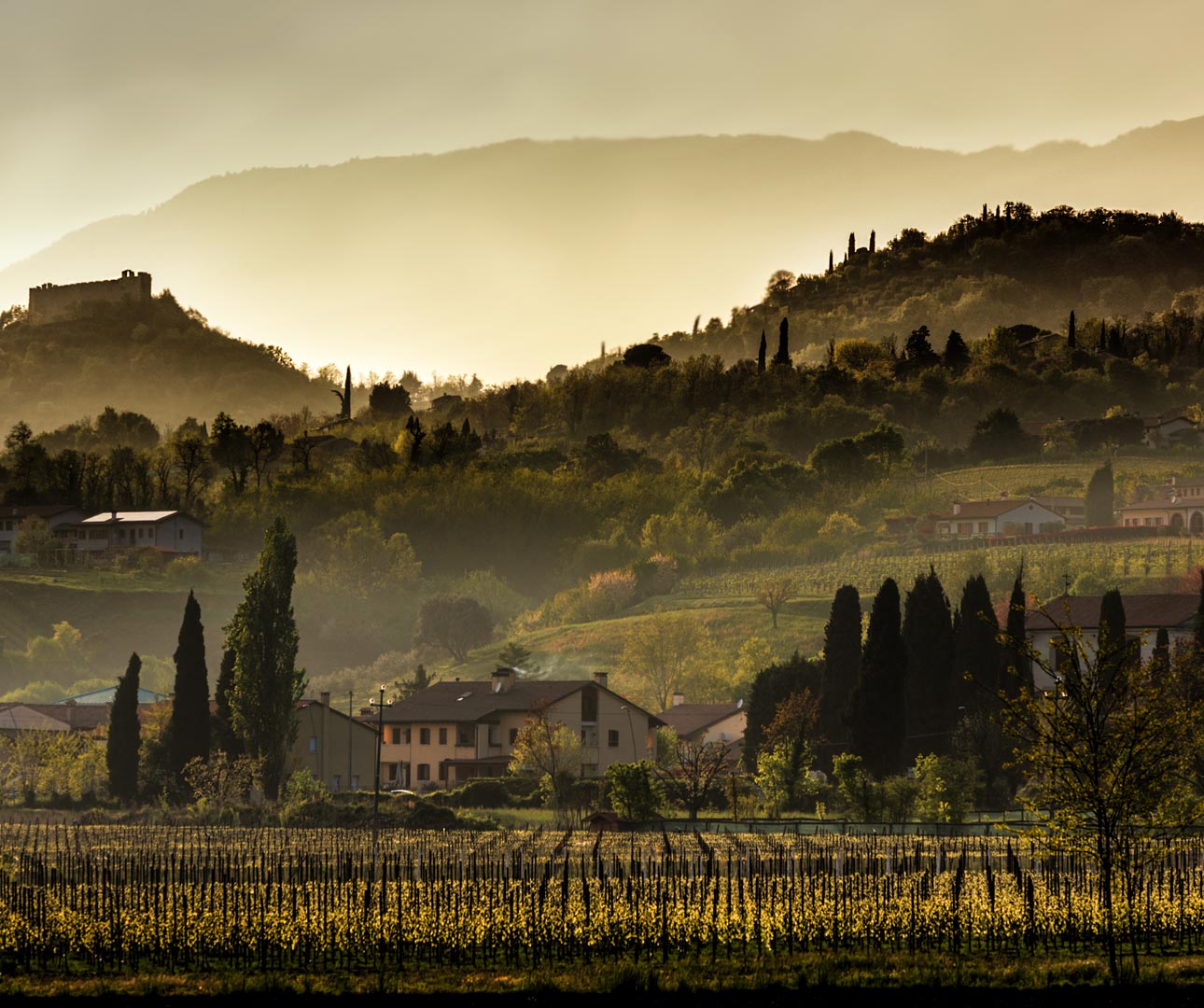 Sunset over vineyards in the Veneto © iStock/GitoTrevisan
As in Roman times, Italy's most famous sparkling wine is still made from the Glera grape, a semi-aromatic variety famous for its floral and fruity flavors. What's more, many of us don't realize that Prosecco can also be still as well as sparkling. Visit one of the vineyards around Conegliano and you may well be offered a glass of Prosecco Tranquillo, or still Prosecco. This is because Prosecco DOC can be either Frizzante (semi sparkling) Spumante (fully sparkling, and the most widely produced,) or Tranquillo.
Pairing Prosecco
Prosecco is typically paired with traditional Italian antipasti, and it works well as a fresh and fruity accompaniment to appetizer dishes. Drier varieties are perfect with salty prosciutto ham, plump olives, fragrant Focaccia bread and mild cheeses, while sweeter Proseccos can be paired with sponge cake desserts, Italian biscotti, sweet soufflés and parfaits.
Delicious served chilled as an aperitif, Prosecco also lends itself incredibly well to a wide range of cocktails. Classic Italian tipples that make use of this versatile sparkling wine include the famous Bellini, a blend of peach juice and Prosecco, as well as the popular Aperol Spritz, a blend of Aperol liqueur, Prosecco and soda water which is served with plenty of ice and a slice of orange. Make like a true Venetian and find yourself a table on one of the campo near St Mark's Square, the perfect place to enjoy a chilled glass of Prosecco as the sun sets over the Rialto Bridge and the locals take their evening passeggiata.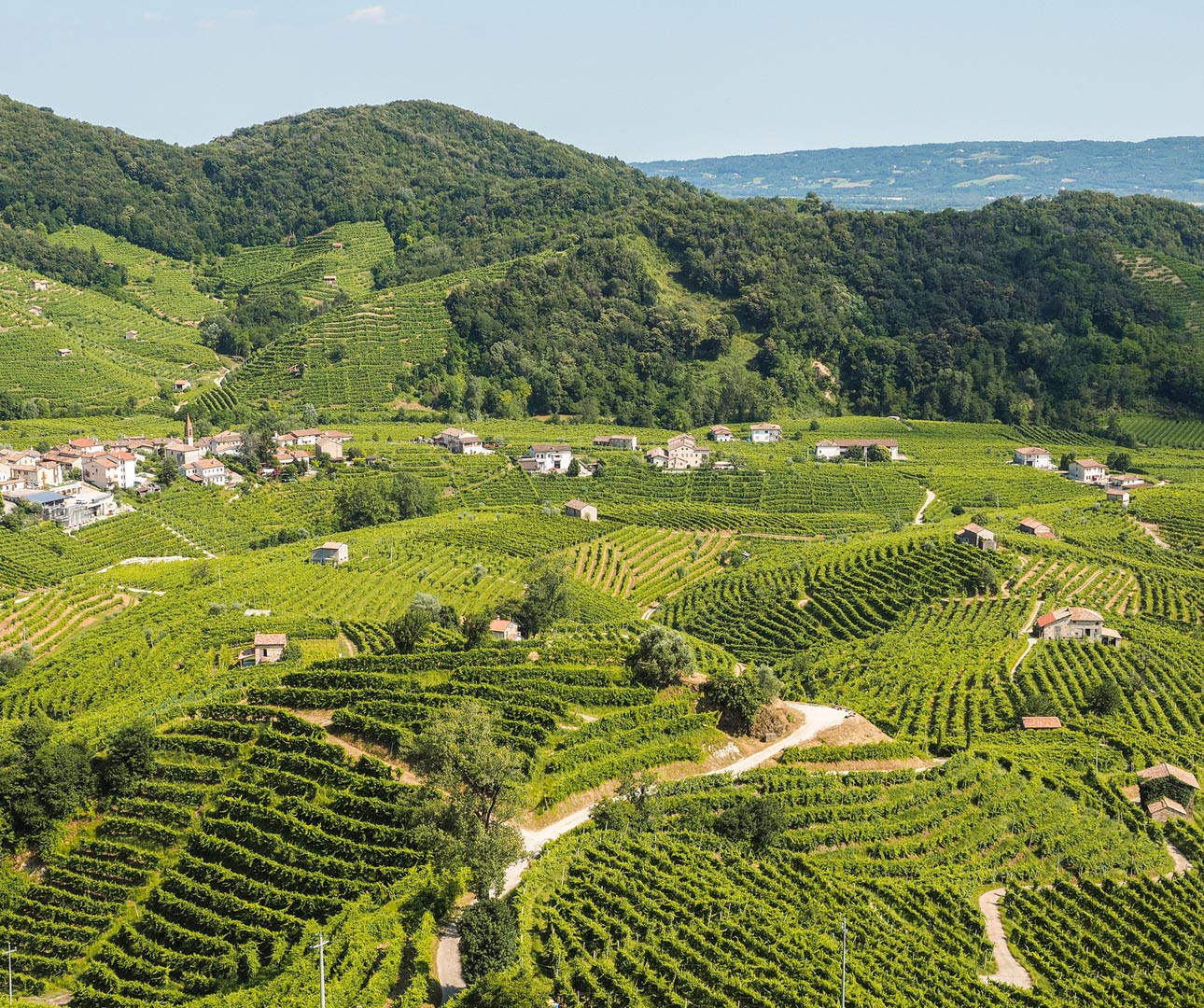 Vineyards in Valdobbiandene © iStock/okfoto
Interested in learning more about the gastronomy of Northern Italy and trying a glass of Prosecco Tranquillo? Book a place on Insight Vacations' Country Roads of Northern Italy escorted journey.