Welcome to the enchanting world of Delos, a Greek island jewel nestled near Mykonos in the cerulean waters of the Aegean Sea. Delos island is simply captivating, rich with history and intrigue. With the help of Greece Travel Director Nikos, we'll get a fascinating taste of this mysterious isle. Nikos, who is this week's Insightful Destination Expert, guides our curious travelers through Delos on his Greek island tours, revealing the secrets of this ancient archeological site. Get ready to uncover the essence of this untouched island and the captivating tales that await.
Visit Delos with Nikos or other Travel Directors on the Greek Island Hopper tour.
Nikos is this week's Insightful Destination Expert for Greece. Test yourself against his questions for your chance to win fabulous travel prizes.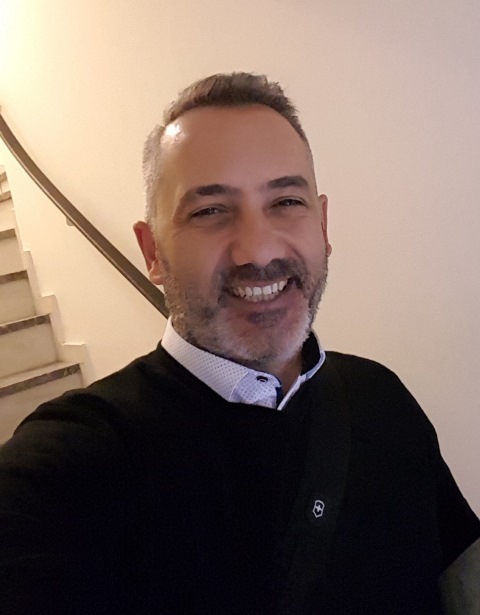 HI NIKOS. WHAT'S IT LIKE GETTING TO DELOS?
Delos is my favorite island to visit. But you have to choose the right day to visit an island like Delos. You don't want to torture your guests! 30 minutes sailing can be challenging. Especially in August, we have these Meltemi winds. These are crisp cool winds coming from the Balkans. They make you suffer if you're sailing the Aegean, they increase visibility and they make it fresh but sailing to Delos can be an…adventurous voyage.
Insight: Like the Odyssey?
Yes. You will reach your destination but sometimes you arrive wet, because you are splashed by the waves. And you have to leave early. As soon as you have breakfast in the morning you are called to go to Delos.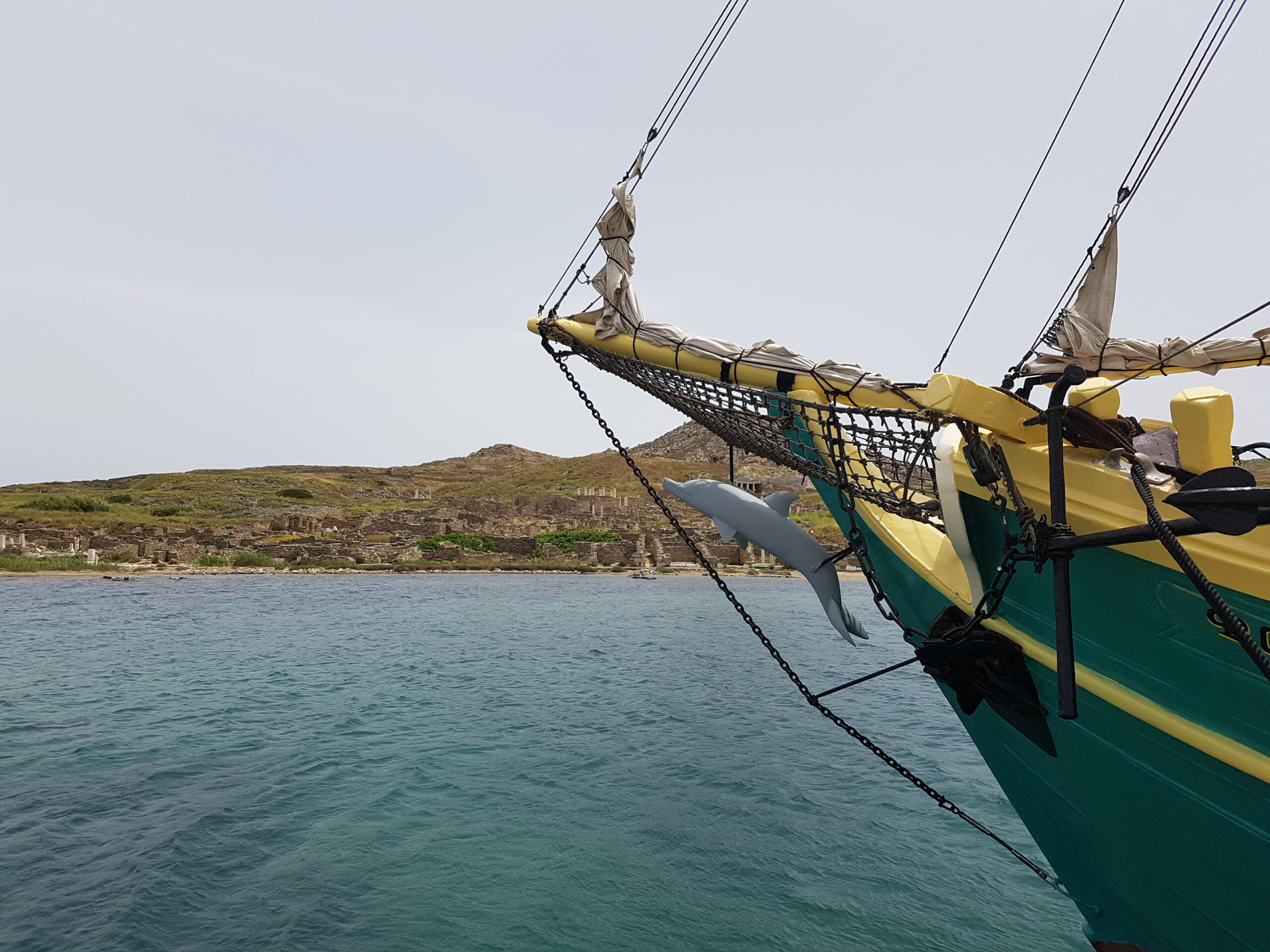 SO WHY IS IT YOUR FAVORITE?
It is a favorite exactly because it's not so much visited. It's very unspoiled so it's very pure and it allows your imagination to restore it, to revive it in your mind. There is so much to explore but you need to love archaeology. In order to use your imagination you need to be interested in this period of time. It's like Pompeii, the city is there and it has been exposed for centuries.
You're under the scorching sun. The strong winds are blowing. There is no tree to find shelter. It's not the easiest site to visit, but I love it because it's very unspoiled and very authentic. And there are a lot of places to visit. You don't have to go when you take the Greek Island Hopper tour, but the guests who chose to do it say that it was really memorable, exciting, and they never regretted it.
You may also like: Welcome to Athens, recently voted Europe's best cultural destination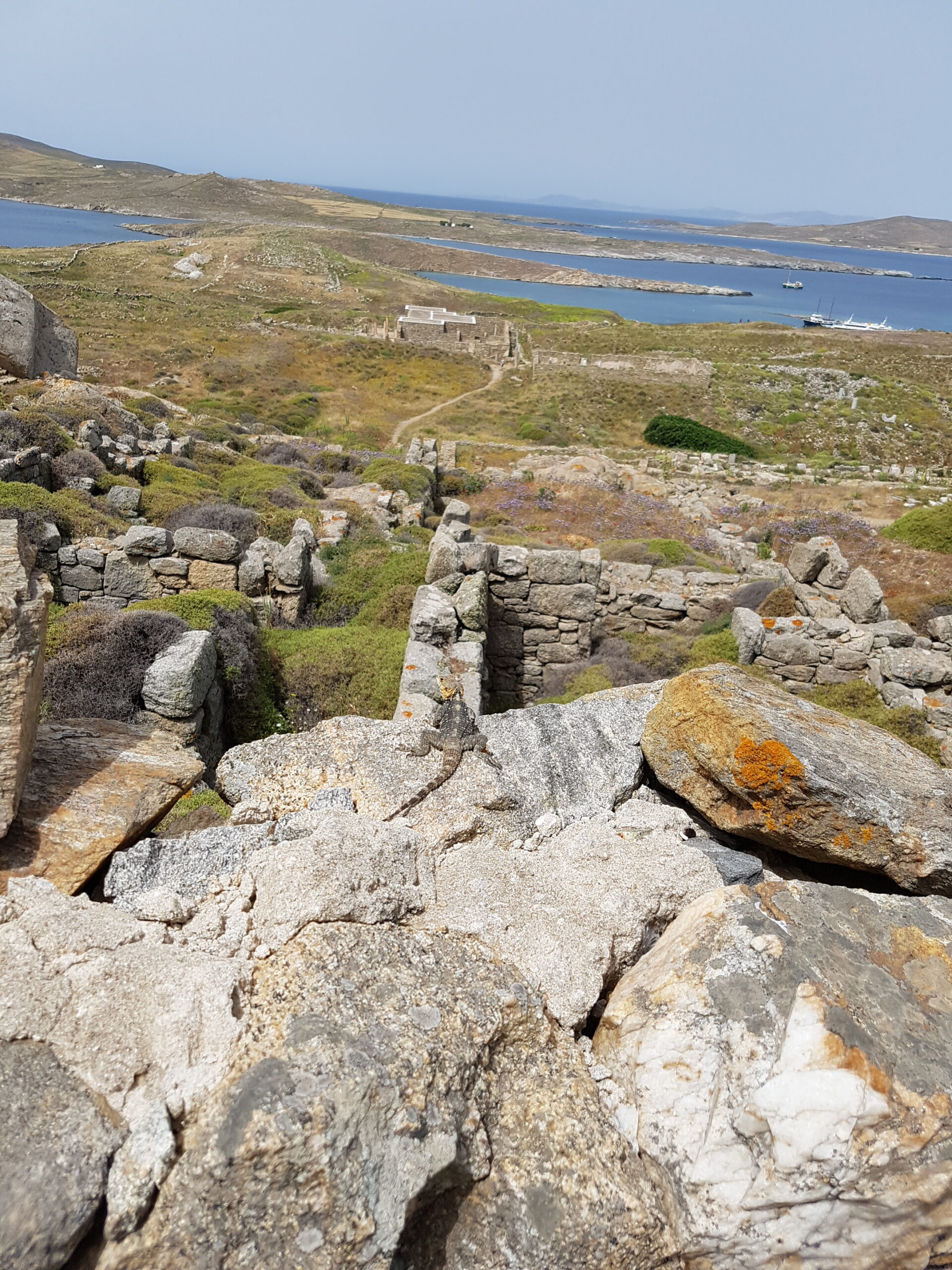 TELL US ABOUT THAT ARCHAEOLOGICAL HISTORY AND WHAT GUESTS LEARN WHEN THEY GO
It's a UNESCO World Heritage Site since 1990. It's an uninhabited island, only the guards live there 24/7. You cannot stay overnight. You cannot swim, you cannot shop. It is like stepping back in time. Going to the Neolithic times, and then the Mycenaeans were there. Homer describes the rituals that were taking place in Delos, dancing and festivities and athletic competitions and ceremonies dedicated to Dionysus, the god of wine. Then we have the Classic period of Athens: when Athens was at its peak. Delos became an ally for the Athenians. When the Persians attacked Greece they never touched Delos. They respected as well the sanctity of this site. So this is something interesting, you know.
You may also like: These history experiences will expand your knowledge of the ancient world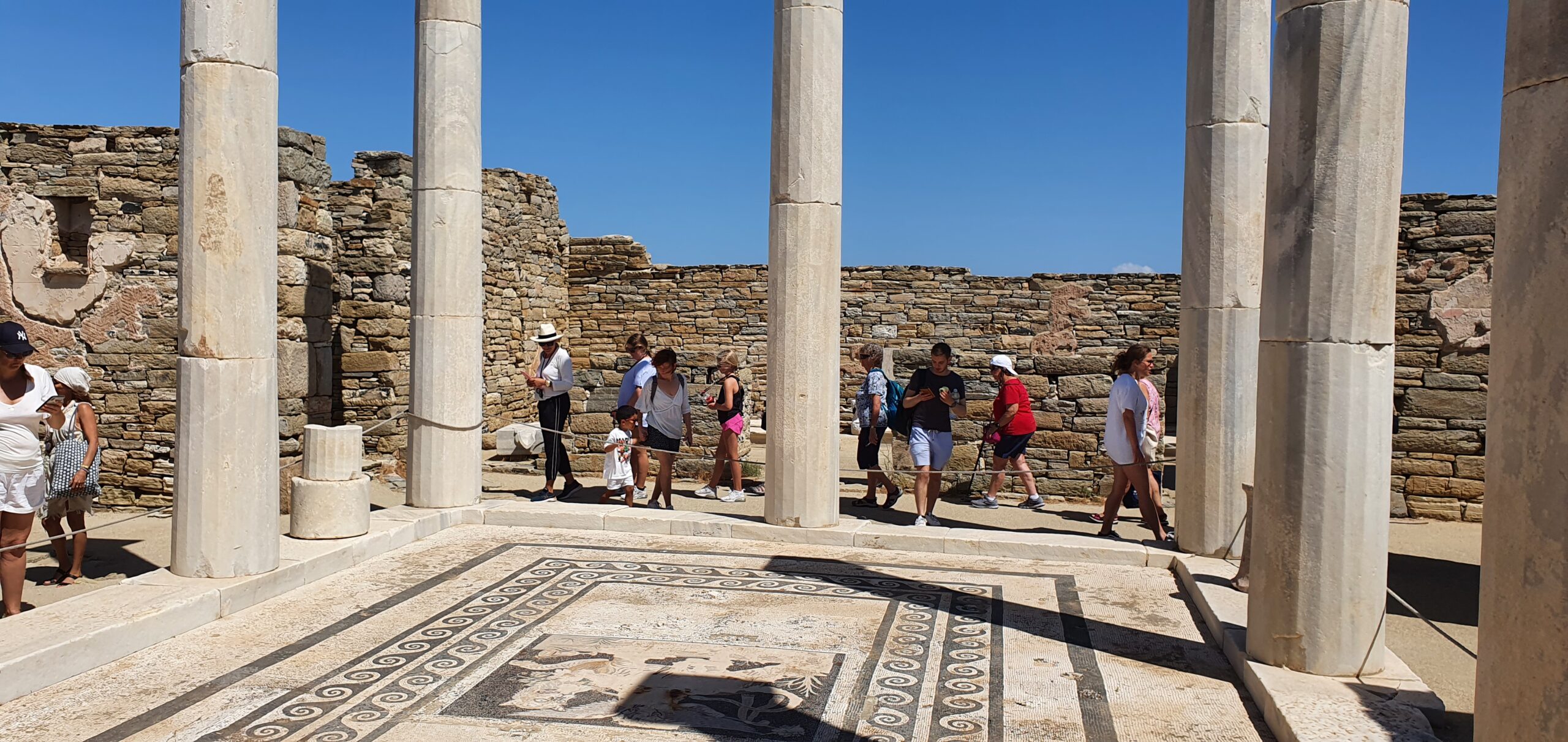 SO OVER THE YEARS, IT WAS A VERY SACRED SITE. IT WAS VERY SPECIAL.
Very special. At first it was spiritual, and then religious. And then inevitably, we have a transition from the religious character of this Greek island to become for the rich and famous. You know when we describe Mykonos now? We say it's the island for the rich and famous, the jetsetters, the cosmopolitan… Mykonos of the present was Delos of the past. The years that the Romans came, they turned it into a tax free port. They invited the rich and famous of the time to stay in Delos. 30,000 people lived on this island.
And then Mithridates, that is the king of the Black Sea of Pontus, came and destroyed everything. To punish the Romans, he found Delos exposed and destroyed it step by step. It then decayed and declined, but the antiquities were always there.
Now it's an island with no inhabitants, which makes it more mysterious and interesting to visit. There is nothing and no one lives there.
You wonder, on this small, barren island, how how did 30,000 people live here? It's difficult to grasp.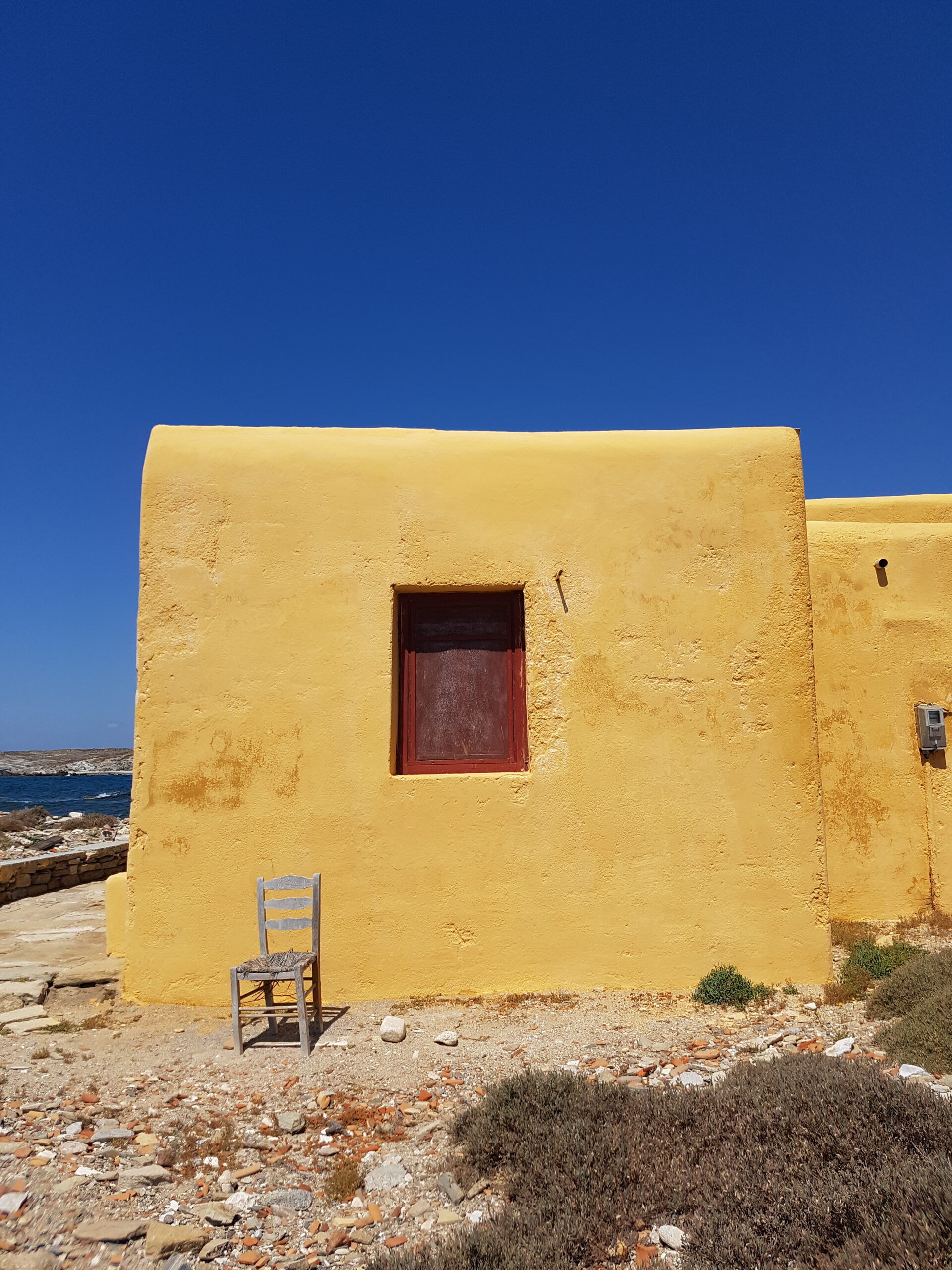 WHAT CAN YOU SEE OF THAT TODAY WHEN YOU VISIT DELOS?
You first see the dock, and immediately you know that this would be the harbor where the boats used to arrive. Then there is a clear paved path that you follow that leads to the lion statues. You see the Mount Cynthus and the Temple of Isis up there. And the houses that are exposed, you see the plaster and the way they used to to create their houses, some is still preserved. But of course through the centuries, they faded and not much is left. There are little signs pointing to the House of the Dolphins. There is a flat piece of land that has settlements that you need to walk close to find and you see fragments of statues here in their remains, most of them incomplete and broken. You use a lot of your imagination to recreate everything.
Most of the guides take you through the sacred way. That leads to the sanctuary of Apollo, the god of light, the god of balance, the god of symmetry. There is one tree left, a palm tree that still stands there. It's believed that Leto gave birth to Apollo under this palm tree. You visit some mansions of the past, some Roman residences of the rich aristocrats that have these mosaics. Unfortunately, you cannot enter these, but you can see from outside as you walk. There is even a theater that you can sit down and imagine the theatrical performances used to take place.
When you go to Mykonos you can see pillars from Delos decorating the houses of the rich people. In the past, people picked up things from Delos and decorated the facades of their houses before the Greek archaeology arrived.
You may also like: Egypt's most fascinating archaeological discoveries you've never heard of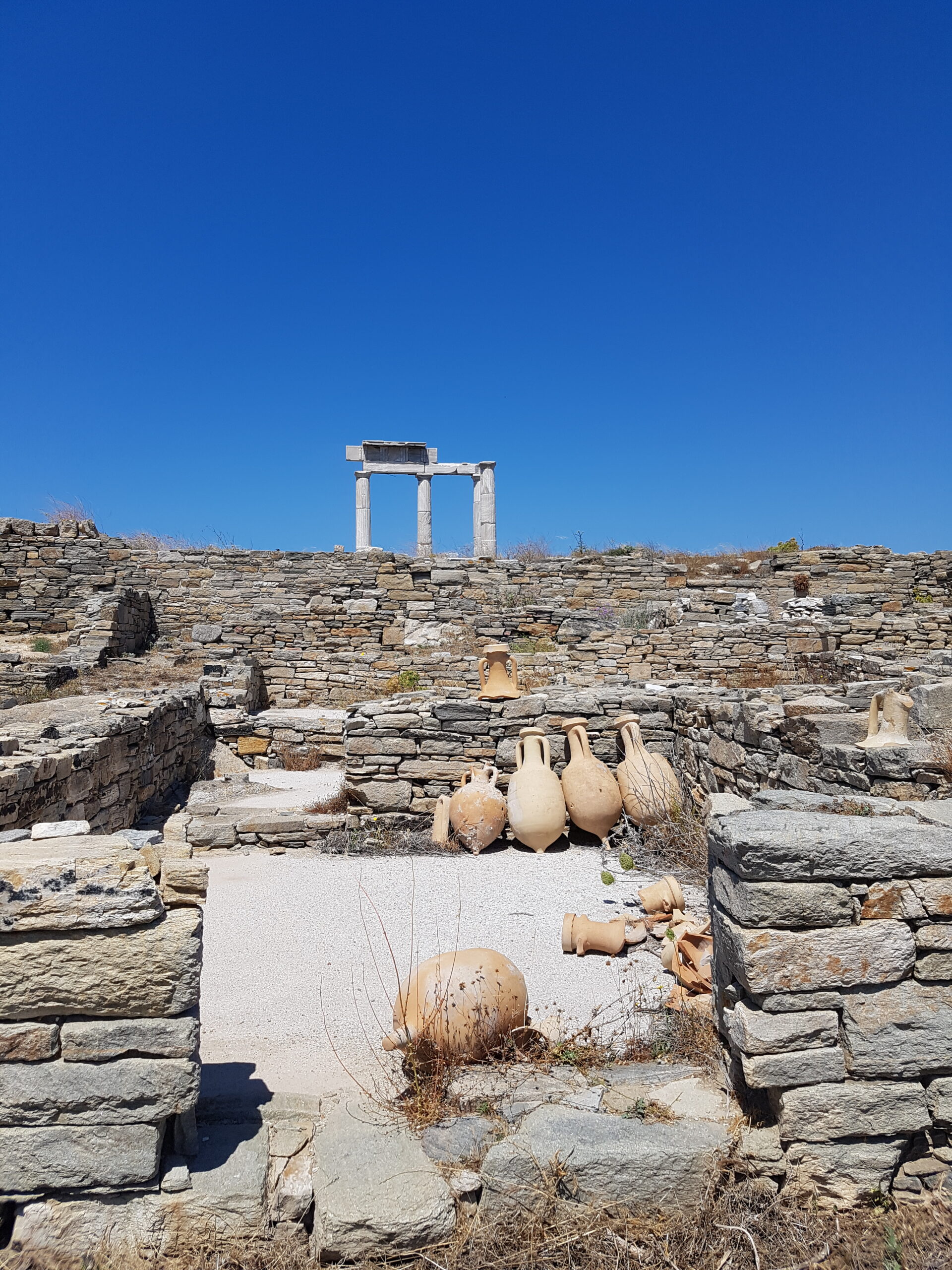 SO WHEN WAS THE LAST TIME THE ISLAND WAS USED AS A PLACE WHERE PEOPLE LIVED AND WORKED?
The first century BC, but when we have the new era of the first century AD, the tribes come. And they loot, they conquer, and they destroy. This is the end of Delos. Its reputation of a spiritual center turns into a cursed island, an island that lost all its infrastructure, all its symbolism and all its temples. There was no point to go to Delos after the first century AD, it was a site of destruction, a site of total abandonment.
All these sites that you visit are destroyed places, but you try to uncover the past by observing everything. Even the small rock has something to say. That's why I like it, because you see something and if you know the background, you can recreate it and have it in front of you. So I love it. It's another unspoiled place that is waiting for you to discover it.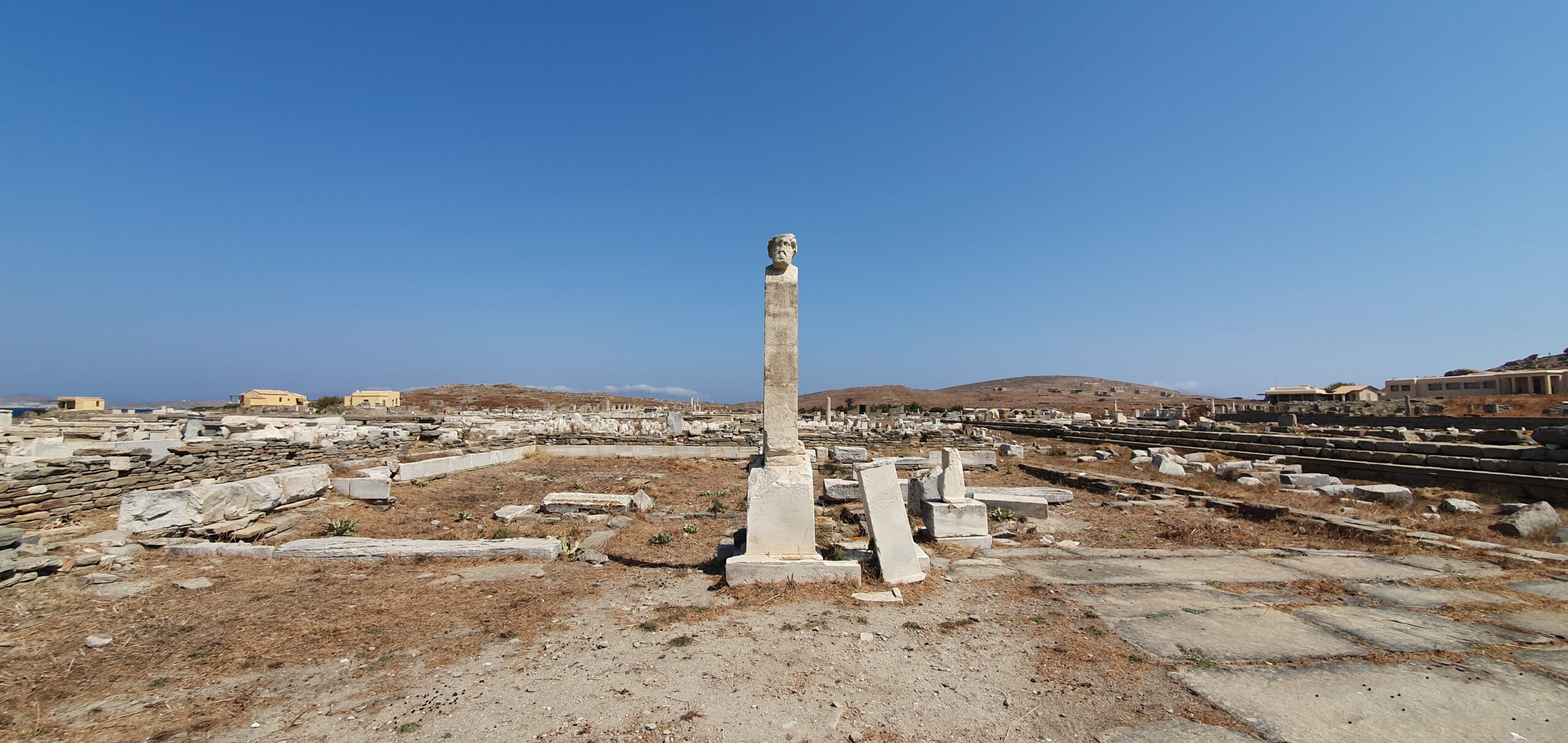 IT SOUNDS VERY UNIQUE
It's a difficult site to visit in general for a Travel Director. Because it's protected but also because there are some restrictions. This island cannot be overcrowded. They try to keep a certain number of people at a certain time. You can only stay on this island between nine and two, nobody can stay after that. You have to depart.
It is important because there is ongoing excavation and ongoing archaeological digs. Often they're closed because they're waiting for more funding to come from the European Union. When these funds arrive, they keep on excavating, but until then they don't want people to interfere with the sites.
It's impossible to guard this exposed site – it's six square kilometres, and 1/6 of the surface is covered with things aren't identified yet. There are amateur gold diggers or grave hunters…The longer the day goes, the more visitors, which might be a threat to this island staying intact and without intruders.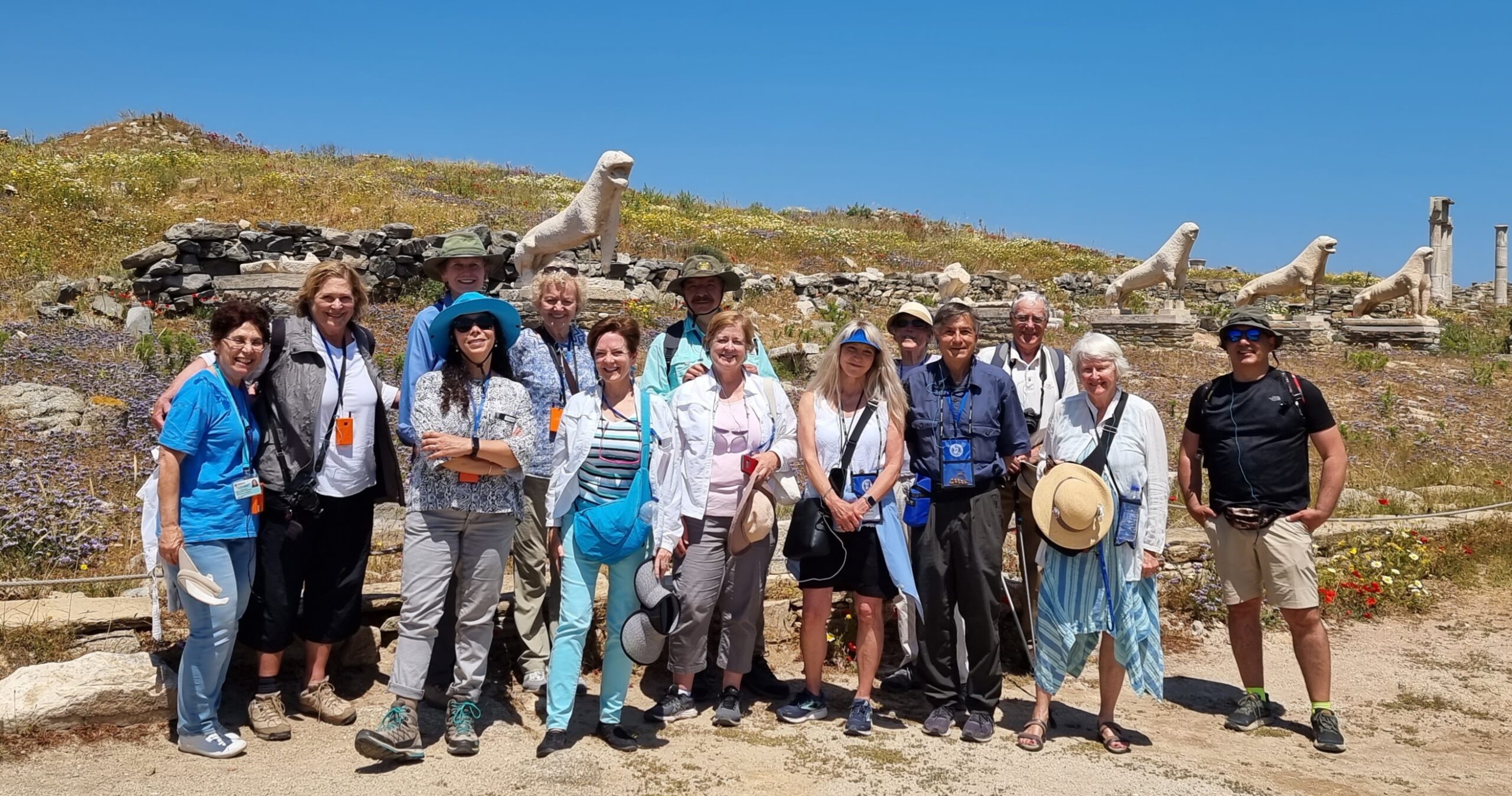 We're grateful to Nikos for sharing his wisdom and time with us. Visit Delos with Nikos on the Greek Island Hopper tour to uncover the sights and insights of this unique island and more.
How Insightful are you? Find out with this week's questions on Greece. Test yourself against the world's leading destination experts, like Nikos, for your chance to win fabulous travel prizes.