Poland is much more than its fairy-tale cities, scenic wonders and modernist Warsaw architecture. Its warm-hearted hospitality and delicious delicacies are enough to tempt those with the pickiest of taste palates.
To get the full lowdown on Poland's dining scene, we caught up with Jacinta Lee from our Singapore office, following her experience on our Highlights of Poland trip.
Story by Jacinta Lee
As a self-confessed foodie, I was thrilled to head on one of Insight's trips to Poland over the summer. Polish pancakes, broths and deserts such as Budyń (a custard pudding) and Pączek (a donut filled with rose marmalade or other fruits), were all on my list of must-trys. Below are some of my favorite foodie experiences:
Polka Party
On one of my favorite evenings we dined at traditional restaurant, Karczma Pod Wielka Sola. We enjoyed an amazing Polka Party where there were dancers in their traditional and cultural costumes, with their Cracovian belts and colorful skirts.
My most memorable moment was when one of the lead dancers, who was dressed to symbolically represent a Lajkonik (a man dressed up in Mongol attire), tapped everyone on their right shoulder. Legend has it that anyone touched by the Lajkonik's baton will be blessed with good luck. The origin of this Krakow tradition dates back to the 13th Century when the Mongols invaded Poland.
Herring Embassy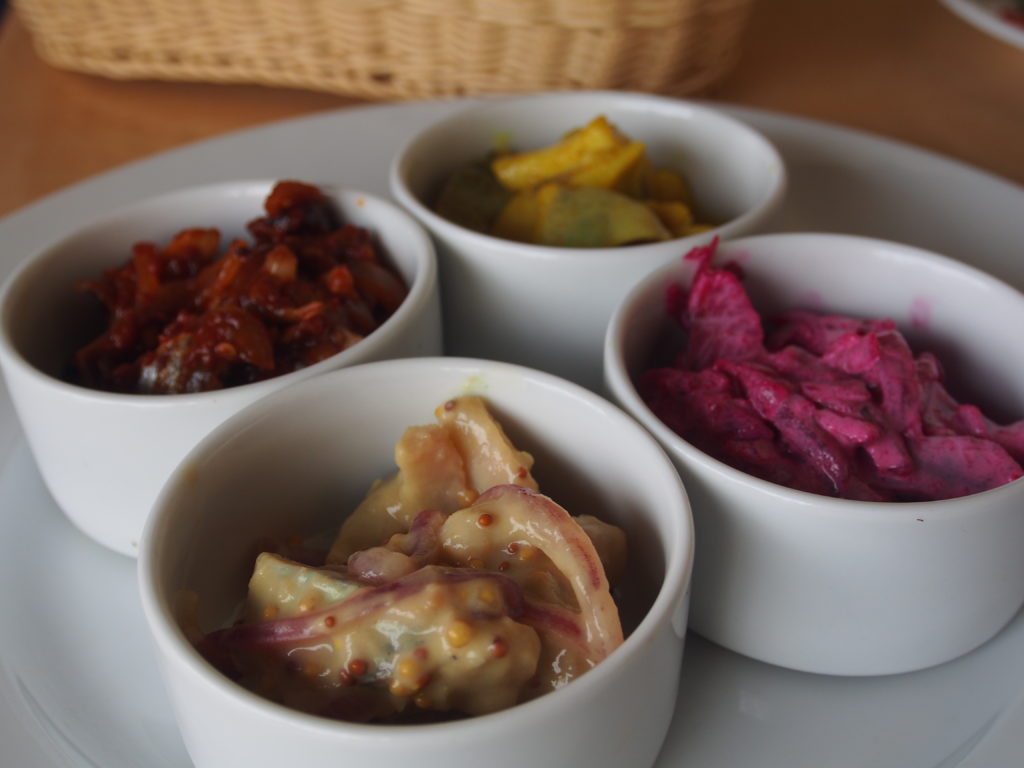 I would recommend trying out the "Herring Embassy" Ambasada Sledzia in Krakow. Herring is a traditional Christmas dish in Poland, but at this specific location you can taste herring paired with vodka shots. We tasted herring with a variety of vodkas. My personal favorites were rose hip and caramel.
We also had the opportunity to try different flavored herring. For those who dislike fish that has a strong smell or taste, these seasoned options are perfect.
A local cooking class
We were interested to learn more about local cuisine and during our free time in Krakow, we signed up for a cooking class where we met with Marta, owner and founder of Eataway in her home and learnt how to cook typical Polish and Jewish cuisine. I loved the hands-on experience and of course the opportunity to taste her delicious dishes, including baked challah, steamed dumplings (Pierogi), fried potato pancakes (Placki) and caramel cheesecake.
Sausage BBQ Party in Zakopane
A rather unique experience, I enjoyed heading to a "Kiełbasa Polska" ("Polish Sausage") barbeque party in Zakopane, located in the south of Poland. The setting was perfect as we grilled our own sausages in the great outdoors with amazing views of the Tatras Mountains.
Coming from a modern metropolis city like Singapore, it was my very first-time barbequing in the backyard of a restaurant – it was refreshing to take in the mountain air. The company was great, as everyone gathered around the campfire together to grill their lunch.
Warsaw's Elixir
We headed to the Elixir by Dom Wódki where we had dinner paired with vodka. Apparently, there's a type of vodka to pair with every dish served in the restaurant, with over 500 vodkas from around the world to choose from. I combined mine with local herring, dumplings and beef tartare.