From the shores of Santorini to the meandering coastline of Mykonos, Greece offers some of the most beautiful and unspoiled beaches in the Mediterranean. But these swathes of seaside hardly come in one familiar size or aesthetic; from secluded coves to broad sandy bays, deserted pebble beaches to highly developed stretches of coastline, the most beautiful beaches in Greece are many and varied. In a land renowned for its sun-drenched islands, we've selected seven of our favorite beaches to visit on a summer vacation in Greece.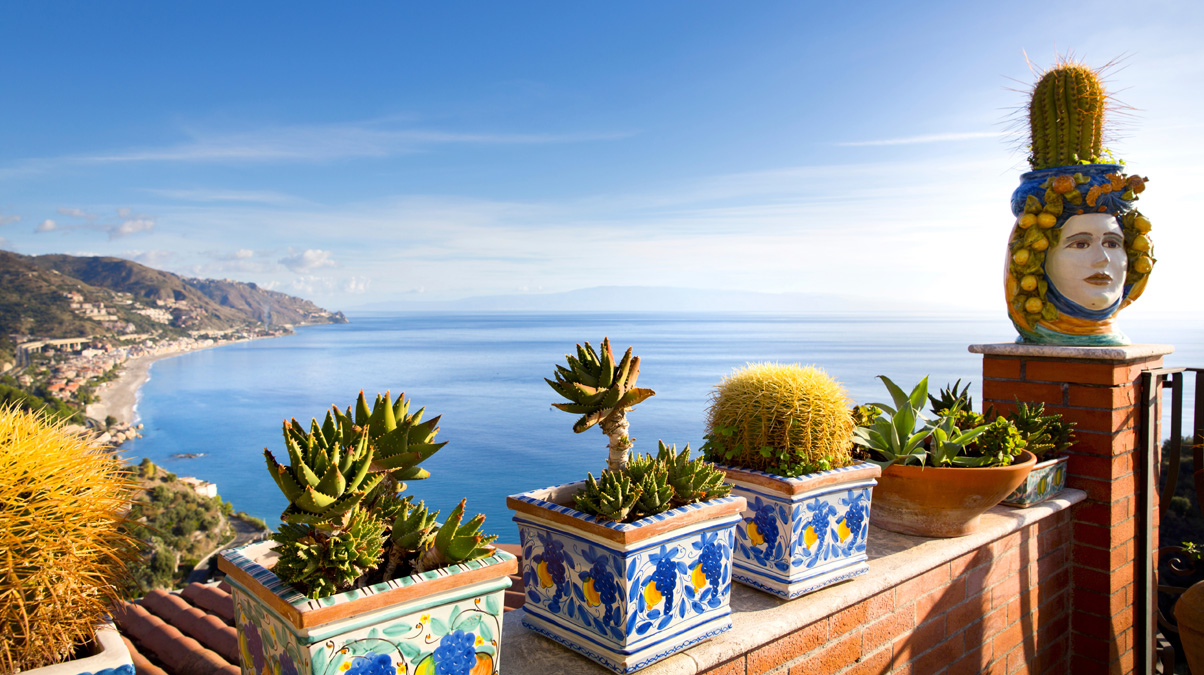 Agios Ioannis, Mykonos
Walking distance from Mykonos Town, Agios Ioannis or "St John" is best known as the "Shirley Valentine" beach after the 1989 movie that was filmed here starring Oscar-nominated actor, Pauline Collins. Spreading itself out in front of the island of Delos, the beach might be a little snug, but ply a local with some Metaxa (a Greek brandy), and they'll soon admit that, at the very least, it's one of the best beaches in the south.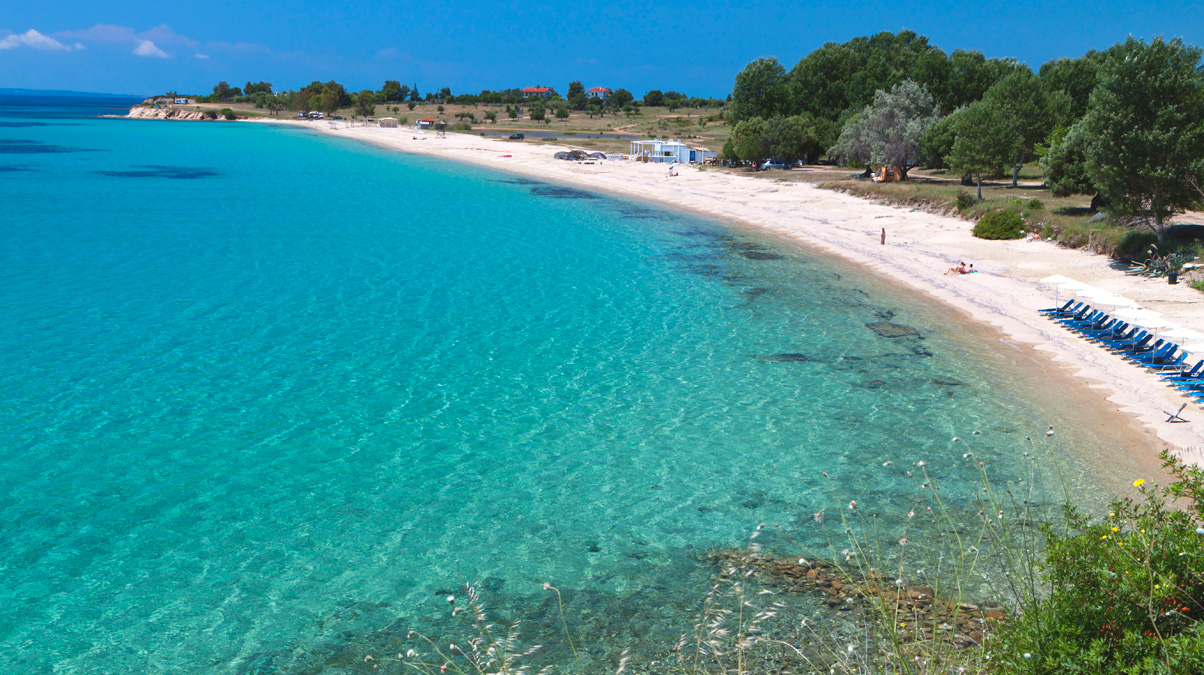 Monolithos, Santorini
A few kilometers north of Kamari on the eastern coast of Santorini, Monolithos is a superb family beach. Named after the nearby rock of Monolithos, upon which the St George church is built, it possesses some of the best sand on the island and lots of quiet hotels and restaurants, not to mention a shallow seafloor – making it a very easy place to take small children.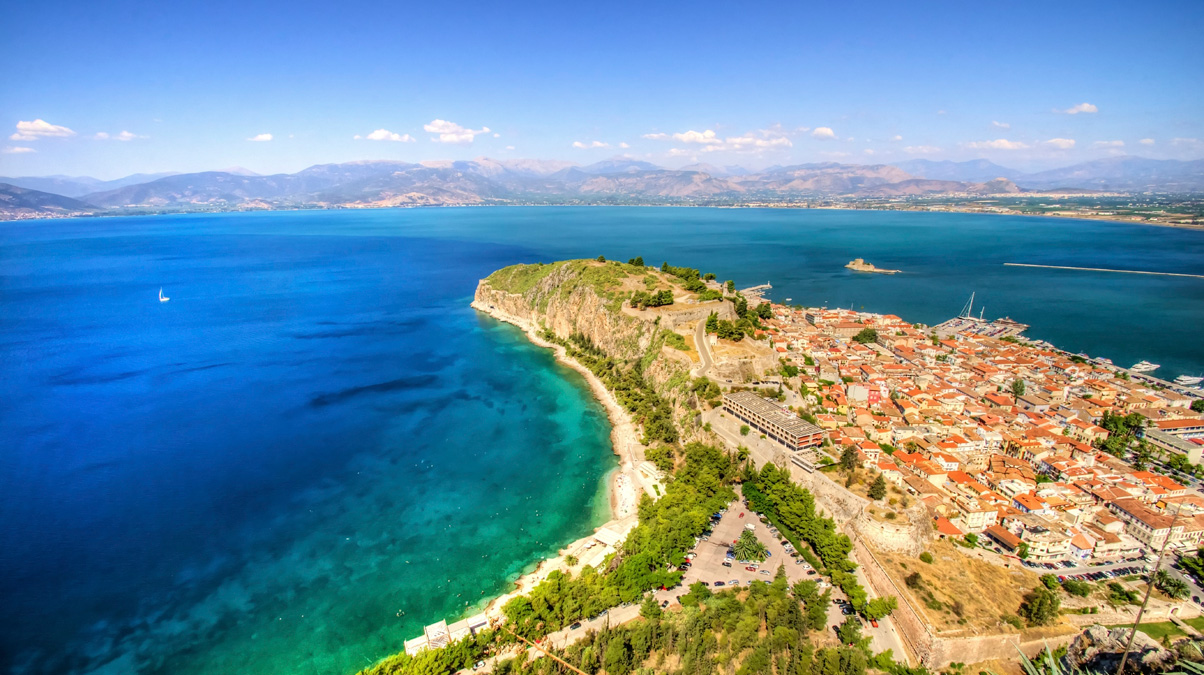 Neraki, Nafplio
First up, two admissions. Neraki beach can only be reached by foot or by bike. And visitors will need to be fully provisioned, as there is almost nothing here in the way of amenities. That said, this is one of the most beautiful beaches in Greece, with clear waters, fine sand, small, picturesque bays and some delightful swimming spots.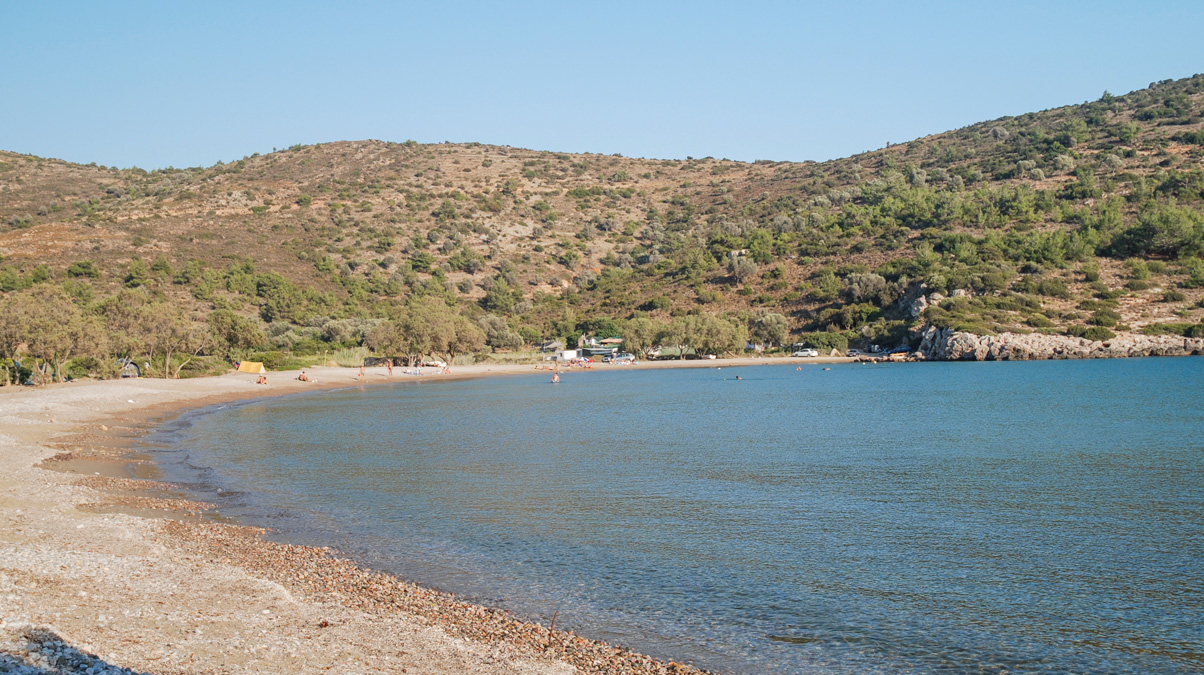 Lithi, Chios
Located in a cove west of Chios Town, Lithi beach is famous not only for its velvety sand, but also for its thalassina – fresh fish and seafood. Chios is hardly spoilt with sandy beaches so it can get a little busy, but there's plenty of space to go around. After a day spent swimming, reading, sleeping and relaxing, there are plenty of tavernas to try, where visitors can enjoy their dinner alongside some truly spellbinding sunsets.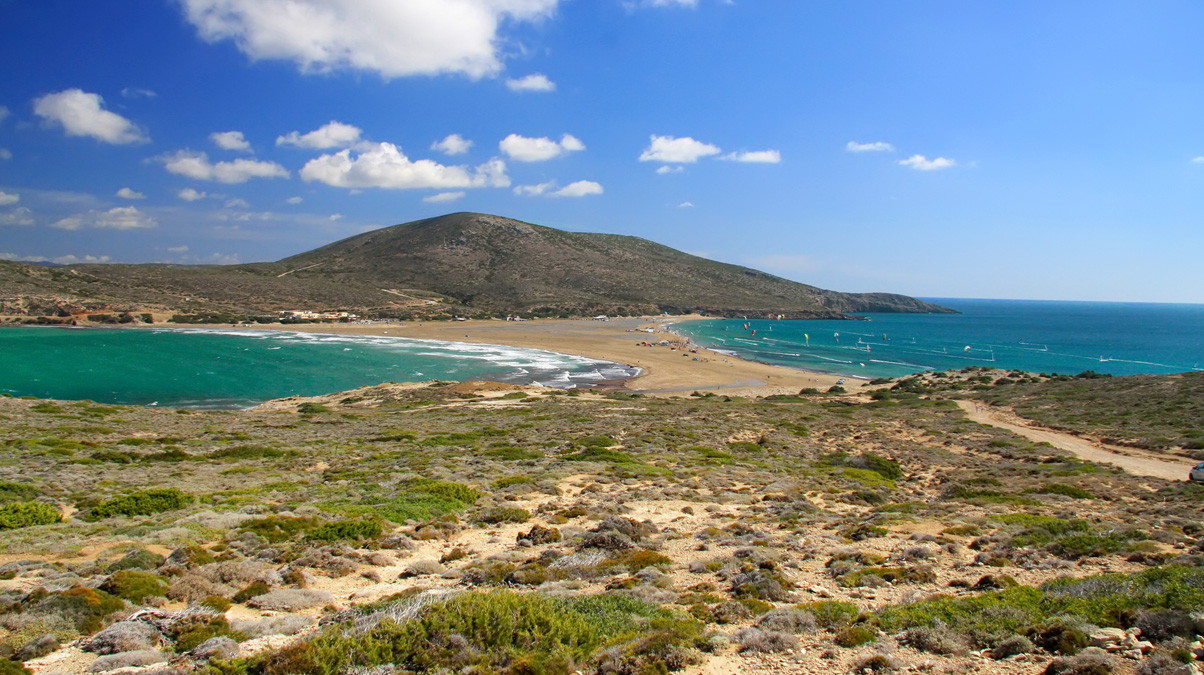 Prasonisi, Rhodes
One of the more active beaches in Greece, Prasonisi – located on the southern tip of Rhodes – has a good reputation among surfers and other lovers of water sports. But it's not all adrenalin-fueled feats. In fact, the beach is split into two long sandy stretches; while one is good for water sports (especially wind and kitesurfing), the other is known to be very calm, with plenty of sheltered spots for sunbathing.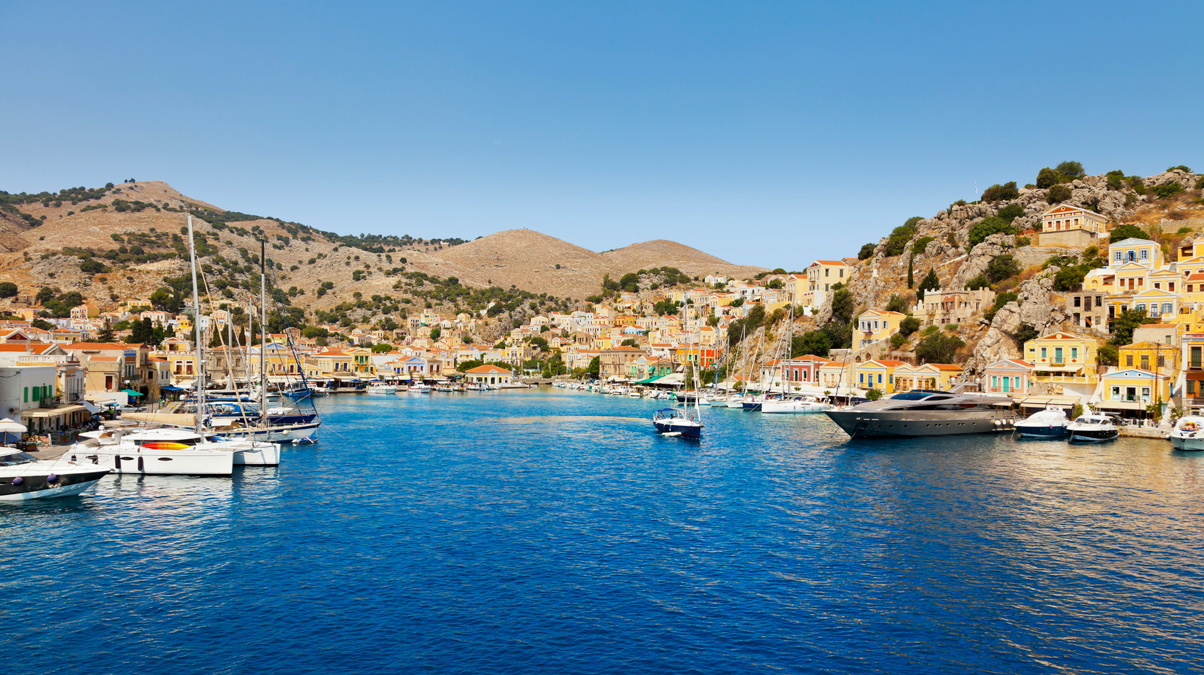 Agios Nikolaos, Symi
St Nick's, named after the small chapel adjacent to the beach, is the perfect mix of shade, sand, shingle and sun. Most people get here by taxi-boat from Symi or Pedi harbor, or take a 20-minute hike from Pedi along a route marked by red circles. When you arrive, it's time to set up camp on the ready-prepared sunbeds or set out a towel beneath the trees, before tucking into moussaka and other picnic goodies from the local taverna.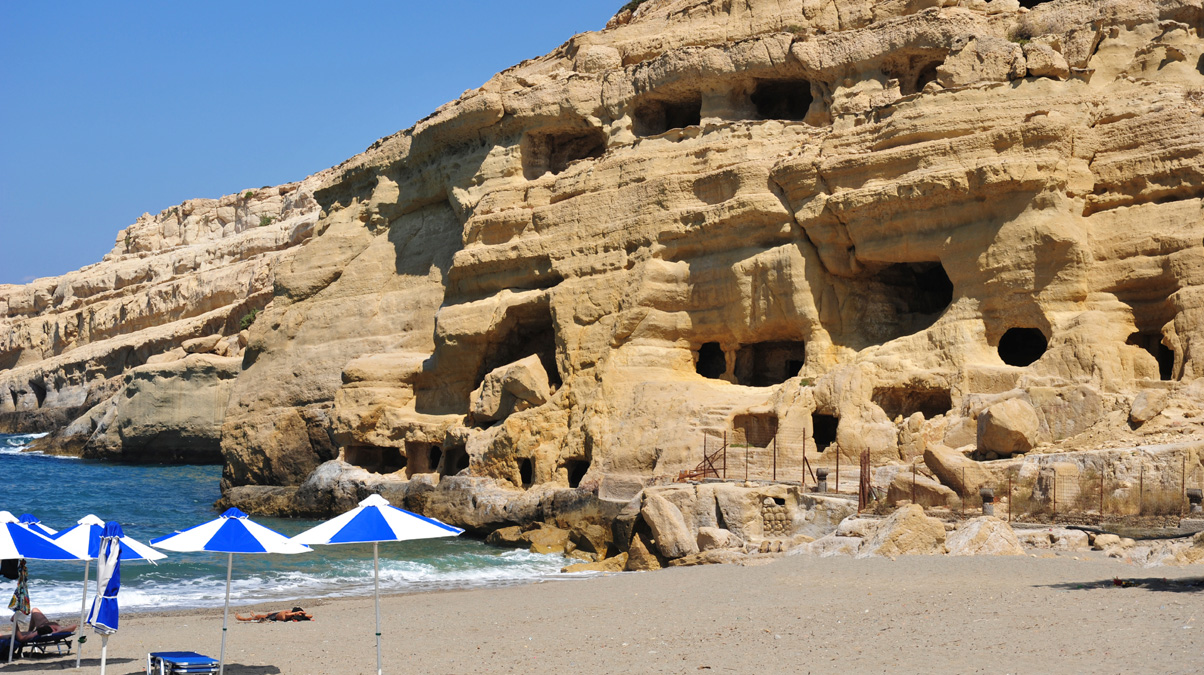 Matala, Crete
Matala beach can quite fairly claim a place in the earliest annals of Europe as the location that Zeus came to when he seduced the princess, Europa, in the form of a white bull. He chose his spot well; it's a clean, long beach with soft sand and gentle surf. Behind stand tamarisk trees for shade, and crossing the beach from the south and west are some mild breezes that help to cool sunbathers during the warmer months.
If talk of sand, sea and tavernas has got you in the mood for an Aegean beach vacation, why not take a look at the Glories of Greece experience. And why not browse the sites listening to some of the music Greece is famous for.