When planning your next vacation do you picture yourself exploring stunning national parks, meeting fascinating people, and being charged by the energy of iconic cities? Do you enjoy a gastronomic adventure, savoring delicious wines and relaxing in stylish, comfortable hotels? Then we at Insight suggest that a premium guided tour to California could be just the ticket.
Insight Vacations' marketers Meagan and Francine last month joined guests on our Best of California premium guided tour, taking in some of the Golden State's top sights including San Francisco and Yosemite National Park. We caught up with them to see what they thought.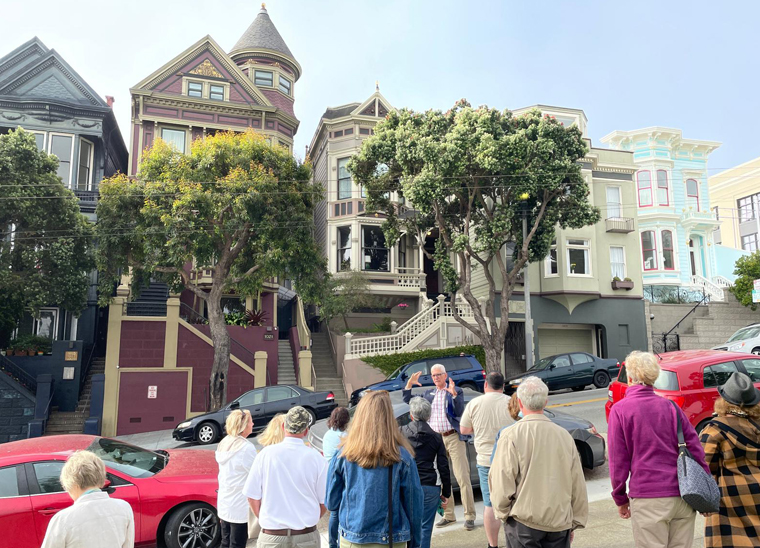 Traveling again, and traveling in style
Tell us why you joined Insight guests on this tour?
Meaghan: "We've both worked for The Travel Corporation for five years and started working with Insight Vacations a year ago. We both work in marketing, so it is very important to know and understand both our tours and our guests. From speaking to guests on tour, they really appreciate the higher quality inclusions, from hotels and dining to fascinating experiences. We also promise a seamless travel experience where guests do not have to worry about a thing, so it was great to have the opportunity to see all of this in action."
Francine: "For both of us this was our first guided tour, so it was really insightful to experience this style of vacation for ourselves. This enables us to see the tour as our guests do and understand what makes an Insight Vacations premium guided tour so special."
How did it feel to be back out on the road?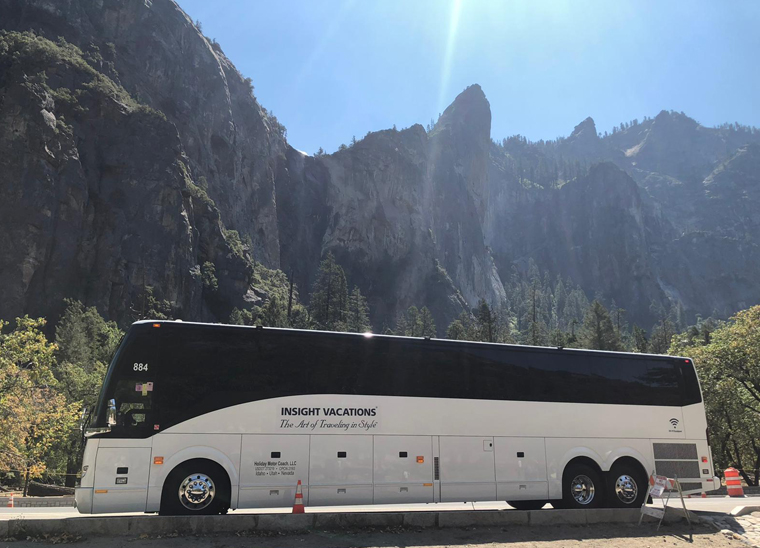 Meaghan: "It was really great to be out on a tour, and very easy. We had to show a vaccine card to go into places, but otherwise it was the same as pre-pandemic travel. Having a Well-Being Director with us made it feel very comfortable."
Francine: "It was all very simple and hassle-free. As this was a domestic trip it was free of many of the complexities of international travel. For example, there was no need for COVID-19 testing or anything like that. It was a very enjoyable experience and lots of fun to be out discovering new things."
How were the guests feeling?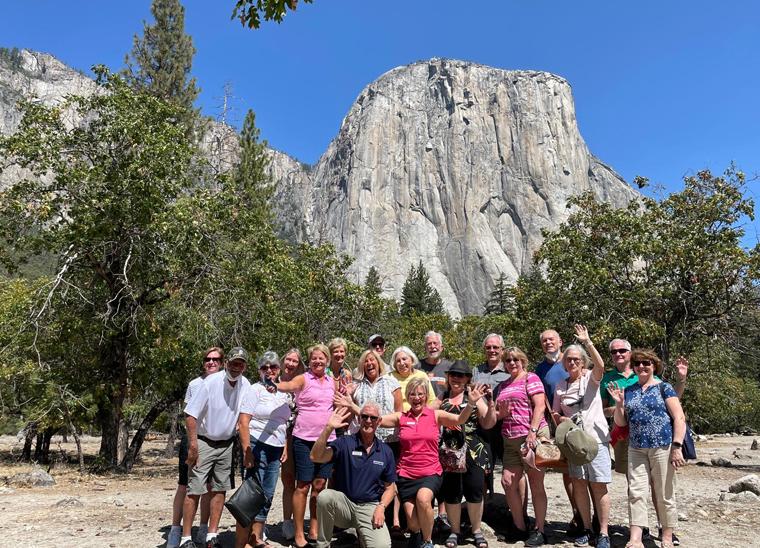 Francine: "We had a really great group of people on the tour, around 18 guests all of them from the US. Everyone seemed very excited to be exploring their own country!"
Meagan: "Everyone was very relaxed and excited for the tour. There was definitely a great camaraderie from the joy of being back on the road."
Beautiful California
What did you enjoy seeing and learning about California?
Meaghan: "We both live in California so many of the places we visited were already familiar to us. It was therefore very interesting to see them on a guided tour, and to learn about them more in depth. San Francisco's Golden Gate Bridge is always really special, no matter how many times you have seen it and to have all the history and stories to hand from our Travel Director really enhanced the experience."
Francine: "It was the first time in Yosemite National Park for both of us, which was so exciting. We spent the day touring round, visiting about five different points for amazing views of the park and got to see so much in that time. I was very impressed with how well planned everything was, all we had to do was sit back enjoy the beauty of the park and not think about anything else."
Why had the guests chosen to explore California?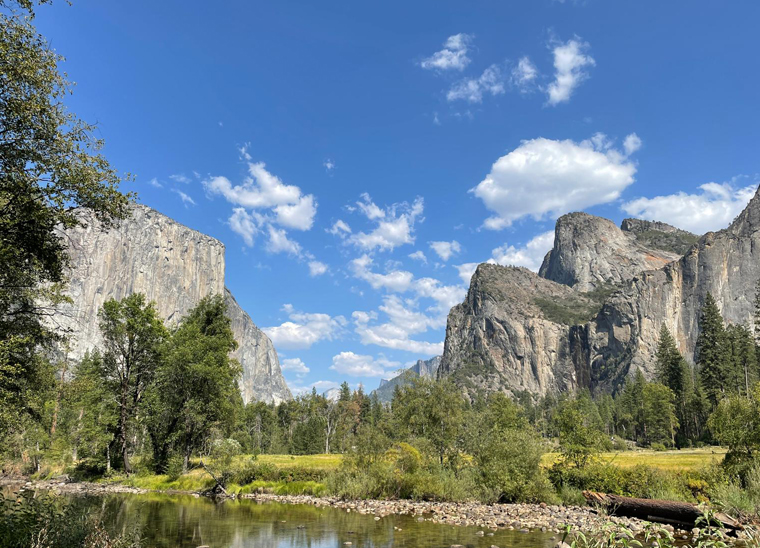 Francine: "Some of the people we talked to said this was a replacement for a previously planned trip to Europe. Yet they were still very excited to have the opportunity to explore their own back yard and were really enjoying traveling locally. Some of the guests had explored California a lot and loved it so much they just had to come back and see more."
Meaghan: "California really has something for everyone. We spoke with two friends from the South Carolina area, who had never been here before. They were very excited and pleased at how beautiful it was, to be able to have this amazing vacation in their own country."
Well-Being on Tour
Tell us more about the role of the Well-Being Director on the tour?
Meaghan: "Our Well-Being Director was a real reassurance throughout, just knowing she was there and knew all the protocols was great. She wiped down all touch points every day on the coach, ensured everything was up to health and hygiene standards and kept an eye on all things well-being related. It was nice to have a second person, [along with our Travel Director] to take care of everything."
Francine: "The presence of the Well-Being Director really resonated with the guests, it made you feel very safe. Knowing that someone has all the latest information and research means you can just focus on enjoying your vacation. Our Well-Being Director was so cool, calm and collected that you knew that, if there was an issue, it would've been well handled."
Highlights
What was the best thing for you about going guided?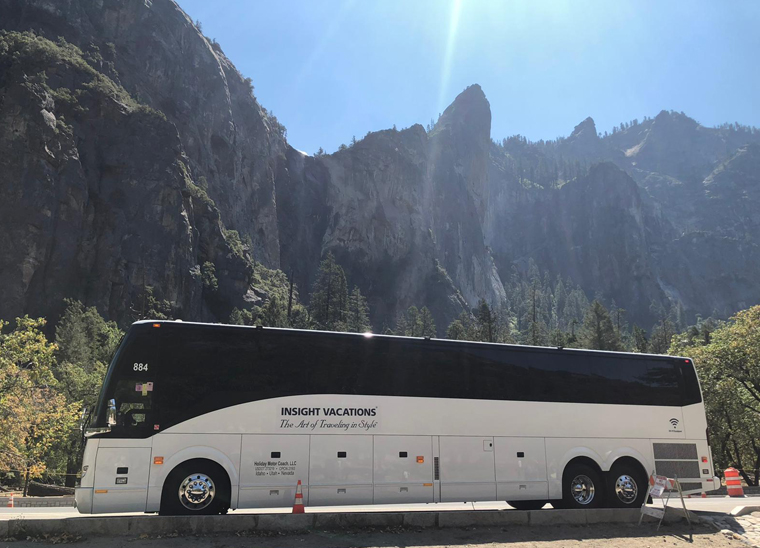 Meaghan: "Traveling in style! Having all your bags taken care of and your check-ins, great restaurants to enjoy. The seamless aspect was really nice, having someone take care of all the details for you. The hotels were really lovely, great to relax in – I particularly loved the firepits at our Yosemite lodge, it really felt special."
Francine: "I really enjoyed the food side of things. It is great to finish a day's exploring knowing you have a delicious dinner ahead, without having to think too much about it. The cuisine in California is really a huge part of any visit here, and to have your Travel Director know so many great places to try means you really got the most out of it."
And your highlight of your trip?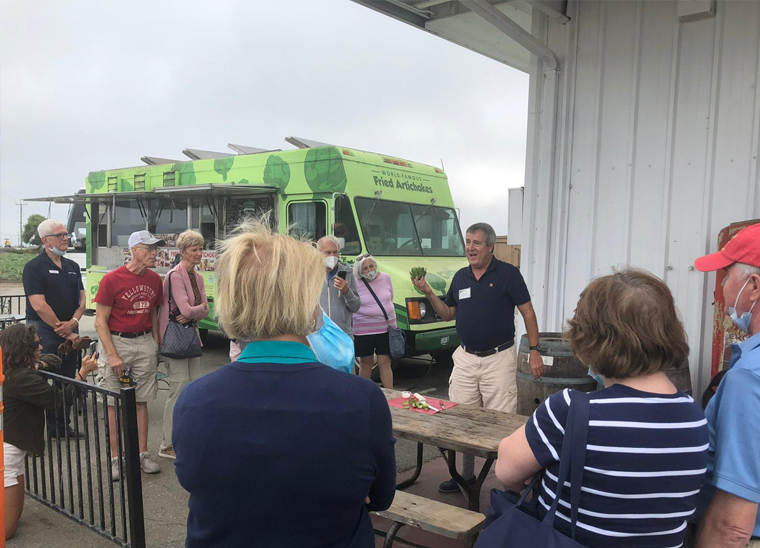 Meaghan and Francine: "Meeting the guests! We really enjoyed getting to know people, meeting new faces from all over the US and hearing their stories and feedback. We spent so much time just talking and sharing experiences! Something that will stay with us always."
As passionate travelers, we took the opportunity to ask Meagan and Francine where else in the US you should visit?
• Hawaii with Oahu & Maui – relax in a paradise of sparking oceans, golden sands, local flavors and traditions
• Jewels of Alaska – get off the beaten path and explore the wild and wonderful Alaskan wilderness
• Cajun Country Escape – deep dive into the deep south, with jazz and Cajun cuisine!
• America's Magnificent National Parks – simply the best for nature lovers
So are you dreaming of California?
Operating with a new itinerary for 2022, Best of California is a ten-Day premium guided tour showcasing the stunning ocean views, outstanding natural beauty, big city lights and inspired cuisine of the Golden State. Starting in San Diego, visit Los Angeles, the American Riviera, Yosemite National Park and finish in San Francisco. Ride the Pacific Surfliner coastal train, deep dive into the history of filmmaking, walk among the giant sequoia trees and tour Yosemite with a Park Ranger.
For more information on all of our US premium guided tours please click here. The US border is now open to fully vaccinated travelers from many international destinations, including Europe and the United Kingdom. Please check your local government website for further details.
To browse all of our stylish 2022 & 2023 worldwide premium tours, download our interactive brochure.