It's not very often that my mind is still in a place I visited two months ago.
But it is. My mind has been in Ireland since my visit in October on a trip via Insight Vacations to the southern part of the country.
I'm still trying to figure out why the images and experiences I had during those eight days are engrained in my mind, but if you asked me right now, I could formulate a long list of reasons. Here are a few:
I was given a true taste of Ireland
I wasn't very familiar with package vacations prior to this trip, and I wondered if I was truly cut out for the experience. I like finding off-the-beaten path places when I was travel and truly experiencing the best of a destination. Would a company that caters to all ages truly be for me? I had a pre-conception that the tour catered to the elderly and would have a slower pace than I'm used to. Boy, was I wrong. Insight had an itinerary arranged for us to give us a real insider's look at the country and they made sure we didn't miss anything. The bus stopped at beautiful scenic views. We stopped for "flourishes" (edibles) and attractions only known by Irish natives themselves. We ate in restaurants and went on tours led and owned by locals, like in Dublin – the tour was actually led by our guide's cousin.  Our bus driver was a native himself, and had one or two stories of his own to tell us during stops. I had been to this part of Ireland before – two years ago with my family, as a matter of fact – but this trip was a one-of-a-kind and could not compare.
I had a peace of mind
Having never been on a package tour, I don't think I truly knew or understood just how much easier this trip would be. Granted, I did leave my kids behind, so that one point already made it easier. But it was so much more than that. From the moment I landed at the airport, my guide, Michael, was waiting for me at baggage and gave no reason to doubt I wouldn't be taken care of during my entire stay. We were driven around Ireland in a comfortable coach with Wifi and ample legroom, where we were able to leave our things when we got off. Every morning we left our packed luggage outside our rooms to be picked up.  Our meal reservations were made and paid for (they are included in the package tour rate). We went on horse carriage rides, tour led walks and stayed in beautiful hotels. There was little for me to do other than take it all in. I was able to snap photos, listen to the guides, become engrossed in the story telling and have complete peace of mind.
I traveled in pure luxury
Insight specializes in luxury and nothing went unnoticed on this trip. From the hotel selection to the restaurants we ate at, we were showered with detail and affection. In Killarney, we stayed at Killarney Plaza, where we were handed keys upon arrival, further easing our arrival. The hotel itself was charming, with classic furniture, a hall leading to my restroom and decked out in comfort. In Limerick, our chosen hotel was the Castle Oaks Hotel, a Georgian manor house with 28 acres of gardens on the banks of the River Shannon. My room was decked out in antiques, paintings and a chaise lounge. But the icing on the cake was certainly Ashford Castle, a member of the Leading Hotels of the World. The castle dates back to 1228 but recently completed a $75 million renovation that has restored it to its original vigor with chandeliers, masterpieces of art, lush furniture, canopy beds and stunning grounds to explore. The rooms resemble royal staterooms and the service so, so excellent.
I had one-of-a-kind experiences
Insight really goes out of their way to ensure that each vacation goer experiences moments in time that really stand out and are unique to each destination. There were so many that it's hard to list just a few but here are three that stand out: Attending Falconry School at Ashford Castle was a real thrill, and likely not something I'd do on my own, equipped with expert trainers and obedient falcons who swept through the trees to landing on our arms. In Killarney, we took a horse and carriage ride through a national park, with stories by a local Irishmen about the area's past and present. We were also taken through the most beautiful parts of Ireland – from the Ring of Kerry to Dingle, witnessing ravishing coastal scenery whilst soaking up Irish folklore and drinking plenty of Guinness, of course.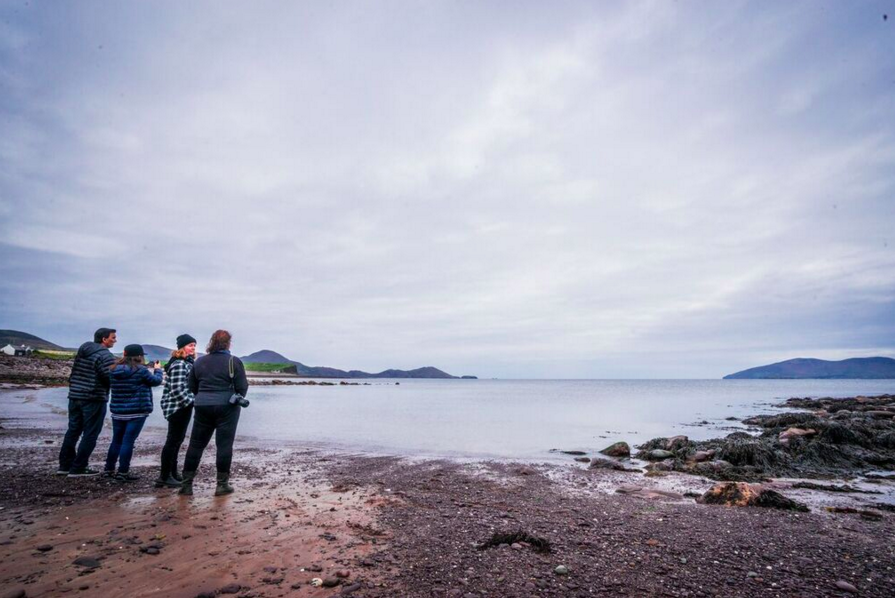 I developed long-lasting friendships
The beauty of traveling with Insight, even as a solo traveler, is the people you meet. As an introvert, I thought it would take me a few days to get into the group spirit, but after a few meals and adventures off the bus with my new friends, the bonding began. We were experiencing a once in a lifetime experience and I knew that the friendships would be long lasting. Facebook has definitely helped us continue to build that bond, and I have a feeling I will know some of these amazing human beings for days to come.
So now you know why Ireland is still on my mind…and in my heart.