"If you have not touched the rocky wall of a canyon. If you have not heard a rushing river pound over cobblestones. If you have not seen a native trout rise in a crystalline pool beneath a shattering riffle, or a golden eagle spread its wings and cover you in shadow… Please, for the good of your soul, travel west." ― Daniel J. Rice, "This Side of a Wilderness"
As luxury travelers tentatively seek out adventure once more, new horizons beckon. The United States moves beyond the pandemic with people being vaccinated and the prospect of local and international travel once again becoming possible. It's interesting to note that people's appetites for travel have not changed, but the ways in which they want to explore may have adapted slightly. Space is a highly prized commodity, which is why more people are venturing on vacations to majestic places such as America's great canyonlands.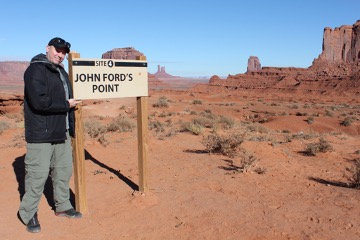 My first experience traveling with Insight Vacations was on the Enchanting Canyonlands tour in 2017. This truly is a premium experience that celebrates the breathtaking beauty of these iconic national parks. As well as an expertly trained Travel Director to ensure everything runs seamlessly, you get the knowledge of Local Experts, steeped in the history and culture of each place and passionate about sharing what they know.
Comfortable from the Start
From the beginning of the tour, I felt completely looked after. Unfortunately, my flight from Canada had been delayed, but I still found an airport transfer waiting on arrival and Roger, our Travel Director, waited up at the hotel to make sure I had everything I needed for the next day. In these times, more than ever, it's helpful to have someone who will look after every concern so you can simply focus on having fun.
There's the opportunity to explore Old Scottsdale on the first day to admire the rodeo-inspired artwork and retro wooden buildings. The Welcome Dinner that evening was a great chance to mingle with other travelers and get to know them before the journey continues.
We ventured into the Grand Canyon on the second day of the tour, with the option to take a once-in-a-lifetime flightseeing helicopter or plane ride from the South to the North Rim. The incredible rock formations that have been sculpted by time alone are wondrous to behold and difficult to explain to those who've never seen them.
I was impressed that we stayed in the National Park Lodges of the Grand Canyon, right inside the protected lands. I rose extra early to wander around, appreciating the solitude and the glorious canyon illuminated by sunrise. It was a privilege to have the star attractions just steps from my cabin. Having such easy access to the iconic sights made a huge difference to enjoying my free time.
Exploring Navajo Terrain
In the Monument Valley Navajo Tribal Park, we boarded all-terrain vehicles with our local Navajo guides. It was fascinating hearing about their culture and the passion that they have for this land, that they call Tsé Bii' Ndzisgaii, or the valley of the rocks. They accompanied us on a raft down the Colorado River as we effortlessly floated between the massive rocks and sandstone buttes that the water has carved through time. Our Navajo guides shared their traditions and beliefs, leaving an indelible imprint on us as travelers. This was a bucket list experience that I will cherish forever.
I recognize that much of our understanding of the Diné culture is sparse at best. This incredible people have a fascinating lineage that can be traced back to ancestors thousands of years ago, and believe they came to their land by emerging through four levels of worlds, to currently residing in the fourth level, the "Glittering World".
The Navajo Tourism Department has gathered useful information for travelers who are interested in visiting.
Sandstone Cliffs and Red Rock Monoliths
Wandering along Sunset Point in Bryce Canyon is almost other worldly. Gazing at the enormous amphitheatres where the hoodoos (oddly shaped monoliths) stand makes you feel tiny amid the wonder of nature.
Afterwards we explored the lush landscape of Zion National Park, where we had a wonderful Celebration Dinner with wine, chatting about our experiences in the canyonlands. Staying in the Zion National Park Lodge allowed me to once more rise with the dawn and appreciate the staggering surroundings at first light.
We traveled onwards to Las Vegas, where the bright lights and sounds only highlighted the few days we had just spent exploring the native lands of America.
The Comfort of Going Guided
I was one of several solo travelers on the Enchanting Canyonlands tour and never felt remotely out of place. It was brilliant to have the time to spend solo but I also welcomed the camaraderie of the other travelers, along with the witty banter and shared laughs.
Our kind and experienced Travel Director, Roger, was simply terrific. He got to know everyone in the group by subtly asking the right questions that uncovered our expectations and desires. His knowledge and suggestions helped personalize the vacation for everyone, from the solo travelers to the multi-generational families on the trip, making it more meaningful and fun. It was heartwarming to watch everyone build travel memories that they will appreciate for years to come.
Now, more than ever, choosing a guided holiday with experienced, reliable and diligently-prepared travel specialists just makes sense. Insight Vacations know the well-being protocol and detail and have teams who work behind the scenes, giving you peace of mind throughout your trip.
If you love the idea of exploring some of the most iconic American wide-open spaces and National Parks, and are looking for a trip that will appeal to all generations of travelers, Enchanting Canyonlands has my vote.