Imagine immersing yourself in a world horticultural exhibition that resembles a small futuristic city, full of blooms, greenery, innovation and intrigue. The spectacular Floriade Expo takes place just once every ten years and is certainly worth the wait.
The theme of the Floriade Expo 2022 is Growing Green Cities and, as well as being the perfect place to enjoy flowers, plants, vegetables and fruits in park-like surroundings, the event provides an invaluable opportunity to introduce two million visitors to sustainable cities.
Taking place in Almere, just outside Amsterdam in the Netherlands, for six months from 14 April to 9 October 2022, this is the country's biggest outdoor exhibition. A must-see for lovers of nature and gardening, and anyone with an interest in history, exhibitions, innovation and technology, an unforgettable visit to the Floriade will nourish both the senses and the mind.
Insight Vacations offers three premium guided tour options that include the Floriade 2022: Country Roads of Belgium, Luxembourg and the Netherlands, European Affair and Chelsea Flower Show and Chelsea Flower Show and Springtime in the Alps.
Floriade EXPO 2022 in numbers
14 April to 9 October, 2022
7th Edition of the Floriade Expo – the event was first hosted by Rotterdam in 1960
60 hectares 150 of garden city/600,000 m2/60 hectares,that is
3,000 species of trees, shrubs, perennials, creepers, hydrophytes and flower bulbs
2 million visitors
40 spectacular country pavilions
3 exciting Premium Tours from Insight Vacations which take you there
The intriguing garden-city of Almere was built some 40 years ago on land reclaimed from the sea. The second-largest city in the Amsterdam area, it has been developed into a well-planned residential area with parks, lakes, and a modern infrastructure. The living lab, as Floriade is nicknamed affectionately, showcases Almere's aim to be a green city on the one hand, and the way in which the horticultural sector strives for continuous innovation in sustainability and food production on the other.
Be touched and inspired by what you see, smell and taste as you wander through the vast site and expect a fully immersive and interactive experience with workshops, conferences, surprising tasting sessions and art and culture.
Growing Green Cities
The vast Floriade Park will serve as a living, breathing showcase for green solutions that can make our cities more fun, livable and sustainable. The site is being developed as a Green City Arboretum, consisting of a huge variety of trees, shrubs, perennials, creepers, hydrophytes and flower bulbs, all of which contribute to an ecologically balanced, healthy city.
National and international participants will exhibit new technologies for greenery, food, health and energy (the four sub-themes of the Expo) and visitors can explore over 40 inspiring country pavilions, with displays of culture, plants, flowers and local innovations.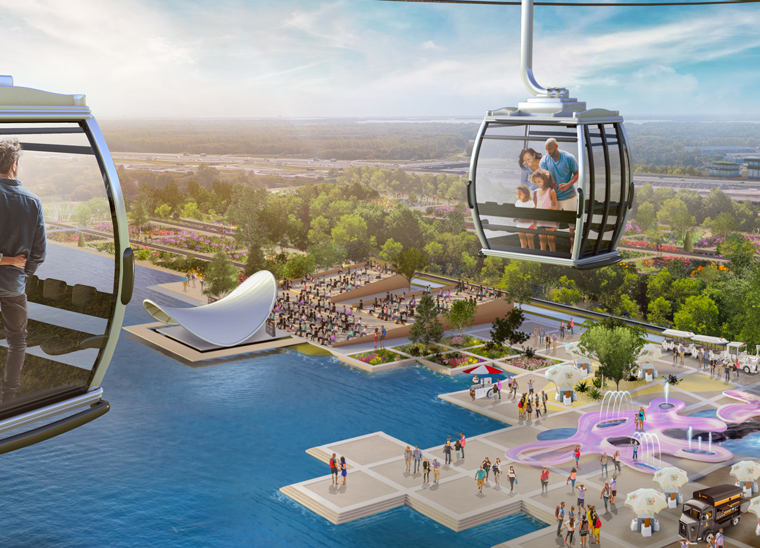 A green city through and through, once the Floriade Expo has ended, the same grid structure will be used to create a new urban district. Houses and other neighborhood facilities will be located on the same plots, meaning the transition from event site to city district will be as sustainable as possible.
TTC's five-point climate change action plan
The themes of the Floriade Expo 2022 echo our own commitment to sustainability, and to the protection of people, wildlife and the planet. In September 2020 The Travel Corporation (TTC) launched a new sustainability strategy based on 11 measurable goals. How We Tread Right (HWTR) addresses TTC and our brands' impact on climate, food, waste, experiences, diversity and wildlife.
We are committed to being carbon neutral by 2030 or sooner, and to sourcing 50% of our electricity from renewable sources by 2025. To ensure our success against these goals and to further our commitment to green travel, we have established a five-point Climate Action Plan:
MEASURE. Measure the emissions from our business and trips.
REDUCE. Build on reduction efforts and set ambitious reduction targets by mid-2022.
REMOVE. Through our TreadRight Foundation, invest in new technologies and nature-based solutions to remove excess carbon from the atmosphere.
OFFSET. Purchase carbon credits to offset unavoidable emissions, including phasing in carbon neutral trips between 2022 – 2030.
EVOLVE. Continue to learn from others, invest in new technologies and support strategic alliances that enable us and the industry to move to a low carbon economy.
Experience the magnificent Floriade Expo 2022 with Insight
Insight Vacations is delighted to offer guests three great guided tours taking place in 2022 which include the Floriade:
Country Roads of Belgium, Luxembourg and the Netherlands is an 11-day premium guided tour taking in beautiful scenery and some of the Europe's most significant landmarks. For 2022 the Floriade will be the tour's special final attraction, as you finish in Amsterdam. Your journey starts in Brussels, sees the battlefield of Waterloo, then to Ghent and onto Bruges. Subsequent stops include Luxembourg, Bastongne, Rotterdam, Delft and The Hague.
Amsterdam and the Floriade Expo provide a stunning colorful opening setting for the 18-Day Chelsea Flower Show and Springtime in the Alps, before the tour moves on to the great cities of Maastricht and Munich. In the heart of Bavaria visit the fairy tale castle of Neuschwanstein before admiring the breath-taking beauty of the Dolomites, the Italian Lakes and the Swiss Alps. Then continues on to Paris, taking in Monet's Garden, and to London enjoying the much-admired Wisley Gardens along the way.
European Affair and Chelsea Flower Show is a 10-day specialist guided tour. Starting in London with a day at the world-famous Chelsea Flower Show, then on Amsterdam for another horticultural bonanza. Begin the day at the Aalsmeer Flower Auction, the largest of its kind in the world, then on to the Floriade Expo 2022. After Amsterdam visit Bruges, Paris, and the Loire Valley, before taking in the magnificent gardens of Versailles and Giverny.

Amazing Amsterdam
The eclectic city Amsterdam needs little introduction as an exciting arts and cultural hub, with its myriad of canals and cobbled streets that delight and surprise at every turn. Home to some of the most famous art museums in Europe and world-famous for flowers, bicycles and clogs, this vibrant and welcoming city is a must for every traveler's bucket list.
Inspired by the flowers and blooms?
To help our valued guests to Bring Back the Magic, for a limited time, we are offering up to 15% off a selection of our incredible worldwide guided tours. View all the details and destinations here.
Inspired to visit Amsterdam and The Netherlands? You can find out more about this fabulous destination on our dedicated page here.