Famous for its spice markets and street food, a trip to Morocco would be wasted without trying the local cuisine. Some travelers may avoid street food but doing so means missing the real food culture prepared for locals. In fact, many street vendors are delighted that you want to taste what they've produced, don't be afraid to ask for a taste first! Served fresh from sizzling food stands on every corner, few countries can compete with the big flavors and bold aromas of Moroccan cooking. From aromatic tagine to indulgent, juicy mechoui, here are some of the best Moroccan foods to sample on your next trip.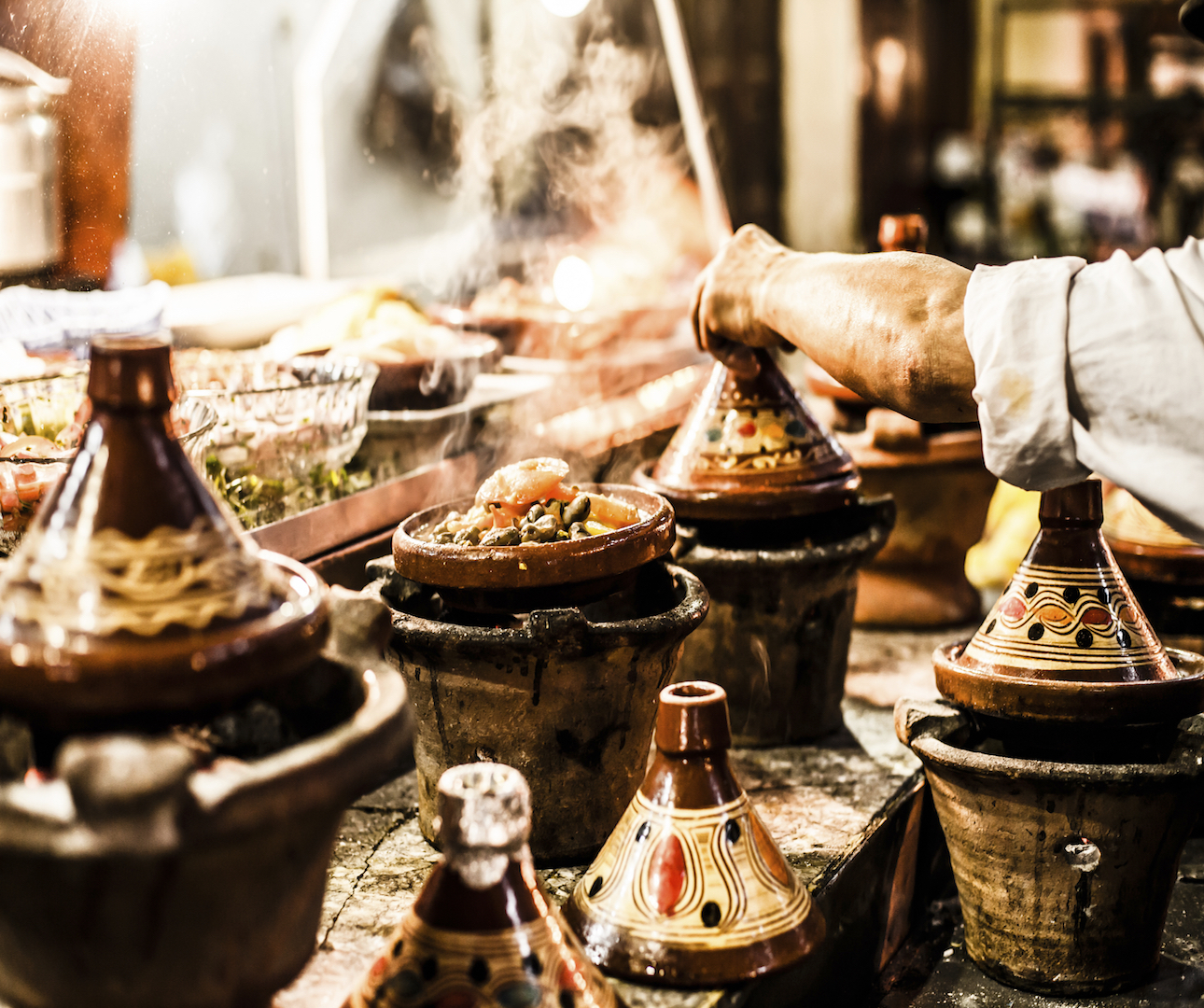 Bessara
Not a complex dish but rich in its own way, bessara is an incredibly cheap cumin-sprinkled, olive-oil-laced, fava bean soup that's typically served at breakfast time.
Pastilla
Imagine Greek spanakopita but with the feta and spinach replaced with shredded chicken, almonds and spices and you're pretty close to pastilla (or B'stilla). Historically filled with pigeon, chicken is now the most common filling.
Tanjia
He/she who dares definitely wins when it comes to this dish. Usually served as a sandwich, this giant sausage is stuffed with ground beef, lamb or camel meat before being rubbed with countless spices and baked in a communal bread oven, after which it's sliced, griddled, and thrown between two soft slices of khobz (flatbread).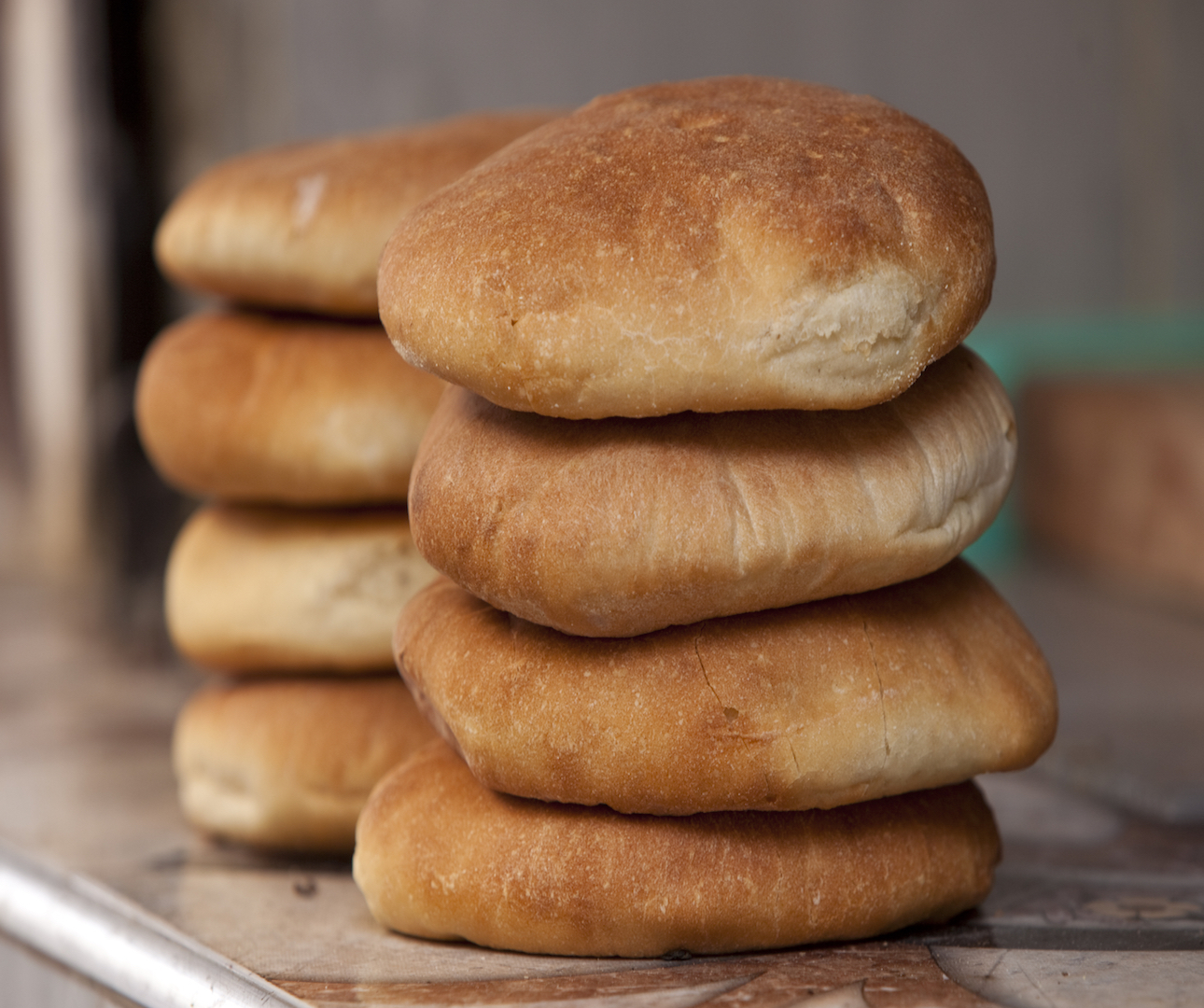 Couscous
No guide to Moroccan foods could possibly be considered complete without couscous, or seksu. Traditionally rolled by hand, this steamed wheat pasta is usually eaten with a sweet raisin preserve or a bowl of buttermilk, meat and lots of grilled vegetables.
Desserts
On the street stalls, the main choice in the sweets department is between briwat (almond-stuffed deep-fried pastries flavored with blossom water), and chebakia (deep-fried sesame cookies) – both of which are dangerously moreish.
Fish Chermoula
Chermoula is the name given to a long list of ingredients (herbs, lemon juice, garlic, cumin, cilantro, chilli, pepper etc.) that make up an incredible marinade for fish. The result is so divine that it's rarely thrown away. Instead, it's used again as a dipping sauce.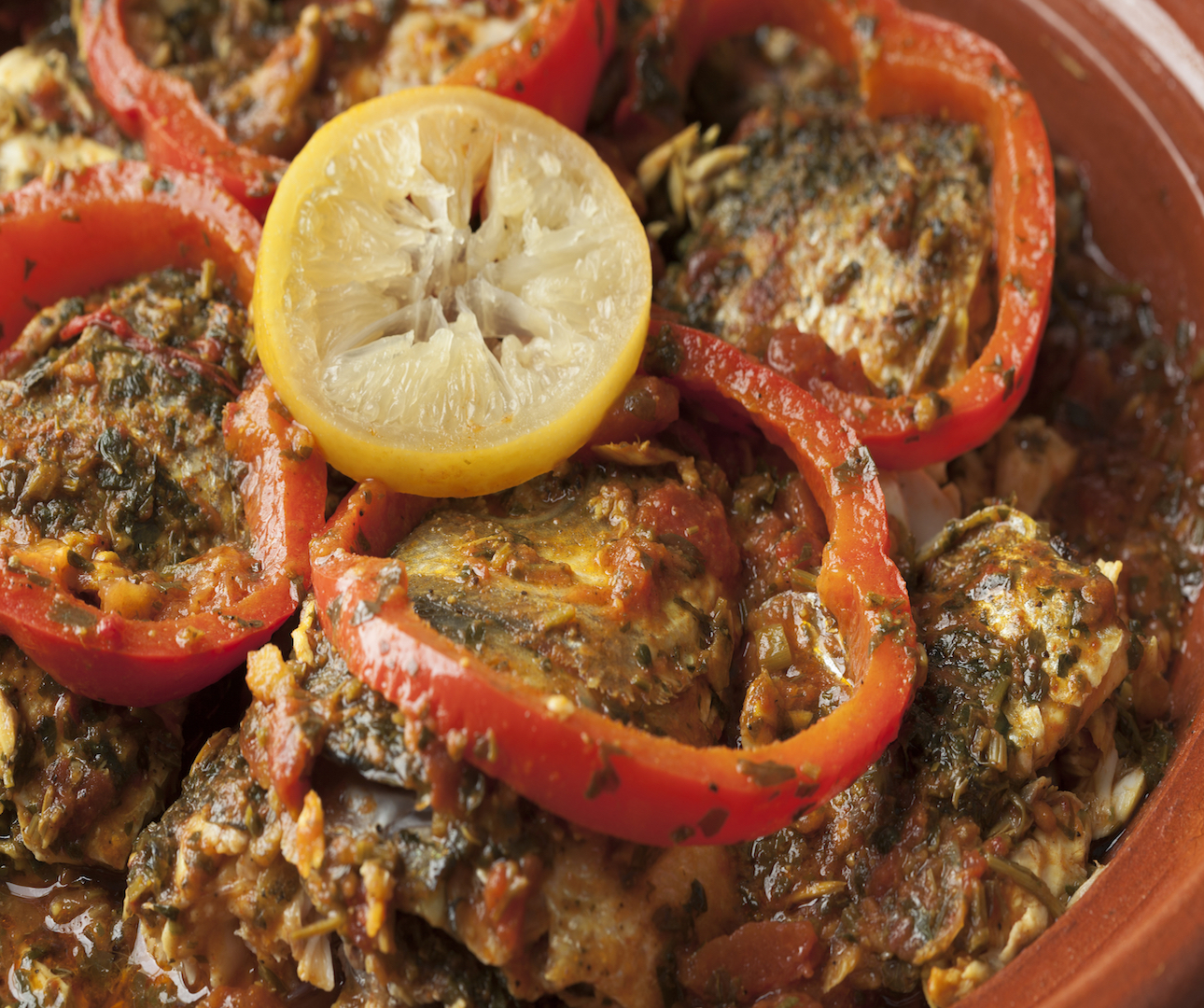 Harira 
A popular local staple, harira is a soup containing tomatoes, lentils, chickpeas, lamb, coriander, and lemon juice. Often served with sweet chebakia (see above), this is a great option for a light lunch or dinner, and is commonly used to break the daily fast during Ramadan.
Khobz
Khobz is just the name for bread, but there are so many varieties that it's worth remembering a few of the best. Order harcha if you like semolina breads, baghira if crumpets are your favorite, and rghaif if you're a fan of flatbread.
Makouda
Wherever you are in Morocco, you'll never be far from the humble makouda. Deep-fried potato balls dipped in a fiery harissa sauce, this street food favorite will fill your stomach without emptying your wallet.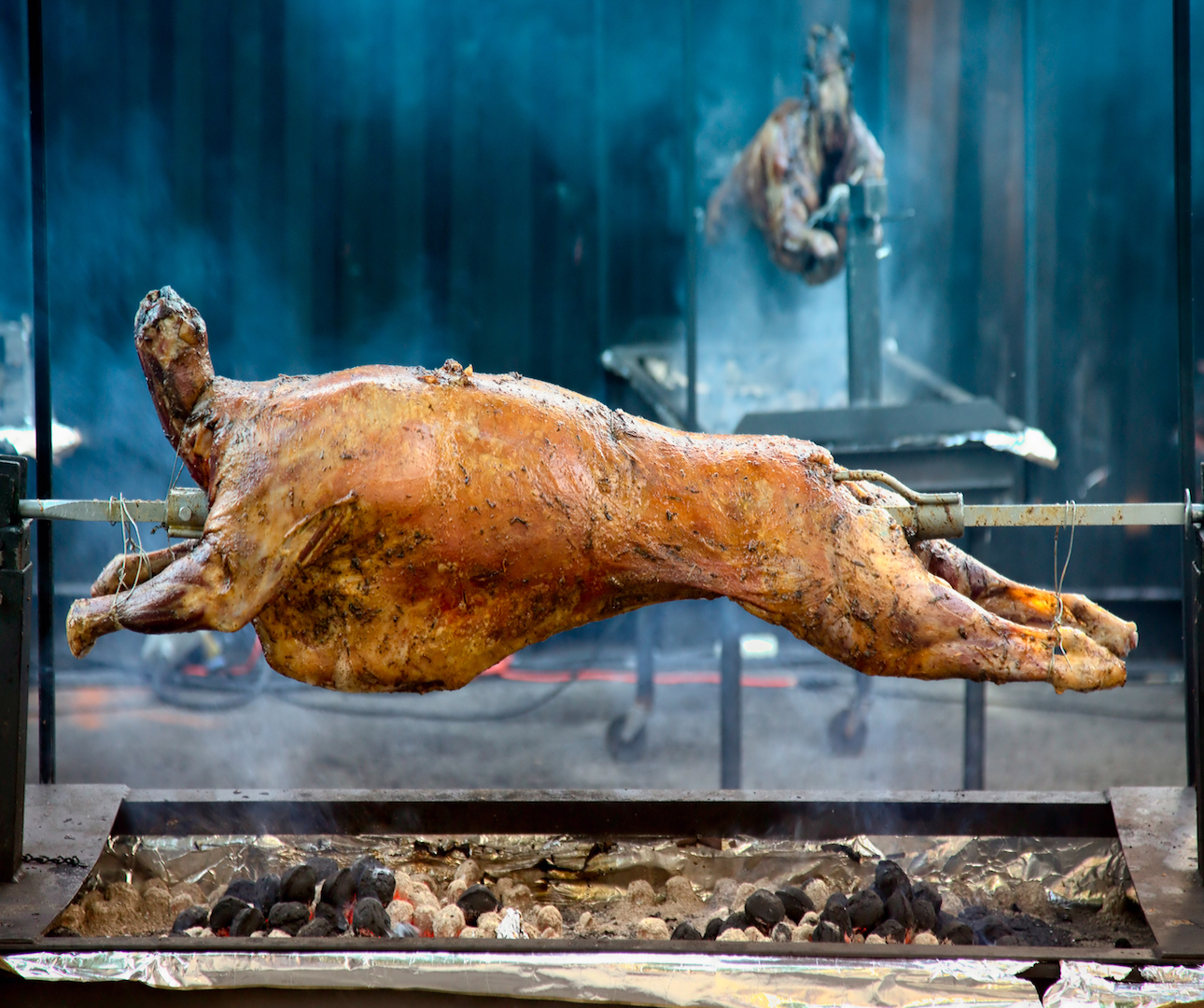 Mechoui
Quite a special dish (historically reserved for celebrations), mechoui is a whole lamb covered in salt and cumin and roasted in a pit. The meat should be cooked so slowly that it can barely cling to the bone by the time it reaches your plate.
Merguez
Long, thin beef or lamb sausages spiced mainly with harissa and paprika, merguez can be eaten on their own or combined with a typically Moroccan mix of feta, lentils and mint.
Sardines
The world's largest exporter of sardines, Morocco is the undisputed master of cooking them too. Usually stuffed with chermoula paste (see above), they're then coated in batter and deep-fried until crisp.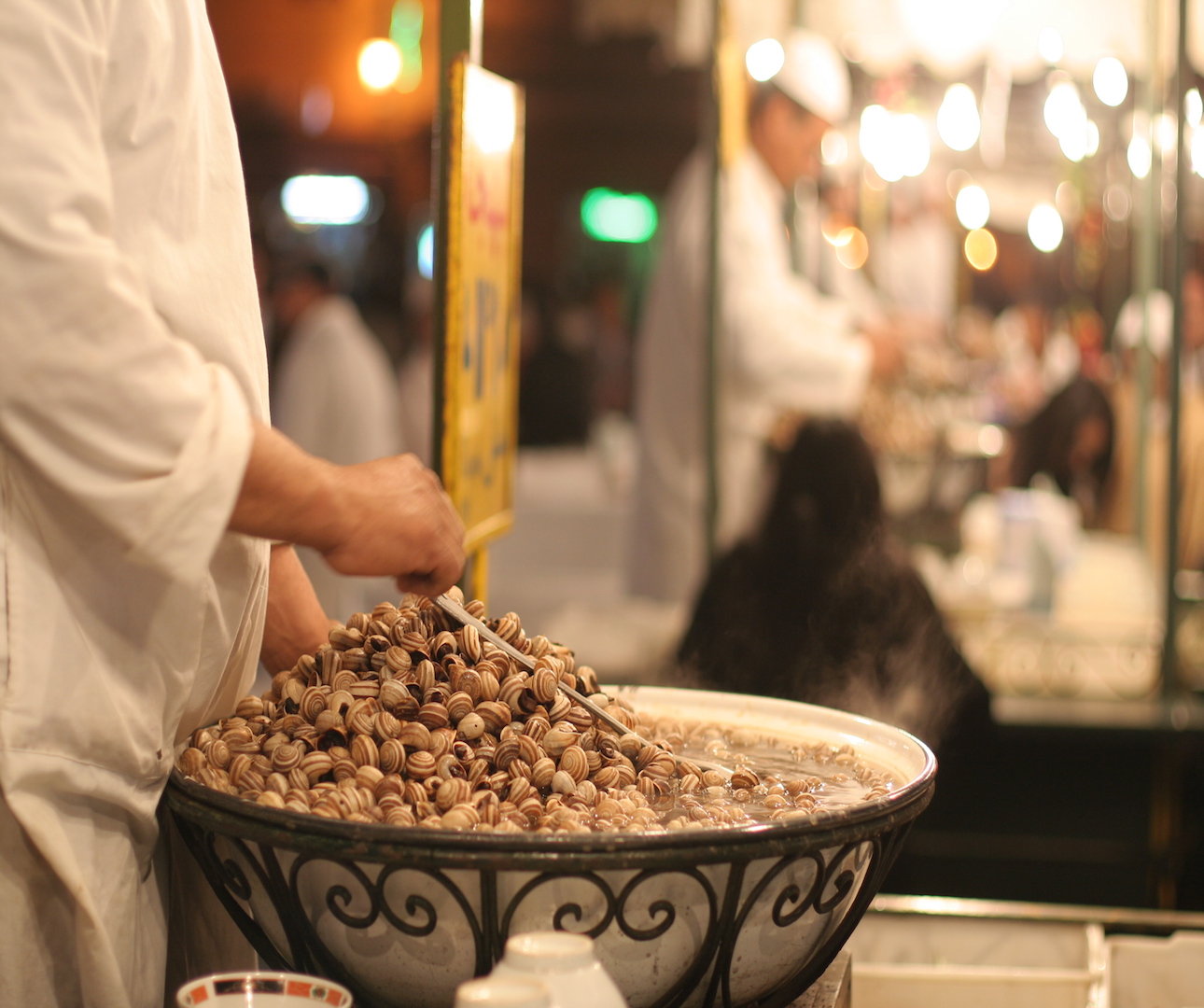 Sheep's Head
Sheep's Head might be one of the more daring Moroccan foods to try on your trip, but rest assured, this is a ubiquitous street food specialty. Little but the cheeks, tongue and brain are edible, but when sprinkled with cumin, salt and chilli, boiled in onion and then barbequed, this rather gruesome dish is actually pretty tasty.
Snail Soup
No doubt a French culinary imprint, the snails (babouche) are much smaller in Morocco but are still cooked in a powerful lemon, garlic and onion broth that packs a few North African twists. If you look squeamish, helpful locals will no doubt inform you that it's good for digestion, and apparently cures colds…
Tagine
Named after the pot it's cooked and served in, this Moroccan staple is one of the most common dishes across the country. Essentially a spiced meat, vegetable and fruit stew that's marinated and cooked for hours (a day is not unknown), make sure to mop up the fragrant sauce with plenty of bread or couscous.
If you like the sound of these exotic Moroccan foods, why not book a place on the Best of Morocco journey?