This year, the Holiday season may look different for us all around the world but our ability to give meaningful gifts and show our appreciation to our friends and family is not being taken away. The best gifts have a story to tell and while we may not be able to travel freely this year, planning a trip actually helps to boost our moods and fill our spirits with joy so why not give the gift of travel for 2021 and beyond? Next year, if you choose to visit a Christmas market, consider picking up these traditional gifts from these seven traditional markets in Europe:
Innsbruck, Austria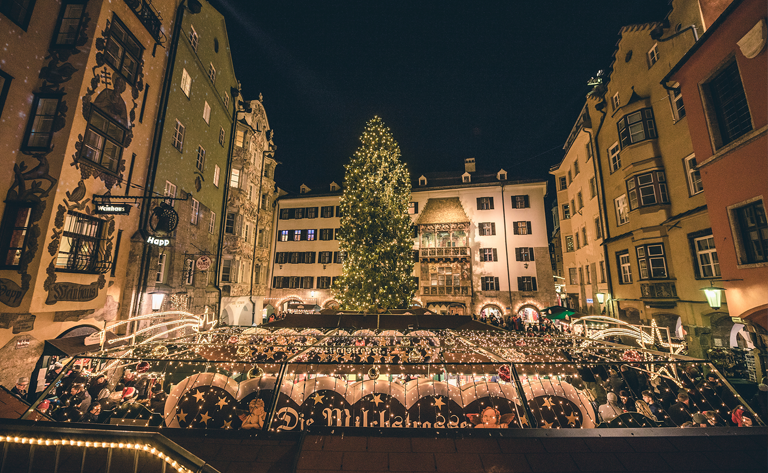 Innsbruck's magical Christmas market is one for the books as its set amongst a valley between majestic mountains, with charming, lit up cobblestone streets. The seasonal cheer is felt throughout the city with plenty of market pop ups full of unique treats and items you can pick up to bring home. Frequently spotted throughout Innsbruck, DoggIn slippers are considered a must-have in Austria and these felt-made slippers can keep you and loved ones cozy in the winter months. Locally made Tirolean honey is also a popular item along with a stuffed bear wearing Tracht, a traditional outfit worn by Austrians that many stuffed animals are dressed in but the most popular are the cuddly bears. On Winter Wonderland, you will see this the magic of this market and so much more.
Krakow, Poland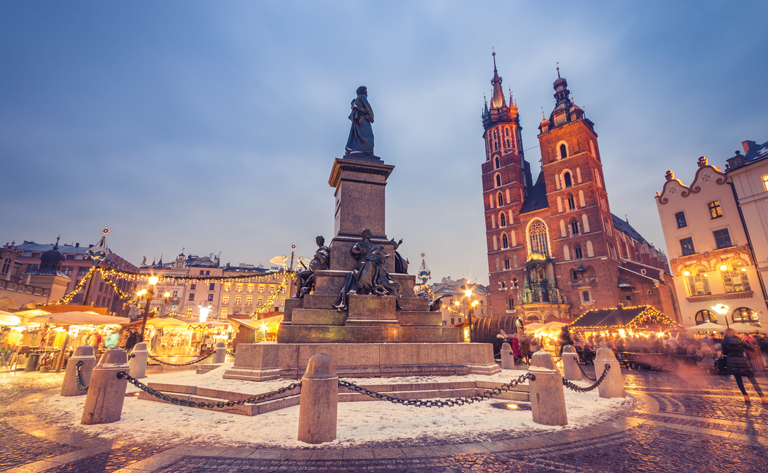 Krakow becomes a beautiful wonderland in the winter as travellers explore the historic streets lined with snow-covered homes. Located on the Main Market Square in the Old Town's center, Krakow's Christmas Markets offers traditional treats, gifts and more, bringing the city's ambiance to a new level. What to bring back home? The Polish Ministry of Culture has designated the Kaszubka dolls as Poland's national item. You'll find these little creations dressed in colourful folk clothes and handmade by the locals. We offer a delightful winter escape, Christmas Markets of Poland, Prague & Germany, stopping in Krakow where you can take some time to visit the charming Christmas markets and even experience the Nativity Crib contest, where locals who have spent months creating their art displays have their pieces shown under one of Krakow's most famous monuments near the market stalls. The winners are shown in Krakow's Historical Museum.
Leipzig, Germany
One of the most beautiful markets in Germany is known to be the one in Leipzig. It's surrounded by 250 stalls located within the city's renowned market square. Leipzig's market is special as it uses an international approach to its "theme," while other towns in Germany typically include a medieval market theme. Traditionally, you can pick up handcrafted Glühwein mugs (for mulled wine) or because the market is closely situated to the Ore Mountains, you can grab a wooden Christmas pyramid or candle arch to represent the Leipzig region. On the Christmas Markets of Germany journey, you'll be guided throughout the market to enjoy local traditions and festivities as you search for your favourite gifts to bring back home.
Strasbourg, France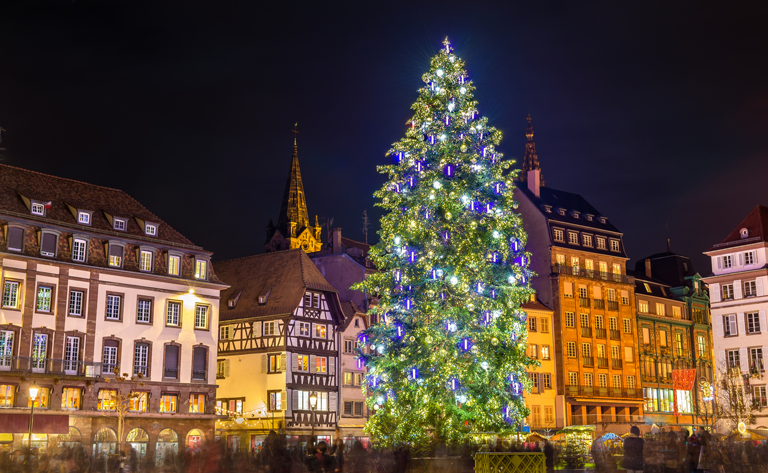 Strasbourg is truly magical at Christmas, full of lights, wreaths and stunning ornaments. They say the Christmas market in Strasbourg has an extra touch of special as it represents a historical time of the past when Germany once ruled the area though the market stills lives and brings families together to celebrate. In total, there are 300 stalls throughout the city and you'll surely find treasures for anyone on your holiday shopping list. At the Christmas market at Place Broglie, you'll find traditional Alsatian Christmas decorations so add these to your shopping list to represent a truly unique region when you return back home. There's also Nut'Alsace, similar to Nutella! A visit to France is included on our brand new, exciting Alpine Christmas Markets journey where you'll stop at this gorgeous Christmas market.
Salzburg, Austria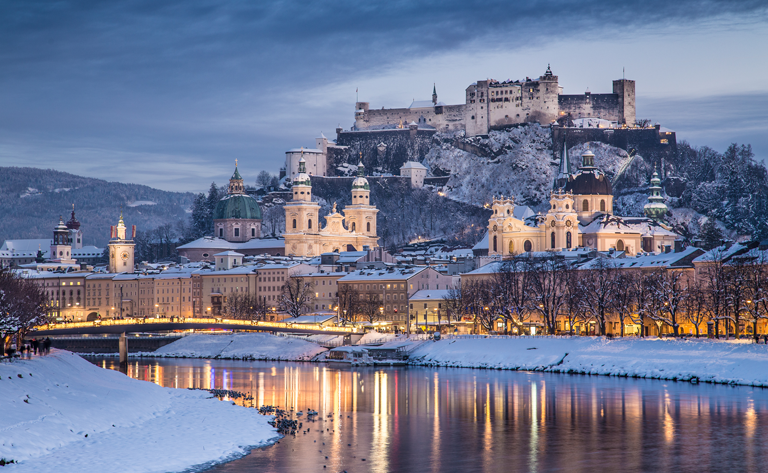 As one of the world's oldest Advent markets dating back to the fifteenth century, visiting Salzburg during Christmas will mark a truly special occasion. You'll find around 100 traditional stands as you stroll through and warm up with a classic cup of Glühwein, treat yourself to Kletzenbrot, traditional Austrian bread with fruit and marvel at the many handicrafts the stalls have to offer. As a gift grounded in history and a real story, grab some Mozart Balls. Wrapped in foil, these traditional Austrian sweets feature the famous composer's face and contain a marzipan centre covered in chocolate. Travel with us to discover the best of Europe's Christmas markets on a festive tour via our NEW Christmas Markets of Croatia, Slovenia & Austria.
Zagreb, Croatia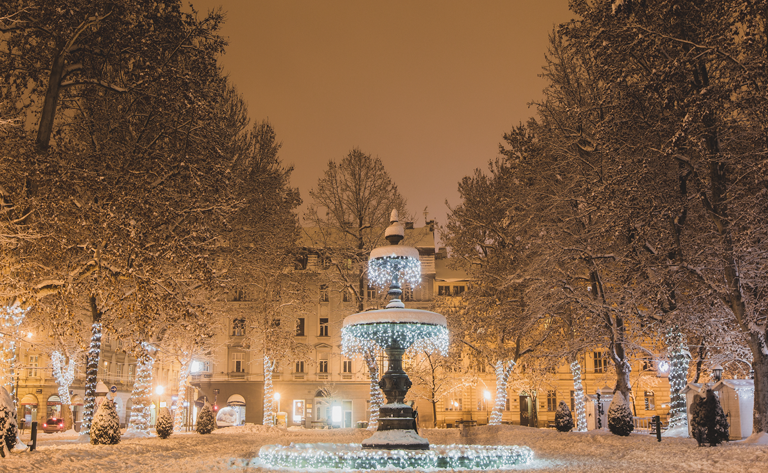 Travellers flock to Croatia during the summer months but Christmas in Croatia is a nirvana as well. Zagreb has been voted one of the best European Christmas market three times in a row by European Best Destinations' online poll where votes were received from the public. The Jolly Christmas Tram offers rides around town including Santa Claus, Granny Claus, fairies, elves and more. Picking what to bring home from here will be a difficult choice with so many hand-made Croatian gifts and souvenirs but opt for the Licitar and you won't be disappointed. Licitar are colourfully decorated biscuits made of sweet honey dough and are a traditional symbol of the Croatian capital, Zagreb. The Christmas market will be festooned with thousands of Licitar hearts and in 2021, you can visit the market on our brand NEW Christmas Markets of Central Europe journey.
Zurich, Switzerland
Zurich holds a Christmas market (10 to be exact) for every taste and guarantees every visitor will find their favourites. Some may visit the oldest Christmas market in the charming Old Town (Niederdorf) or perhaps the Christkindlimarkt next to the Zurich Main Train Station, near the 49-foot majestic Christmas tree with more than 7,000 crystal ornaments, or even the "Wienachtsdorf" Christmas village on Sechseläutenplatz near Bellevue. Christmas markets in Zurich are full of locally sourced designer and artisanal goods and feature a multicultural range of cuisine. Insight Vacations offers a magical journey, Magical Switzerland, amongst the Swiss alps with a stop in Zurich, offering guests an awe-inducing look at the three-story Christmas tree and time to explore the Christmas market. For the ultimate foodie in your life, be sure to find a Swiss fondue set and some Swiss cheese to go along with it. A true foodie will never say no to Swiss cheese!