The next time you're considering cruising, a river cruise is an ideal choice. Uniworld Boutique River Cruises, our sister company in The Travel Corporation, takes guests on all-inclusive, luxury tours in Europe, Asia, Egypt and Peru onboard gorgeously appointed floating hotels.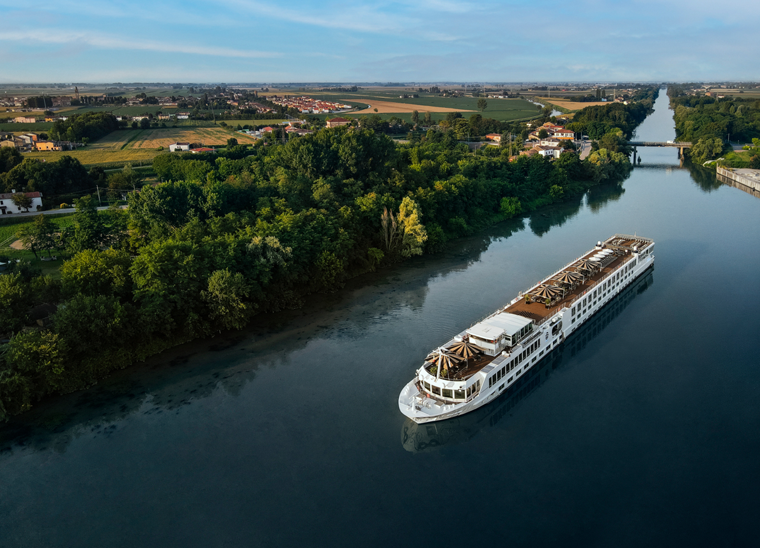 Traveling on small ships with fewer guests, you enjoy more personal space and more personalized service. Your fellow passengers will number in the dozens instead of the thousands, and you'll never find yourself waiting in those long embarkation and disembarkation lines.
What we find most attractive about river cruising, however, is how well it immerses travelers in their destinations. Small river ships can travel far past the coastline to places ocean liners can't reach and bring you to both major cities and hidden gem towns along the way. You'll also find yourself in constant proximity to land, immersed in your destination through river views at all times. The best part? River ships can dock in the heart of town, so you can step right off the boat and into the action.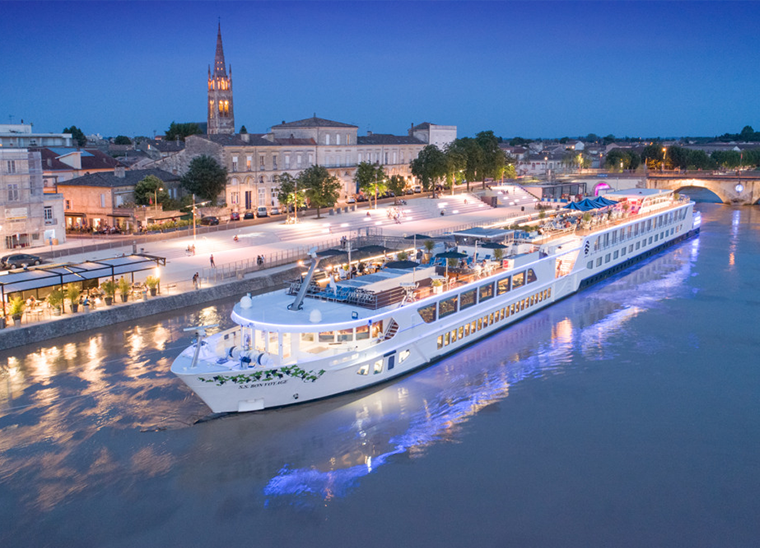 Many river cruise lines will offer "all-inclusive" amenities, but only Uniworld delivers the highest degree of luxury inclusions. A variety of carefully curated excursions at every port, daily fitness classes, all onboard gratuities, 3 gourmet meals a day and unlimited fine wines, beers and spirits are just the start of it.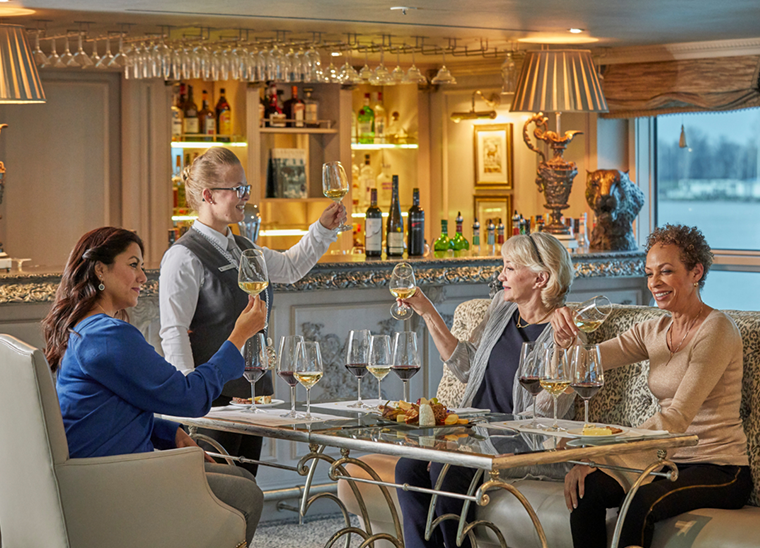 Uniworld's claim to fame is its fleet of floating boutique hotels. Inspired by the destinations through which they cruise, every ship is beautifully decorated down to the finest details. Each stands apart with elegant color palettes, sumptuous furnishings, original artwork, custom fabrics and spacious suites with all-marble bathrooms. No two Uniworld ships—or even suites for that matter—are alike. And everything onboard is crafted to reflect your destination, from the design to their included onboard experiences (think cooking classes, local entertainment, fascinating lectures, and more).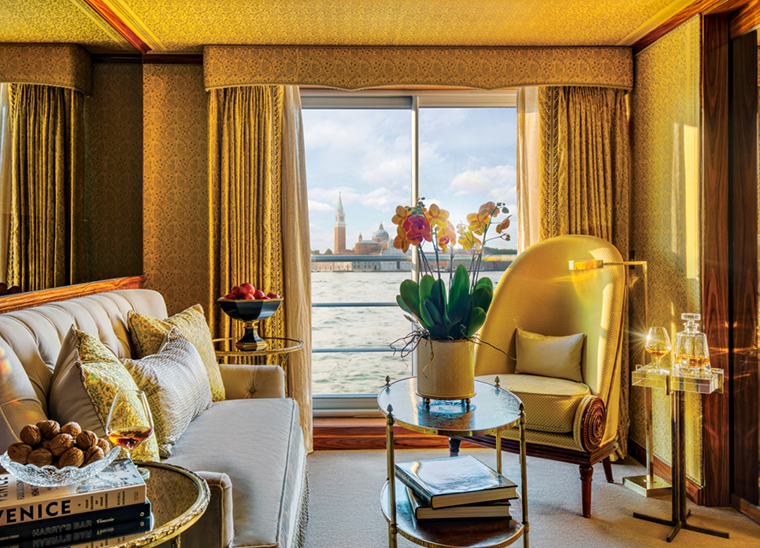 You'll find the highest standards of service onboard with Uniworld. The crews are passionate about going the extra mile to give guests an unforgettable experience, with friendly and dedicated teams that live by the motto "no request is too large, no detail is too small". Suite guests enjoy the service of butlers trained by the same rigorous team that prepares butlers for work at Buckingham Palace.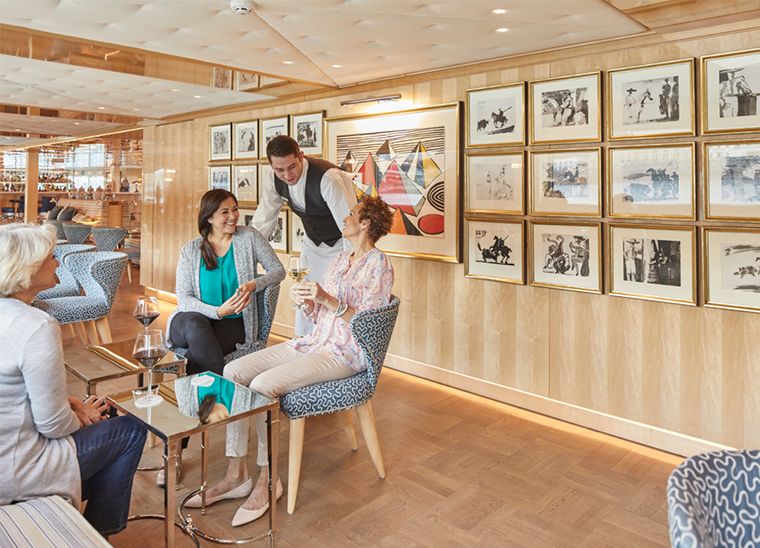 Onshore experiences with Uniworld are all about getting to know your destination intimately, and they offer a wide range of excursions aimed at helping you do just that. "Village Day" outings bring you to charming small towns and introduce you to the people who call them home—perhaps a local potter in their shop, or a winemaker ready to take you on a tasting tour through their vineyards. On "Do as the Locals Do" tours, you'll follow an expert local guide through their cities to see the less touristy sides of major destinations like Paris or Venice. And if active adventures are more your style, "Let's Go" excursions take you on hikes, bike rides and more through picturesque locations.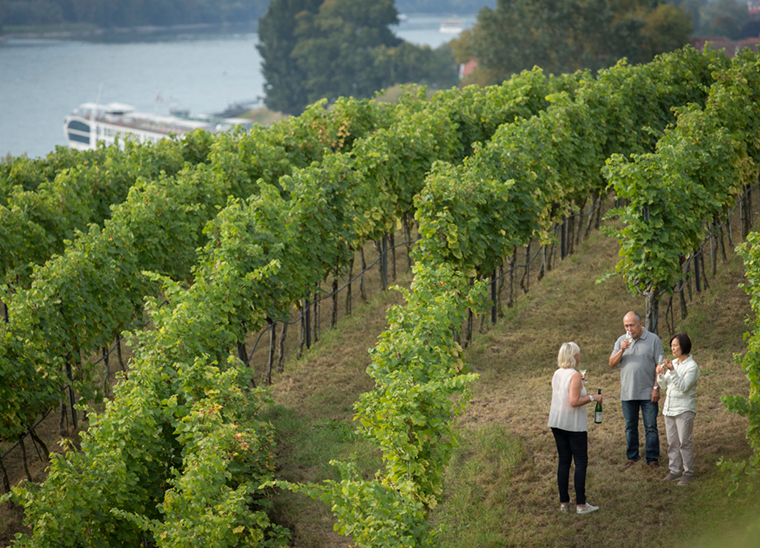 As our sister company in The Travel Corporation (TTC), we know Uniworld well, which is why we're so excited to introduce this experience to you. If you're going to take a cruise, you'll find the Insight standard of unique experiences, deliciously authentic dining, comfort and style only on a river cruise with Uniworld.
And, of course, as a TTC brand, we are pleased to be able to guarantee to you that Uniworld operates with the same commitment to environmental and community welfare that we have. In partnership with the TreadRight Foundation, Uniworld works to make travel matter for the planet, for wildlife and for the people whose communities they visit.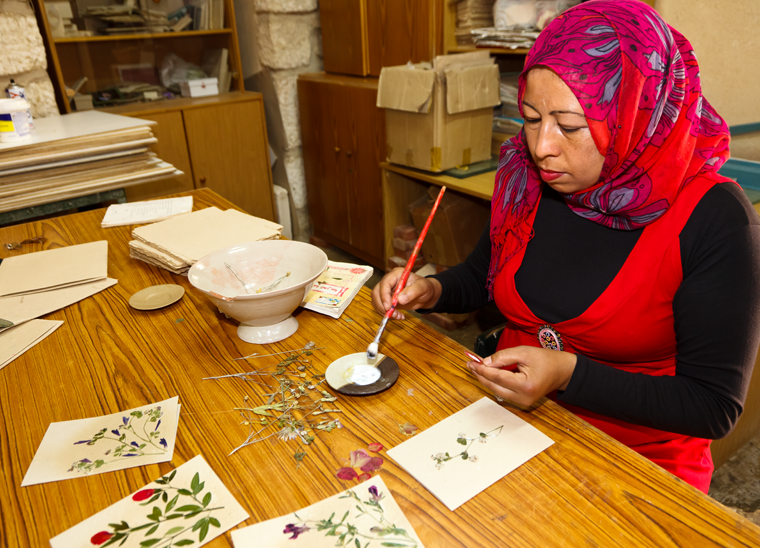 SET SAIL IN THESE INCREDIBLE DESTINATIONS!
Milan, Venice & The Gems of Northern Italy
10 days from Milan to Venice
Food, wine, art, architecture and, of course, romance—this itinerary has it all. Northern Italy is a region that will delight all of your senses. Sample rare Amarone wines during a paired lunch at the estate run by the descendants of Dante, soak in the serenity of Chioggia on a traditional bragozzo ride and learn to make pasta with an Italian chef in Bologna.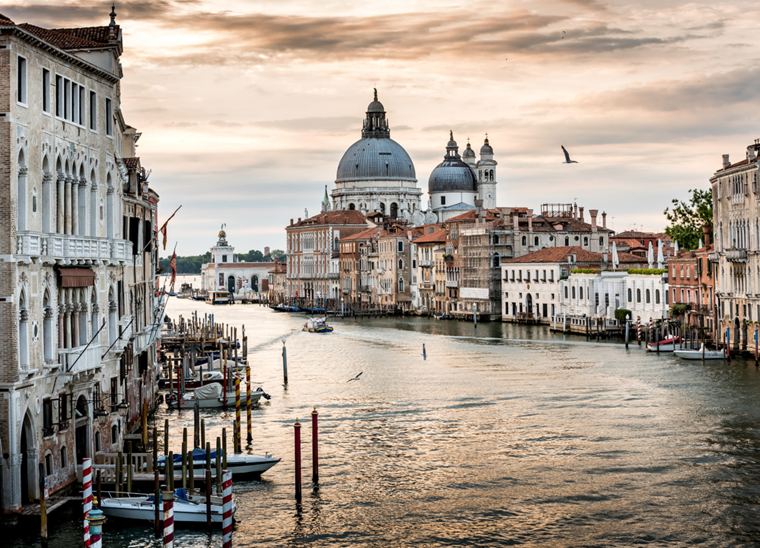 Guests sailing this itinerary in 2021 will be the first to step onboard one of Uniworld's newest Super Ships, the S.S. La Venezia. Her design drew influence from the fine Fortuny fabrics displayed prominently onboard. Murano glass, gilded accents and artistic etched elements pay homage to popular Venetian aesthetics of the early 20th century, creating an onboard atmosphere that is at once elegant and nostalgic.
Portugal, Spain & the Douro River Valley
11 days from Porto to Lisbon
Following the Douro River through Portugal and into Spain, you'll cruise past steeply terraced hillsides, quaint villages and acres of ripe vineyards. Dine on traditional fare, enjoy private tastings of Port and wind your way through the dramatic landscapes of the UNESCO-designated Douro Valley, heading ashore to visit charming quintas and meet the winemakers who operate them.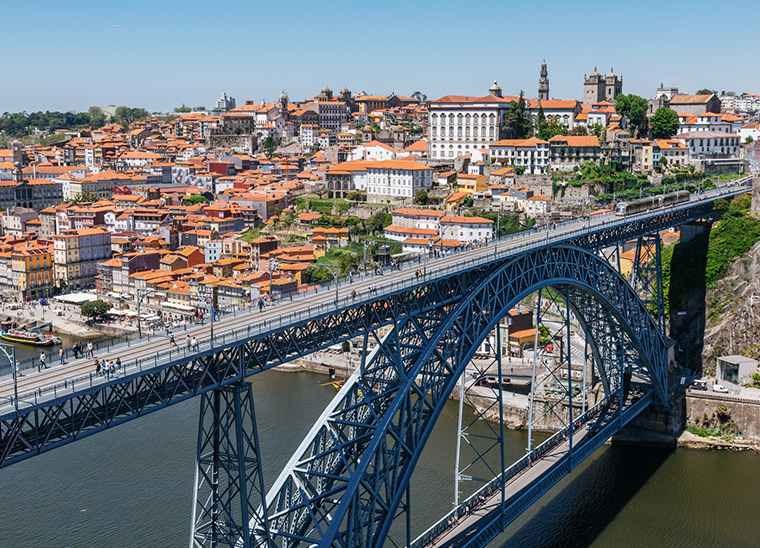 Another new Super Ship, the S.S. São Gabriel is as breathtaking as the landscapes of the Douro River Valley itself. Serene blues, greens and sandy neutrals bring Portugal's coastal atmosphere onboard, and the country's famed azulejos tilework brings an artful local touch. Guests can enjoy delicious local cuisine in the restaurant or at the alfrescoeatery on the upper deck.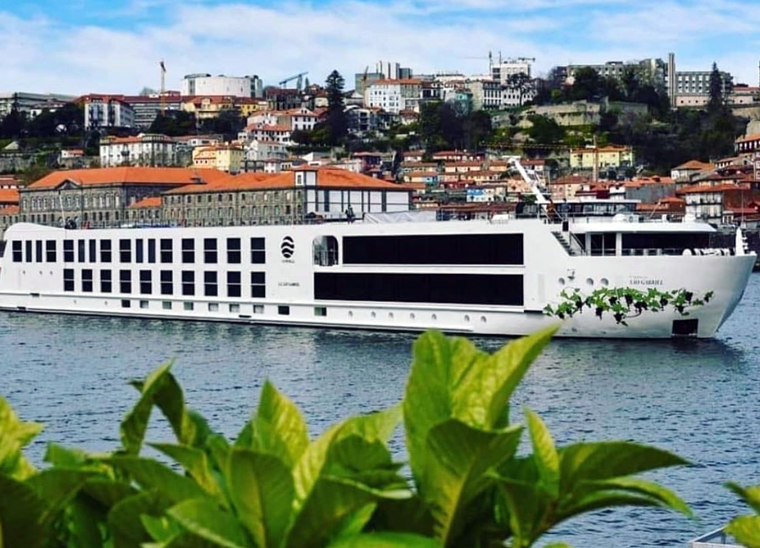 8 days from Bordeaux to Bordeaux
Follow in the footsteps of Van Gogh, Cézanne and Gauguin on this exquisite journey through southern France. Cruise the Rhône and Saône rivers, enjoying the region's incomparable wine and cuisine and discovering its many treasures—from the medieval wonders of UNESCO-designated Avignon to Lyon's lively river banks.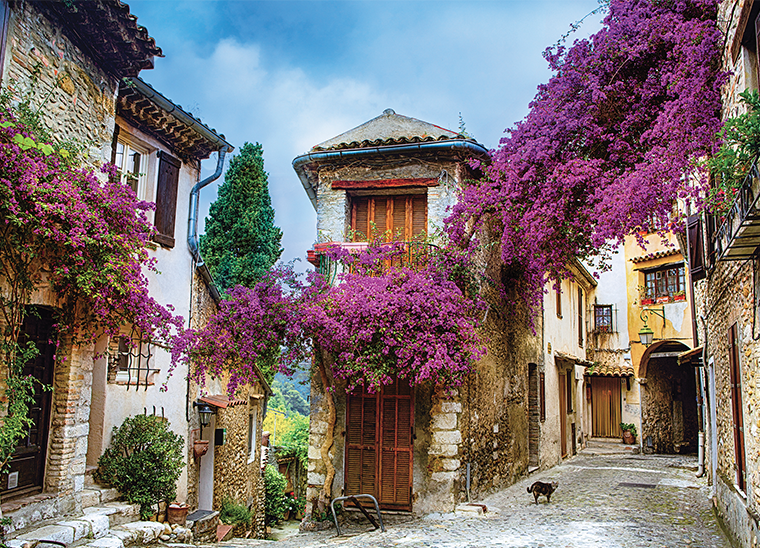 The S.S. Catherine, boasts opulent interiors, including a two-story lobby with a specially commissioned Murano glass chandelier, whimsical life-size glass horse and a spectacular tile mural depicting a jungle scene surrounding the onboard pool.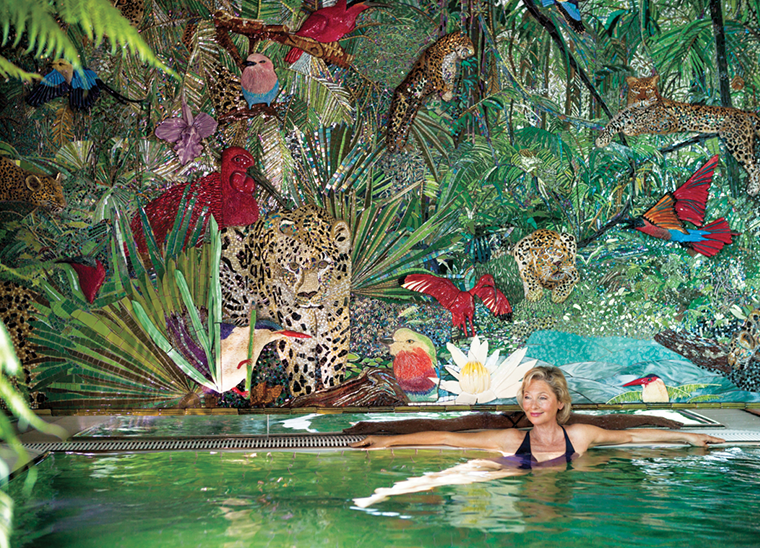 8 days from Bordeaux to Bordeaux
The S.S. Bon Voyage is designed to immerse guests in French culture, art and wine, from its stunning lobby clad in polished wood, subtle brass details and hand-crafted balustrade, to the stylish emerald tones found in bar Le Salon Champagne, inspired by Yves Saint Laurent's personal abode, Villa Majorelle.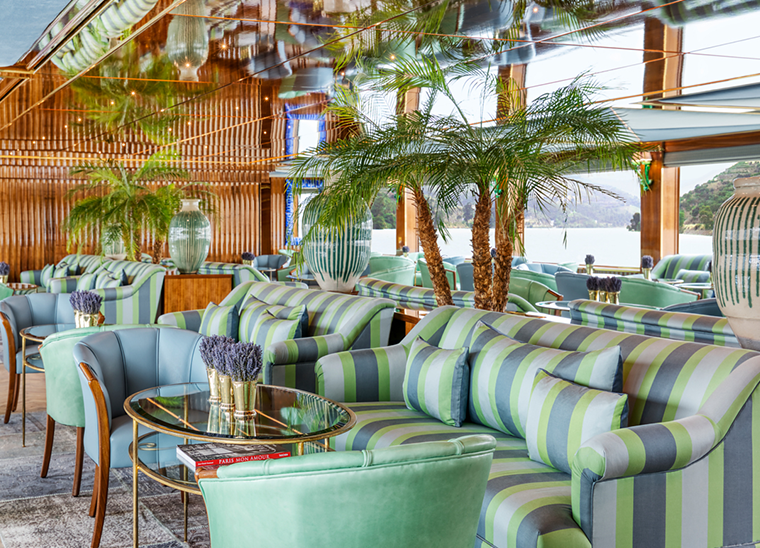 8 days from Paris to Paris
Cruise from Paris through Normandy's countryside, uncovering its many charms: Richard the Lionheart's Chateau Gaillard, the medieval capital of Rouen, Monet's beloved home in Giverny and the famed Normandy beaches. Tour of the majestic palace of Versailles, once home to Louis XVI and Marie Antoinette and golf at Sainte-Mère-Église in Étretat, perched on the cliff high above the sea.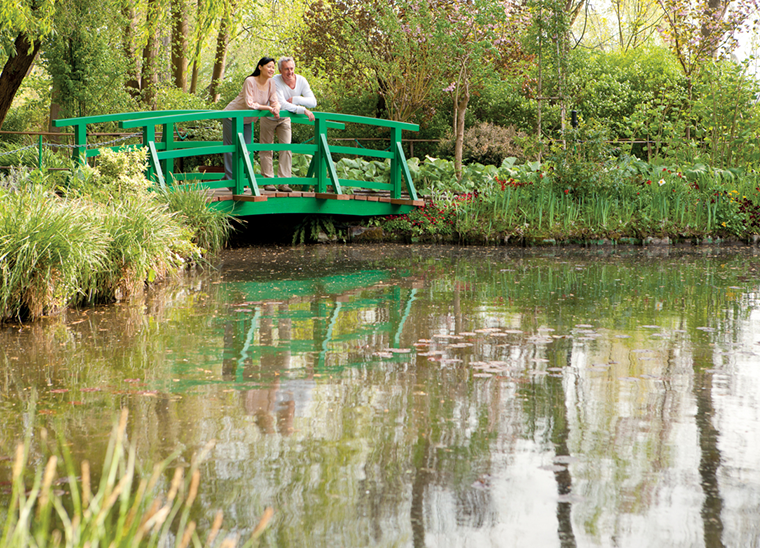 The S.S. Joie de Vivre features handcrafted furniture and fine antiques, original artwork, and signature accents inspired by 20th-century Parisian design from the Golden Twenties to the free-spirited Sixties, all blending seamlessly with modern conveniences.