Picture the scene: It's Christmas Day 2020 in the Lower household in the USA. Mr. Lower is unwrapping a gift box thoughtfully, and somewhat mysteriously, prepared by his wife, which includes a book about the pharaohs and a tinker toy set to build some pyramids. At the bottom of the box is an envelope, Mr. Lower opens it up and inside is an Insight Vacations itinerary for The Wonders of Egypt Premium Guided Tour!
What a gift! We caught up with Mrs. Lower, our IV guests on tour, to hear all about their surprise premium guided tour and the story behind it.
Thank you so much Mrs. lower for sharing your story with us. How did your husband react and why did you choose Egypt for this special surprise vacation?
"He was so surprised! My husband is an engineer and he builds roads and bridges and things like that. He has always been fascinated by the ability of the Egyptians to build such amazing structures like the great pyramids and temples and has always dreamed of going there. So I gave him the tour as a surprise for Christmas and we actually went during his birthday earlier this year."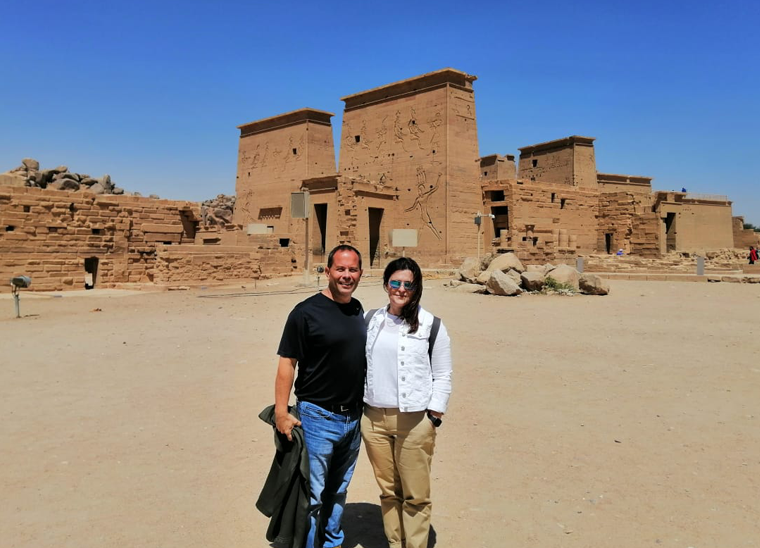 Why did you choose to travel with Insight and why now?
"A good friend is a travel agent and she recommended Insight and this particular premium guided tour. Like most people, we had been cooped up for a long time so I thought we should just get on and do it."
"As it turned out it was just us on the tour! It was amazing, we were treated like royalty and everyone was just so wonderful, it was like a personalized premium guided tour of Egypt."
The Wonders of Egypt Tour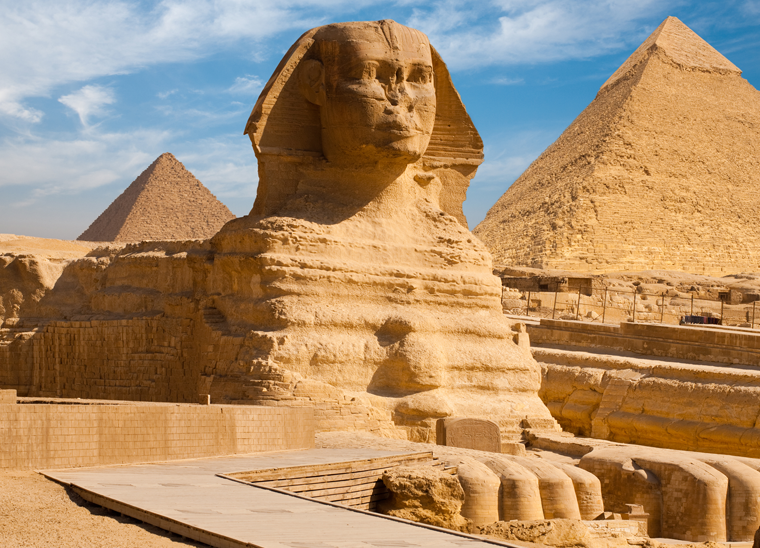 Home to one of the world's earliest and greatest civilizations, Egypt is rich in wonders and mystery. Open for travel, this beautiful country is the perfect destination for anyone who loves art, history, culture and awe-inspiring monuments.
Our nine-day premium guided tour The Wonders of Egypt starts and finishes in the vibrant city of Cairo. Featuring the iconic Pyramids of Giza, Luxor's Karnak Temple and the Valley of the Kings, the tour also includes a luxury Nile cruise and a visit to Aswan. Guests also spend time with local families, learn about ancient Egyptian traditions and enjoy high tea at the famous Old Cataract Hotel, coming away with a true sense of the culture and the people.
What would be one of your favorite Insight moments?
"Definitely the Valley of the Kings. Our guide explained that it was quieter than usual at that time of year, but this meant that he was able to take us up inside one of the pyramids. My husband went all the way up to the top to look around inside and saw the tools that people who worked on the pyramids used to build them. A fascinating and unforgettable experience."
What was your best Insight Experience on tour?
"When in Luxor we went to a local farm and met a family in their home. They showed us how they make their traditional sun bread and explained how the farm and village works. All the families stay in the same place, support each other and share food and resources. It was incredibly interesting, and we learned such a lot about the culture and the people, just in that one visit. We also met his son, dressed in traditional robes and on his way to college to study cybersecurity, it was like two worlds colliding."
What about the hotels? Which was your favorite place to stay?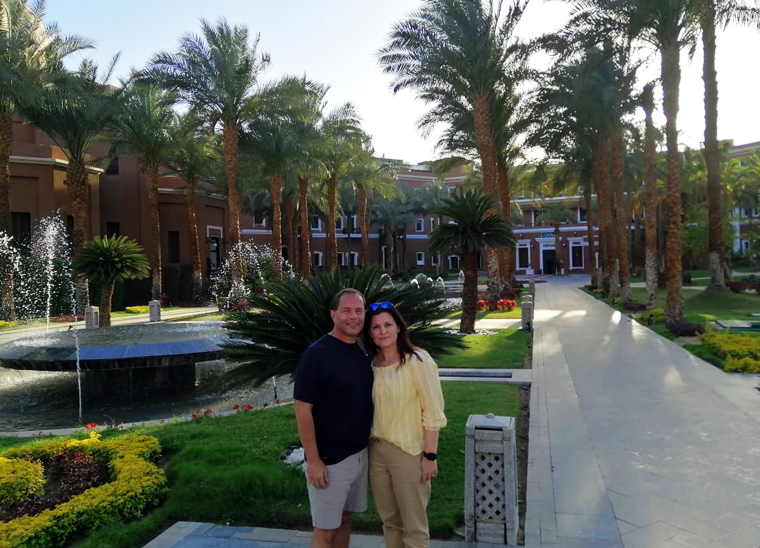 "At the beginning and the end of the trip we stayed at the five-star Cairo Marriot Hotel, on the banks of the Nile, and we really liked this hotel and it was quite comforting because it was something familiar. It was a great location with lots of opportunities to see the city. "
So how did you celebrate your husband's birthday?
"We were in Cairo for his birthday which was really beautiful. When we came back to the hotel Insight had given us a beautiful chocolate cake and a bottle of wine and a card. It was a really nice touch that they had thought to do that and made the day extra special. "
Have you chosen guided travel before? What were the benefits?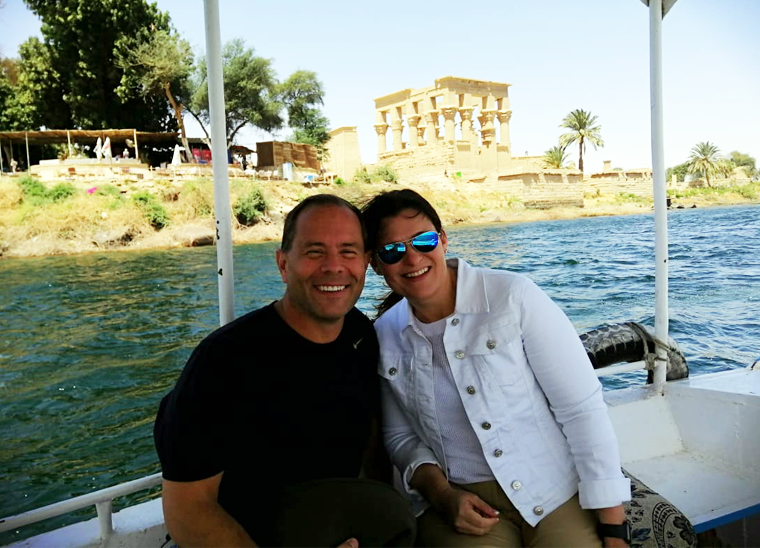 "I have traveled guided before, but my husband hasn't. In Egypt I felt we needed to have a Travel Director – without knowing the language and customs we wouldn't have had such an amazing experience.
"One of the biggest benefits of having the Travel Director was the personal touch. He knew my husband's interest in engineering, so he made sure he pointed out everything that related. I work in the medical field and, as an example, he made sure we saw the hieroglyphics on one of the temple walls that displayed medical equipment used in ancient times. He was awesome, he understood our interests and made everything so personal, so we got the most out of each experience.
"We really enjoyed talking also with our guides and Local Experts. On our Nile cruise our guide really enjoyed just talking to us about Egypt and wanted to learn about our culture, and what we thought about many subjects. Through him we learned so much about the Egyptian culture that we would never have had the opportunity to learn without going there and being amongst the local people."
Did you feel comfortable traveling with Insight during the pandemic?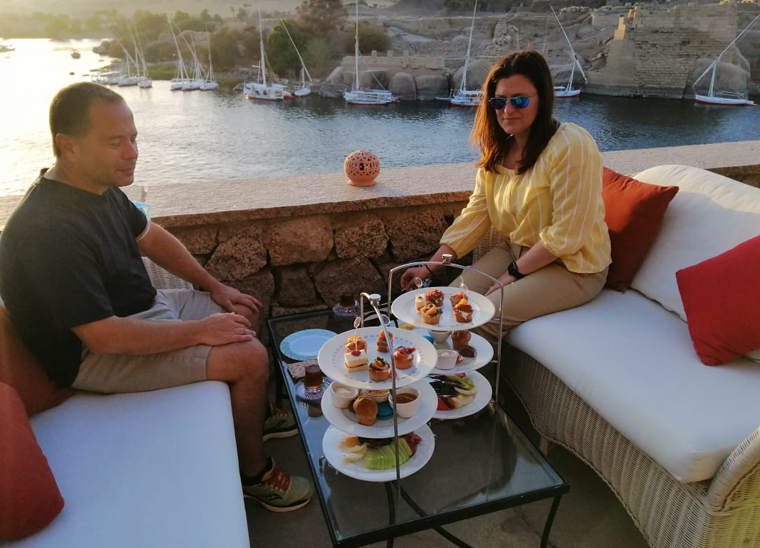 "I had traveled a lot domestically during the entire COVID-19 pandemic, so a lot of the protocols for me were just a reality of life. I was initially concerned about getting tested on arrival but when I contacted Insight, I was told someone would come to us to do the test, so that really took the worry out. Our driver was brilliant, and the coach was really clean all the time. We had a lot of care throughout the whole trip, it was great."
So have you thought about where to travel to next? Will you be creating more Insight memories?
"We will definitely travel with Insight again and we have a list that we will start checking off! We've talked a lot about Italy and Greece, so probably one of those would be next for us."
You can read more about The Wonders of Egypt premium guided tour here.
Learn more about Insight's innovative Well-Being Directors, just part of our commitment to guest welfare at every stage of the journey.
We're helping to bring back the magic of travel and are currently offering savings of up to 15% on a wide variety of incredible worldwide tours. Click here for more information.