In celebration of Earth Month, we invite you to meet some of the extraordinary people who are making a real impact on our planet. From the preservation of ancient traditions to tackling the issues of modern society, through our MAKE TRAVEL MATTER® Experiences you can meet these amazing people for yourselves. Enjoy inspiring conversations, fascinating stories and gain memorable insights into their lives and work.
VeryNile, Cairo – Cleaning the Nile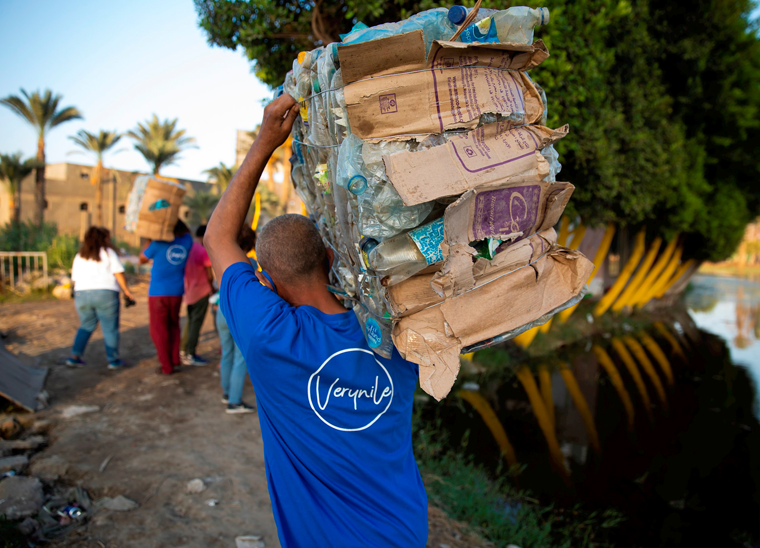 The sacred Nile is a symbol of Egyptian heritage and a source of life for Egypt. Yet, according to the World Economic Forum it is one of the rivers that contributes 90% of the world's garbage into the oceans. Despite these odds, since 2018, a group of extraordinary people have been working to help clean it up.
Through recycling and upcycling solid waste, and employment opportunities, VeryNile is the first initiative to develop sustainable means to clean the Nile. The team also raise vital awareness on the importance of protecting our environment through workshops and education. Join a MAKE TRAVEL MATTER® Experience on our Wonders of Egypt premium guided tour and meet some of the inspirational people who work on the project. Enjoy fantastic views of Cairo and the Nile as you cruise to Qursaya Island by high-speed boat. Here, at the Fishermen Centre, learn how the plastic is collected, compacted and recycled and get to meet some of the workers from the project.
VeryNile offers employment opportunities and financial incentives for collecting, sorting, compacting, and creating products out of recyclable waste. Supporting residents with low income, most of them being fishermen and their families. Every day, this extraordinary green army removes an average of 100kg of plastic waste from the Nile – that's almost 40 tons per year.
Do this on: Wonders of Egypt
CopMadam Workshop, Ayvalik - Transforming shabby to chic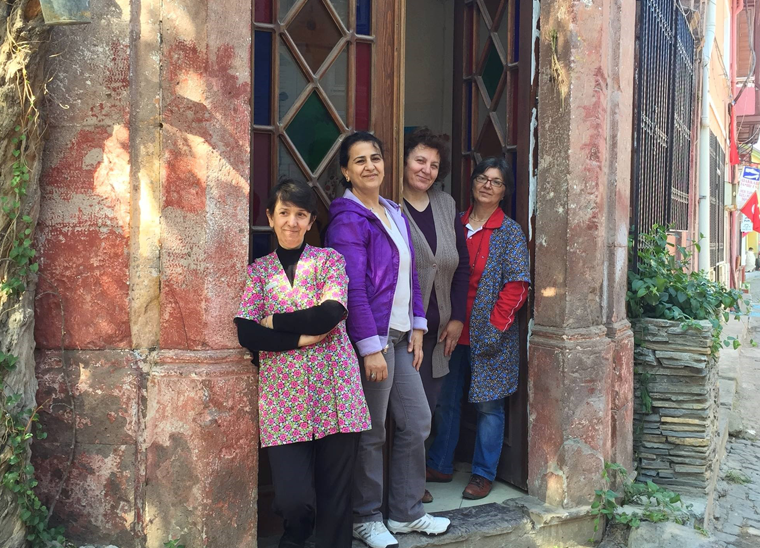 When you first step into the colorful CopMadam workshop, you would never know that the beautiful and useful one-of-a-kind products are actually made from recycled garbage. This hive of activity transforms shabby to chic, producing fine hand-crafted items, including bags, toys and pencil cases, which are sold in boutiques nationwide.
When you visit CopMadam with Insight, you will meet the creative ladies who work here and learn all about the methods and skills needed to transform recycled materials into desirable items. The co-op employs women who haven't previously earned a living, upskilling and empowering them. Now master craftswomen, they can turn their hand to anything and are saving at least 3 tons of waste from landfill each year.
Do this on: Wonders of Turkey
Laboratorio Giuditta Brozetti, Perugia – Preserving ancient traditions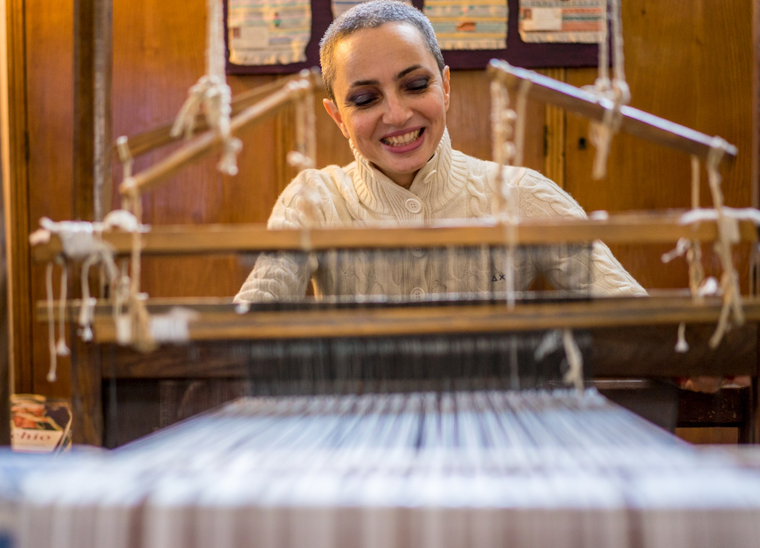 Laboratorio Giuditta Brozetti, one of the last traditional weaving workshops in Italy and a recipient of a TreadRight Foundation grant, is striving to preserve this heritage art. At the helm is the inimitable Marta, a woman whose passion and drive for this craft is both infectious and admirable.
Travel with us to Perugia, Italy and meet this extraordinary lady for yourselves, on a MAKE TRAVEL MATTER® Experience. Be transported into a magical world of traditional fabrics and antique wooden looms, passionately protecting this ancient craft. Enjoy a demonstration and listen to stories as Marta tells of growing up in her village, why she started the workshop and its vital role in preserving Umbria's unique patterns and cultural heritage.
The skills of weavers are passed down generation to generation and, since World War I, the Brozetti family have practiced the art. Marta is now leading a whole new generation of weavers, inspiring them to create superb textiles. Not just focused on the fabrics, she is also investing in e-commerce and providing employment opportunities, education and training programmes for local women.
Do this on: Country Roads of Italy, Country Roads of Umbria and Tuscany
Fonda Fish Farm, Piran – Protecting marine life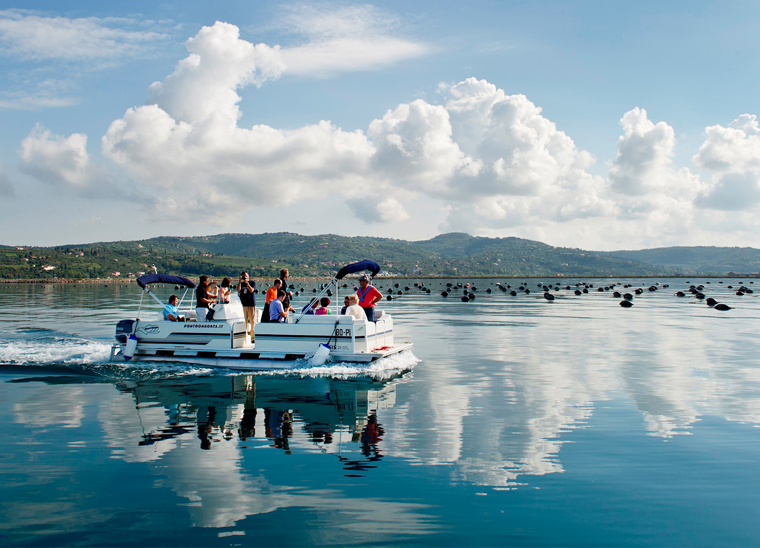 Floating at the southernmost point of Slovenia lies the Fonda Fish Farm, probably the smallest fish farm in Europe. Unconcerned about mass production, but keen to help the environment and give something back, the extraordinary Dr. Irene Fonda and her family are playing a significant role in the protection of the indigenous marine life in the Gulf of Piran.
A sustainable water garden where the breeding of Piran Sea bass takes place in a supervised condition, the farm was created by Irena's late father. Having noticed that fish numbers were dwindling with certain species, including Sea bass, becoming very scarce, he dreamed up an underwater park. Here the Sea bass are protected, and wild fish and other marine organisms live and breed. Irena and the team place a strong focus on educating the market and, through their tireless and focused work, this small venture is making a big impact.
Join a MAKE TRAVEL MATTER® Experience on Venice & The Croatian Coast, a Women Only Tour and meet Irina to learn about this fascinating world under the sea. A molecular biologist, professional diver and award-winning researcher, prepare to be enthralled with her knowledge, passion and vision as you enjoy a boat tour around the farm. Back on dry land you will get the chance to taste some of the seriously tasty Fonda seabass, among the finest in the Mediterranean, with lunch at a local restaurant.
Do this on: Venice & The Croatian Coast, a Women Only Tour
Also read: Women who MAKE TRAVEL MATTER® Dr. Irena Fonda – Fostering sustainable seabass in the Adriatic
Sheroes Hangout, Agra – Always smiling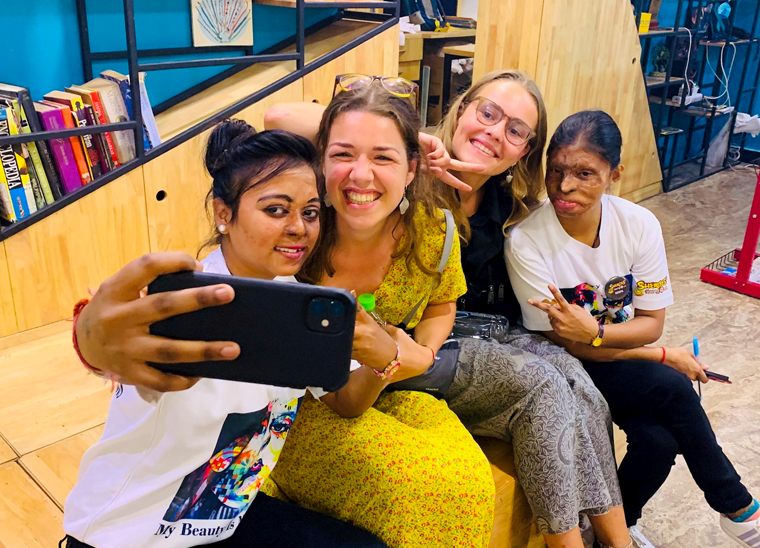 The smiling women of the Sheroes Hangout in Agra make this the most welcoming cafe, with tasty coffee and cake, and a great atmosphere. However, serving as more than a place of employment, this is a haven where the ladies who work here can show their faces without shame. For these extraordinary women are survivors of acid attacks, harrowing events that have defined and stigmatized much of their lives. The Sheroes Hangout Cafe has changed the lives of many female victims, not only providing financial stability and valuable career skills, but by also allowing them to face the world with dignity. 
Travel with Insight to Agra and visit the Sheroes Hangout for a humbling, powerful and intimate MAKE TRAVEL MATTER® Experience. Sit, talk and listen as these ladies confidently and openly share stories of their lives, for raising awareness of the heinous crime is of vital importance for India's women and future generations.
Do this on: Classical India with Nepal
Is responsible travel a subject close to your heart?
At Insight we care passionately about people, the planet and its wildlife, and actively support projects through our TreadRight Foundation and our award-winning MAKE TRAVEL MATTER® Experiences. These unique and immersive experiences feature on every Insight premium guided tour. And we guarantee you will come away enthused, educated and enlightened, all the time knowing that through your visit you have supported their vital work.
Also read: Make Travel Matter in 2022