From the first travel writer, Egeria, in 381 AD to Amelia Earhart flying solo across the Atlantic in 1932, women have been pioneers of travel for thousands of years. Whether scaling mountains or bringing their children on their first seaside adventure, women are natural adventurers, making a career in travel seem like a natural choice.
That's why it's vital to shine a spotlight on the women who have achieved leadership roles in travel, and to support and encourage other women to make their mark.
As COO for Insight Vacations and Luxury Gold, Ulla Hefel Böhler has been on an incredible journey throughout her career. Her fascinating path in the industry has been instrumental in launching the new Wander Women tours, which give women-only travelers the opportunity to engage with inspiring women in the communities they visit.
We invited Ulla to share some of her knowledge and insights for other women seeking to follow her path.
Start with Your Passion
"I was aware of wanting to see the world from a young age," Ulla opens, with "being from Austria, surrounded by other countries, there was so much possibility stretching in every direction that made me eager to explore."
Although, Ulla had no plan of where she would end up, she chose to study Tourism and Economics at Ca' Foscari University of Venice, knowing that the degree would form a solid foundation for a career in the travel industry. As she says, it laid the groundwork that she could call on later on in her career and it was such a great city to study in, seeing the impacts, both positive and negative that tourism has on one of the world's most visited cities.
Perhaps it's no coincidence that her passion project, Wander Women, launched a new tour from Venice this year.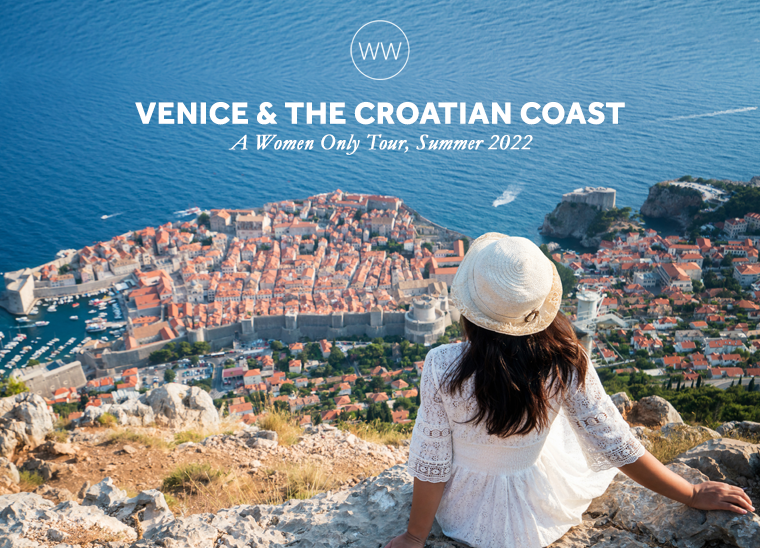 "Change is the only constant"
Ulla started out in hotels, beginning with a role in front office before moving across to reservations. Her passion for working with people was evident from the beginning and set a pattern that her career would follow.
When she sought change, it presented itself as a move into the river cruise industry, but she saw how she could transfer her skills and embraced the sector with vigor, eventually becoming Director of Operations and Program Services for Uniworld Boutique River Cruises.
Ulla says, "I love variety and a challenge and I also believe we never stop learning, so having the opportunity to delve into river cruising at a time when it was still in its infancy in the American market was absolutely fascinating. There was so much room for innovation and creativity."
The Biggest Risks Bring Even Greater Rewards
According to Ulla, one of the greatest risks she ever took was moving to London to become Director of Operations for Insight Vacations, Luxury Gold, Trafalgar and CostSaver.
Not only was she moving from a small town in Switzerland to one of the world's busiest cities, but she was also relocating her husband and young son. She was leaving behind a decade in river cruising to change track in the travel industry and had to meet an entirely new team that she had never worked with before, in a role that she had never performed. Was she daunted at all?
"Absolutely, but it's certainly paid off!" As Ulla acknowledges, you need to be prepared to take the risks, especially in an industry like travel, because that's where you'll discover something else that you love to do. Ulla found that her customer-facing roles brought a different perspective when she moved up the ladder.
Finding Balance
Every industry presents its own challenges, and after the past 14 months, Ulla can certainly attest to how travel has its share. For her personally though, she says that striking a balance between career and family is not always easy.
"There is no magic formula," she says. Sometimes you may have an important business trip scheduled when your child's Christmas play is on, and you can't opt out when there are so many other people in the same boat. She's grateful that she has a supportive partner who can carry the weight when she's not there.
Ulla adds that on the other hand, there are also great opportunities that a career in travel can bring for the whole family, such as the company's family ski days, two paid volunteer days every year and access to some incredible travel experiences. She recalls the thrill the whole family experienced when visiting the pyramids with a qualified Egyptologist on the Wonders of Egypt tour.
Delve into the Destination
Having travelled for the majority of her career, and heading up two brands known for their immersive experiences, Ulla must have a few great tips on how to experience a destination fully.
"Where you're staying is important. We carefully select boutique hotels with plenty of character, in the right location so that you can wander around and explore easily." She adds, "The food really brings out the true character of the destination. I love delving into the local cuisine, from street food to the local foodie markets and fine dining. Some of the more eclectic local delicacies might not always be to your liking, but it's important to try.
"My children are avid travelers as well as foodies – they still talk about the incredible falafel the Chef on the River Tosca skillfully prepared in Egypt or learning how true 'aceto balsamico' is lovingly produced and tasting it on a visit to one of Modena's top producers of the traditional artisan vinegar, on the Country Roads of Italy tour."
With Insight Vacations, our Deliciously Authentic Dining ensures that travelers can dine at home with a local, experience the local culinary tradition at carefully chosen local restaurants and enjoy Farm-to-Table meals to taste locally sourced produce on every trip.
Making Waves in Travel
Recent research shows that the travel industry is most likely to employ women and minorities, but given the number of females employed, there should be a higher number acquiring leadership roles. Ulla thinks a lot of progress has been made recently in terms of women taking on more senior roles in travel, but agrees that the industry still has much to do.
"Within The Travel Corporation (TTC), 56% of our workforce is female, and 50% of our leadership roles are held by women, which is very rewarding. I'm proud to be surrounded by the strong female leaders we have on our team."
When asked if she thinks that women in travel have an easier time getting promoted, Ulla responds that she doesn't think that's necessarily true across the industry in general. She believes that talent and getting the right cultural fit is important, but that women are gaining more confidence and encouragement in TTC.
"We need to keep working on female empowerment; more women need to believe that they can achieve these positions, going against previous norms. Those who lead them can help inspire and those they work with can help build that confidence through collaboration. I'm glad that we invest in people in the Travel Corporation; we foster development and growth, ensuring the best people stay with us, and everyone benefits."
Ulla mentions TTC IDEA, which is an employee-led group within the organization that promotes positive change and important topical discussions. Within this there is a Women's Identity Circle so this helps women find resources to strengthen and develop their skills. The Travel Corporation is "Driven by Service", not just to their guests but also those who work for their brands.
Moving Forward with Determination
Travel is a competitive industry, and it's crucial to stay ahead of the curve in order to maintain edge and relevance. Ulla explains some of the features that fill her with pride in relation to her brands.
For a woman who is dedicated to making guests happy, the fact that she's delighted by positive feedback from guests (with Feefo awarding a Platinum Trusted Service Award to Insight Vacations in 2020) comes as no surprise. Ulla reiterates that guests are at the heart of everything the company does, so their trust is so important.
She also touches on the unique Insight Experiences included on each tour. The team work diligently to organize fantastic encounters such as having afternoon tea with a Scottish Baronet in his castle to playing hurling, one of the oldest games in the world, with a local player in Kilkenny, Ireland.
Ulla speaks passionately about the MAKE TRAVEL MATTER® Experiences, which have been integrated into every trip.
"Weaving these MAKE TRAVELMATTER® Experiences into our series of tours is a matter of necessity for me. Meeting the ladies of Sheroes café in Agra, who have survived acid attacks, was incredibly moving. These encounters don't just offer ethe guest a unique insight into the destination; they have been carefully developed to have a positive environmental or social impact on the communities that we visit, and they align with the United Nations Sustainable Development Goals."
Ulla knows that tourism has a crucial role to play to accomplish the UN's 2030 Agenda for Sustainable Development and is focused on TTC's How We Tread Right sustainability strategy over the next five years. She states,
"Building more sustainable tours while providing guests something truly unique and fulfilling is key, and I believe our team can deliver that."
Advice to her Younger Self
If she could go back a decade and give herself some advice, what would that be? Ulla ponders the question for a while.
"Everything seems to move so fast, and I'm not sure I have the answers now either. I've always put my heart into everything that I do, and I focus fully on what's in front of me, rather than what has passed. Of course, you take the 'lessons learnt' but if you spend time looking back, then you miss being truly in the present with a view to the future."
For anyone starting out in the industry, she offered the following advice:
"Make sure that you love what you do. If you're passionate about your job, regardless of what that is, are prepared to work hard, then opportunities will arise. I think that's true for every industry. Travel is a very unique industry, but it might not be for everyone. You either love it and embrace it or you'll get out very quickly.  Don't stay in something that you aren't 100% committed to, because when times get tough then you'll find it easy to give up, whereas if it's something you love, you will find a way through."
With more than 20 years in travel, Ulla seems to have reached the pinnacle, but somehow it seems like she still has plenty to give. That's the result of putting your heart and mind into everything, as she has always done.