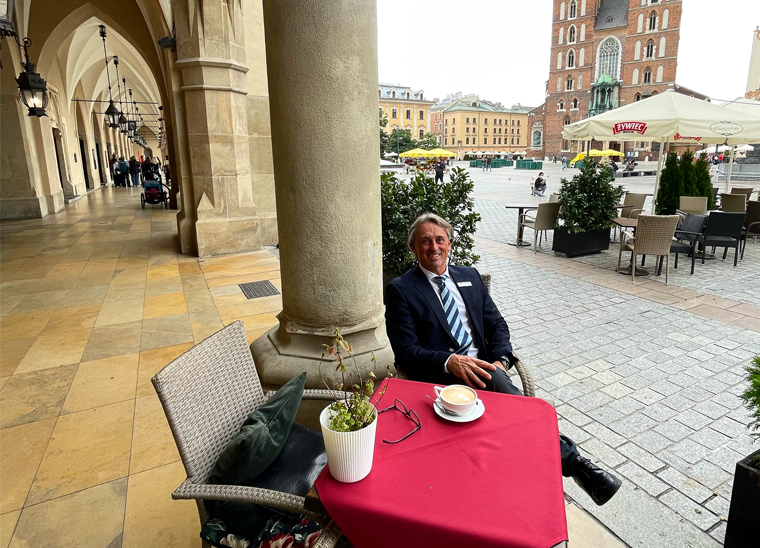 "It is great to be back out on the road, so natural, just like riding a bike!" – Tim Pendlebury, Travel Director.
You heard it here first, it is great to be back out! All of us here at Insight certainly agree, especially when we see the smiles on our guests' faces. We caught up with Insight Travel Director, Tim Pendlebury, to hear how it is to be back out on tour, and to throw a spotlight on Poland and Eastern Europe,
Tim left his native Australia in 1998 and has spent the last 23 years travelling Europe as an Insight Travel Director. He's deeply passionate about travel, people and Eastern Europe, especially the intriguing country he calls home, Poland.
If you are thinking of where to travel next, we suggest you bookmark four fantastic Insight premium guided tours – the Highlights of Poland, The Highlights of Eastern Europe, The Bohemian and look out for Country Roads of Poland, a new tour that Tim has curated with Insight Vacations, which will be starting in the spring – and read on for some highlights and insights.
Hi Tim, great to talk to you. You have just returned from the Highlights of Poland tour – how was it to be back on tour again with Insight?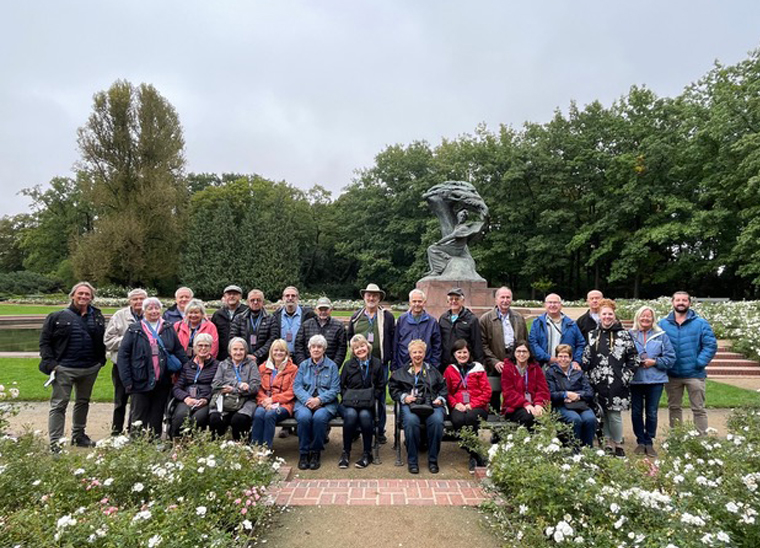 "It was an amazing tour from start to finish, and it is wonderful that Poland is open for travel. To see the excitement and smiles of the guests throughout was really special, everyone is so happy to be back out on the road and created some great Insight memories for sure."
"In fact, the tour itself was no different to past versions. We were able to see everything and do everything that we did pre-pandemic – great destinations, fun adventures, amazing food and fabulous hotels. We of course needed to take precautions, observe hygiene measures and wear our masks indoors, but this is second nature to all of us and our guests now, so it did not take anything away from the enjoyment."
Tim was leading The Highlights of Poland, which is a 10-Day premium guided tour, exploring Poland's rich heritage, culinary delights and local traditions. Starting in Kraków, renowned for its architecture and art treasures, a stunning journey over the magnificent Tatra Mountains takes you to Zakopane, on the south coast. There is time to reflect as you visit Auschwitz before exploring Wroclaw, the Venice of Poland. Head north though Poznań with a stop at Cathedral Island, a fascinating place of legend considered the birthplace of Poland, guests travel on to Toruń, a UNESCO World Heritage Site, and the stunning city of Gdańsk, before finishing in the capital of Warsaw.
You also had a Well-Being Director on tour with you, how was this for the guests?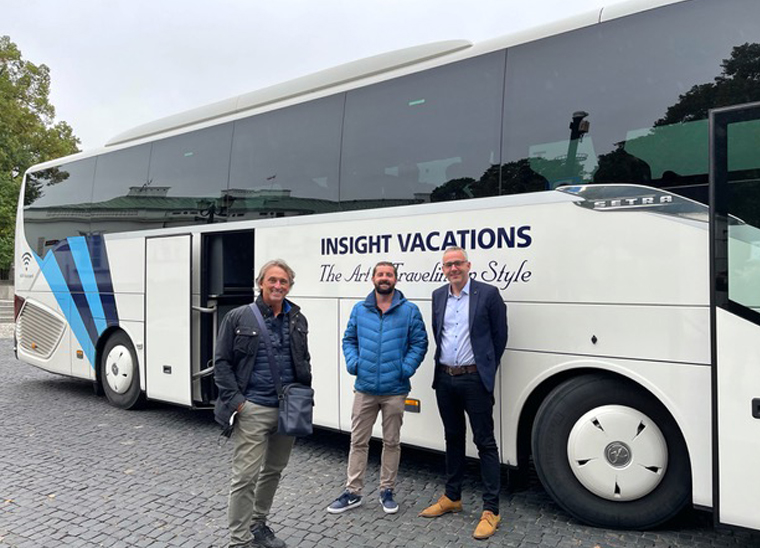 "We had John Jennings on board as our Well-Being Director, whom I know very well, and it was great to work together again. When we introduced him and his role (taking care of everything hygiene and well-being related) this was very reassuring for our guests, and they were pleased that we at Insight were taking those extra steps. Amongst his responsibilities, John ensured that the coach was sanitized, all our restaurants and venues were taking the proper precautions, and that guests understood and observed any distancing measures according to Polish law. Overall, it meant an extra experienced person to look after our guests to ensure a fabulous, fun and stress-free tour."
You've made Poland your home Tim, tell us what makes it so special:
"A lot of people are surprised by Poland because they do not know what to expect. However, Poland has it all, vibrant colorful cities, beautiful landscapes, mountains, beaches, great food and so much history to uncover. You just get every aspect of travel, and all of your senses are engaged.
"The cities are amazing. For example, every time you see a list of must-see destinations in magazines, you'll always find Kraków and Gdańsk in the top ten. Krakow is a beautiful cultural city, a former royal capital which hasn't changed much in the last 500 years. Gdańsk, a beautiful port city on the Baltic coast, is one of the real hot spots of Europe from a historical point of view – the first shots of WWII were fired there, and it played a crucial role in the fall of communism. These are just two of Poland's beautiful historic cities that we visit, many of which have had an extensive facelift and restoration process undertaken since the fall of communism, creating colorful, exciting destinations that just blow people away.
"Top highlights of the tours are the visit to Gniezno Cathedral with its magnificent, sculpted bronze doors, an absolute treasure of 12th-Century Romanesque artwork that tell the story of Bishop Adalbert of Prague, who bought Christianity to Poland. We visit the museums and the monuments of Auschwitz, which guests find very a moving experience. Then in Poznań guests can enjoy a traditional croissant making demonstration and have a go themselves, definitely a fun Insight moment – St Martin is the patron saint of Poznań and the St Martin's croissant is filled with white poppy seeds, a local specialty, about 2000 calories and totally delicious!"
A new tour starts in the spring, which you have curated with Insight - Country Roads of Poland – what can guests expect?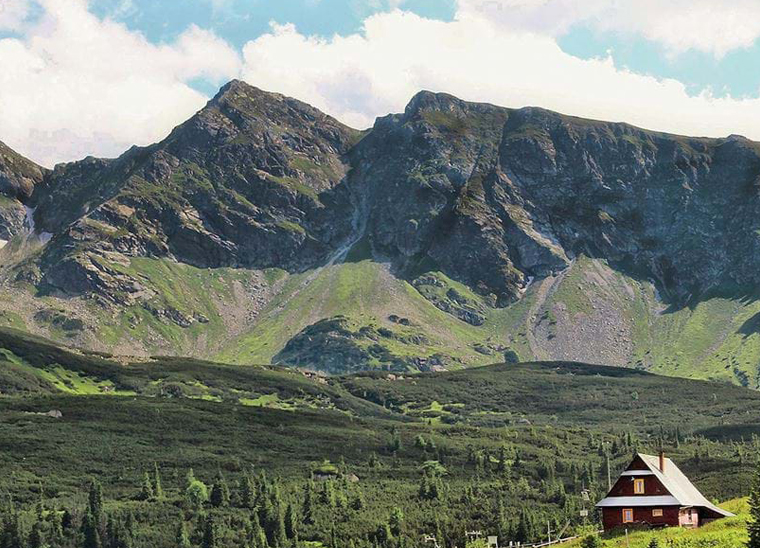 "The Country Roads of Poland is the perfect tour for anyone who wants to see all the highlights of this great country but is looking for a more off the beaten track experience. Following a similar route to the Highlights of Poland, we spend extra time in the stunning Tatra Mountains in the south, and more time in Wroclaw to explore the historical region of Silesia. Guests will have time to experience village life and even join my family for an authentic Polish dinner."
Two other great Insight Vacations tours to look out for that feature Poland, alongside amazing neighboring countries in Eastern Europe are; our Highlights of Eastern Europe premium guided tour which starts in Budapest, Hungary and includes Kraków and Warsaw in Poland, Berlin and Dresden in Germany before finishing up in Vienna, Austria; and The Bohemian premium guided tour which begins in Vienna, Austria, and travels through Prague in the Czech Republic, Auschwitz and Kraków in Poland, through Slovakia and on to Budapest, Hungary.
We asked Tim for a (maybe unexpected) highlight, an Insight moment of these two tours to whet your travel appetite further….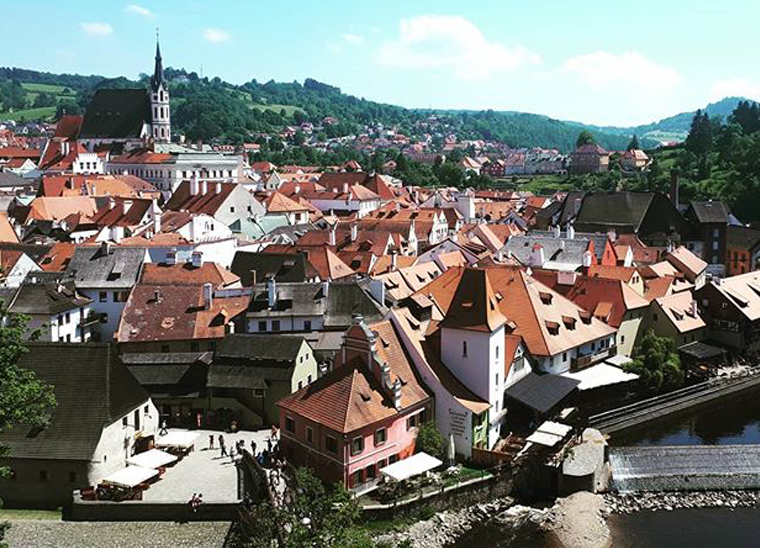 He told us "As well as the magnificent iconic cities, one very special place worth highlighting on The Highlights of Eastern Europe and The Bohemian tours is Český Krumlov in the Czech Republic. This small town of just 12,000 in habitants down in southern bohemia is like something out of a fairy tale. It is an amazing location, with a castle up on the hilltop and the old town beneath, situated on a horseshoe bend on the Vltava River. We stay there for a night in a hotel down on the main square, so after the day-trippers have gone you get to have this wonderful medieval town to yourselves, making for a truly unique experience for our guests."
So finally, is it still fun to travel in the new normal?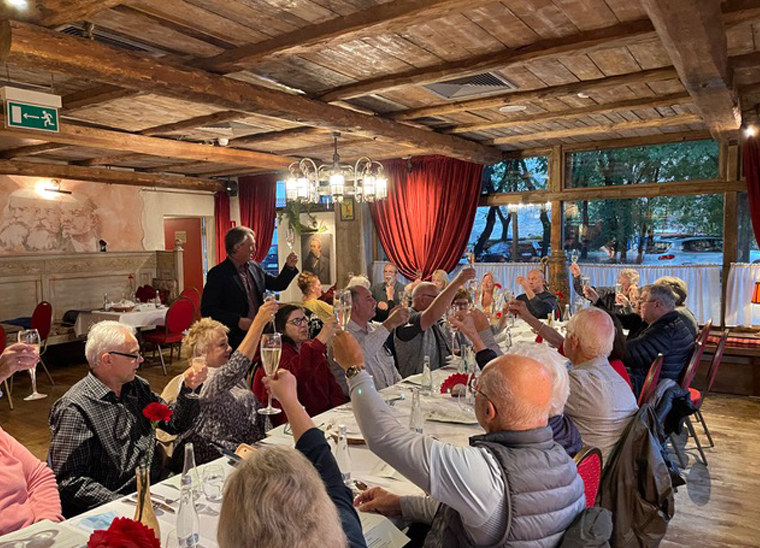 "Definitely! For a lot of the guests this was their first tour abroad in a long time, so they were very excited, and we of course were too. Many had had the tour booked a while ago and had it moved multiple times, and really needed a vacation! To see the smiles on their faces was great and there was a great sense of camaraderie and excitement, and passion for travel.
"Here in Poland, you don't need to wear masks outside, so we put them on when we entered the buildings. Otherwise, we went about enjoying the tour as we would anytime pre-pandemic. It was fun from start to finish."
To read more from Tim and enjoy some fantastic photographs, you can follow him via his blog onceuponatimeinkrakow.com and Instagram

Feeling inspired to travel to Poland and Eastern Europe? To see the itineraries and dates for the tours mentioned here you can follow these links:
Look out for more information coming soon for Country Roads of Poland, and for details of other exciting premium guided tours from Insight here.