Dublin: a city steeped in literary history, whispering tales of poets, playwrights, and novelists through its cobblestone streets. Take a journey with us down these roads, as we delve into the connections between Dublin's iconic landmarks and the literary luminaries who made the "Fair City" their home.
MEET SALLY CREEGAN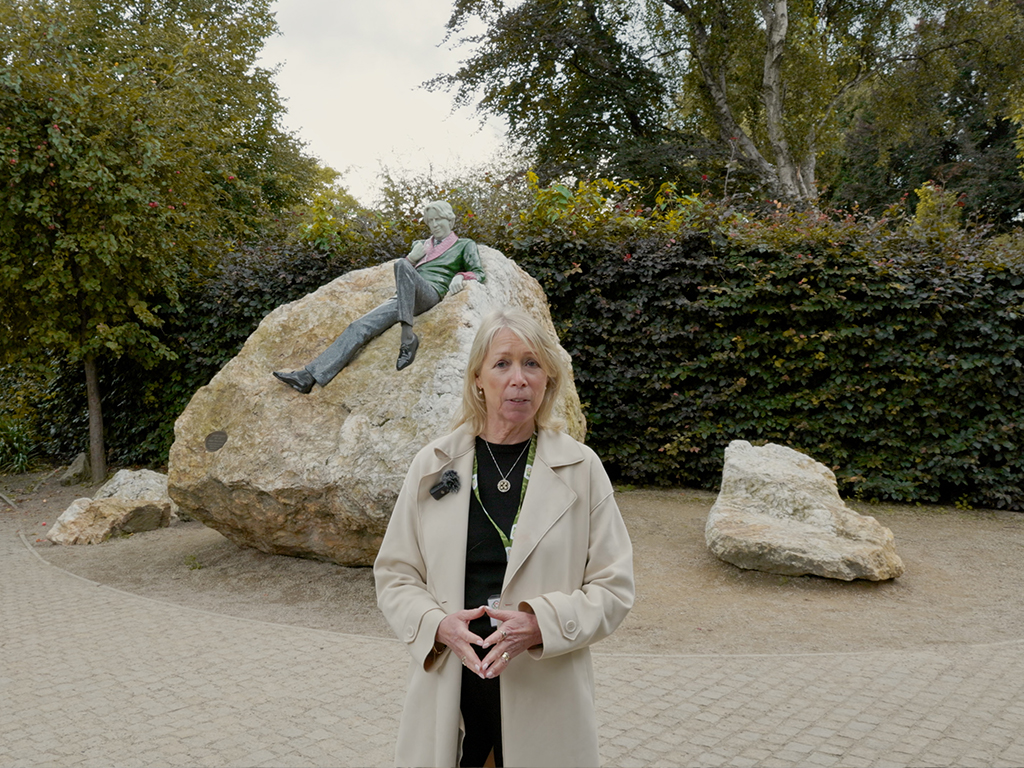 We've enlisted the help of Sally Creegan, an expert on Dublin's literary history. She'll walk us through the city's most iconic landmarks all while sharing stories of its incredible writers. Sally's expertise inspired this week's edition of the Insightful trivia game. Read this article, then test your knowledge to see if you can answer questions on Dublin's literary heritage for the chance to win fabulous travel prizes.
For now, let's get to our first stop.
You may also like: A literary guide to the Lake District
SAINT PATRICK'S CATHEDRAL
Step into the historic Saint Patrick's Cathedral, a sanctuary resonating with literary echoes from Jonathan Swift. His satirical book, "Gulliver's Travels", earned Swift his acclaim. The Cathedral commemorates his legacy with a monument, and you can also find a bust of Swift in Trinity College's library. Often known as the 'Hibernian Patriot,' he passionately expressed his 'savage indignation' against the social conditions in Ireland. The best example of this is his satirical essay, 'A Modest Proposal'. Here, he lampoons the bourgeois thinking of the time. The author's final resting place is here, at Saint Patrick's Cathedral, where he served as Dean from 1713 to 1745.
NATIONAL GALLERY OF IRELAND
Onwards we go, to the incredible National Gallery of Ireland. This institute has been intertwined with Irish literature ever since its inception, in 1854. Many writers found inspiration at the collections exhibited here, including W.B Yeats, Louis MacNeice, Samuel Beckett, and Oscar Wilde who was raised near Merrion Square with a view of the Gallery. In 1944, George Bernard Shaw was 87, and said that the gallery provided 'much of the only real education I ever got as a boy in Eire'. He then returned the favor, bequeathing one third of his work's royalties to help fund the Gallery's acquisitions. Notably, writers like James Stephens, Brinsley MacNamara, and Thomas MacGreevy juggled administrative roles at the Gallery while pursuing their writing careers.
OSCAR WILDE STATUE IN MERRION SQUARE
In 1997, sculptor Danny Osborne was commissioned to create a life-sized statue of Oscar Wilde in Merrion Square Gardens. Positioned near Wilde's former residence at number 1, Merrion Square, and close to Trinity College, where he studied, the statue captures Wilde's large figure of 1.88m (6ft 3 inches), and larger-than-life persona. The poet, dramatist and novelist became somewhat of a living embodiment of the the Aesthetic movement in the late nineteenth century, challenging Victorian puritanism with his ideas on beauty and personal freedom. His wit and flamboyance brought both fame and notoriety, which led to his imprisonment for "illegal homosexual activity", as well as his financial and physical ruin. He soon met a tragic end in Paris at only 46.
As a child, Oscar very well may have played in the park where the monument now stands. It depicts him in his prime, at the height of his career. He's donning his iconic smoking jacket carved in solid jade. This gemstone is thought to provide immortality, though the author doesn't really need it. He already achieved such status through his enduring work and legacy.
You may also like: Top 10 places to visit in Ireland
PATRICK KAVANAGH STATUE
Born in 1904 in Inniskeen, Patrick Kavanagh spent his formative years on a small farm. Here, the bustle of shoemaking and pig-rearing filled his days. His poetic journey began in the midst of rural life. His debut volume, 'Ploughman and other Poems,' emerged in 1936 while he still worked as a farmer.
Kavanagh's poetry often took a confessional tone, delving into his inner conflicts. He also used the mundane as his subject. Despite financial hardships and societal marginalization, he became one of the most celebrated poets in Irish history.
You can find plaques dedicated to Patrick Kavanagh in Dublin, at Raglan Road and Pembroke Road. Not to mention the iconic statue by the Grand Canal. Kavanagh's verses, reflecting the humdrum pulse of everyday life, find special resonance against the canal's backdrop. It is here where he found poetic inspiration, after all.
TRINITY COLLEGE
Located just west of Merrion Square, Trinity College stands as Oscar Wilde's alma mater and Ireland's esteemed university, boasting other notable alumni like Bram Stoker, Jonathan Swift, and Samuel Beckett. However, the real gem of Trinity College lies in the breathtaking spectacle of the old library's Long Room. Spanning a 200-foot hall, this room features a barrel-vaulted ceiling, exquisite dark wooden shelves cradling 200,000 leather-bound volumes, and white marble busts of literary luminaries, creating an awe-inspiring experience for visitors and students alike.
ST ANN'S CHURCH
Onto bustling Dawson Street, where we'll stop by St Ann's Church. It was here that Bram Stoker was a member of the congregation, and married Florence Balcombe in December 1878.
Born on the northside of Dublin, Stoker studied mathematics at Trinity College, Dublin, but started nurturing a parallel career as a writer. He eventually met his hero, Sir Henry Irving, and he worked as his personal assistant for much of his life. Not finding much success as a writer in his life, it was only after he passed that his magnum opus, Dracula, gained such widespread acclaim.
SEAMUS HEANEY EXHIBITION
We'll conclude this literary expedition with Seamus Heaney, one of Ireland's most famous 20th century poets. He came from Northern Ireland but spent considerable years in Dublin. Awarded the Nobel Prize for Literature in 1995, Heaney is celebrated for his lyrical beauty and ethical depth that magnify everyday miracles and the living past. See this up close and personal at the Seamus Heaney: Listen Now Again exhibition in Dublin, which is running until December 2025. Delve into an immersive experience that unravels the poet's life and influences, centered around Heaney's personal writing desk. This encounter navigates his creative journey through original manuscripts, letters, unpublished pieces, diaries, photographs, personal artifacts, and multimedia recordings. The exhibition taps into the rich archive generously donated by Seamus Heaney and his family to the National Library of Ireland in 2011.
The stories from these poets, authors, and playwrights speak of passion, identity, struggle and hope. Through these landmarks, they are forever etched into Dublin's cityscape. Indeed, it is hard not to fall in love with such a rich literary history. The best way to discover this is through our tour Irish Elegance, showcasing all the sights and insights of the Emerald Isle.
You may also like: The ultimate 1-week Ireland tour does exist – how Irish Elegance does it all
Join us at Insightful, where you'll answer weekly questions on the world's most fascinating destinations. Test your knowledge against the world's leading travel experts for a chance to win fabulous prizes.