WHAT'S THE HISTORY OF DOMAINE DUBOUX?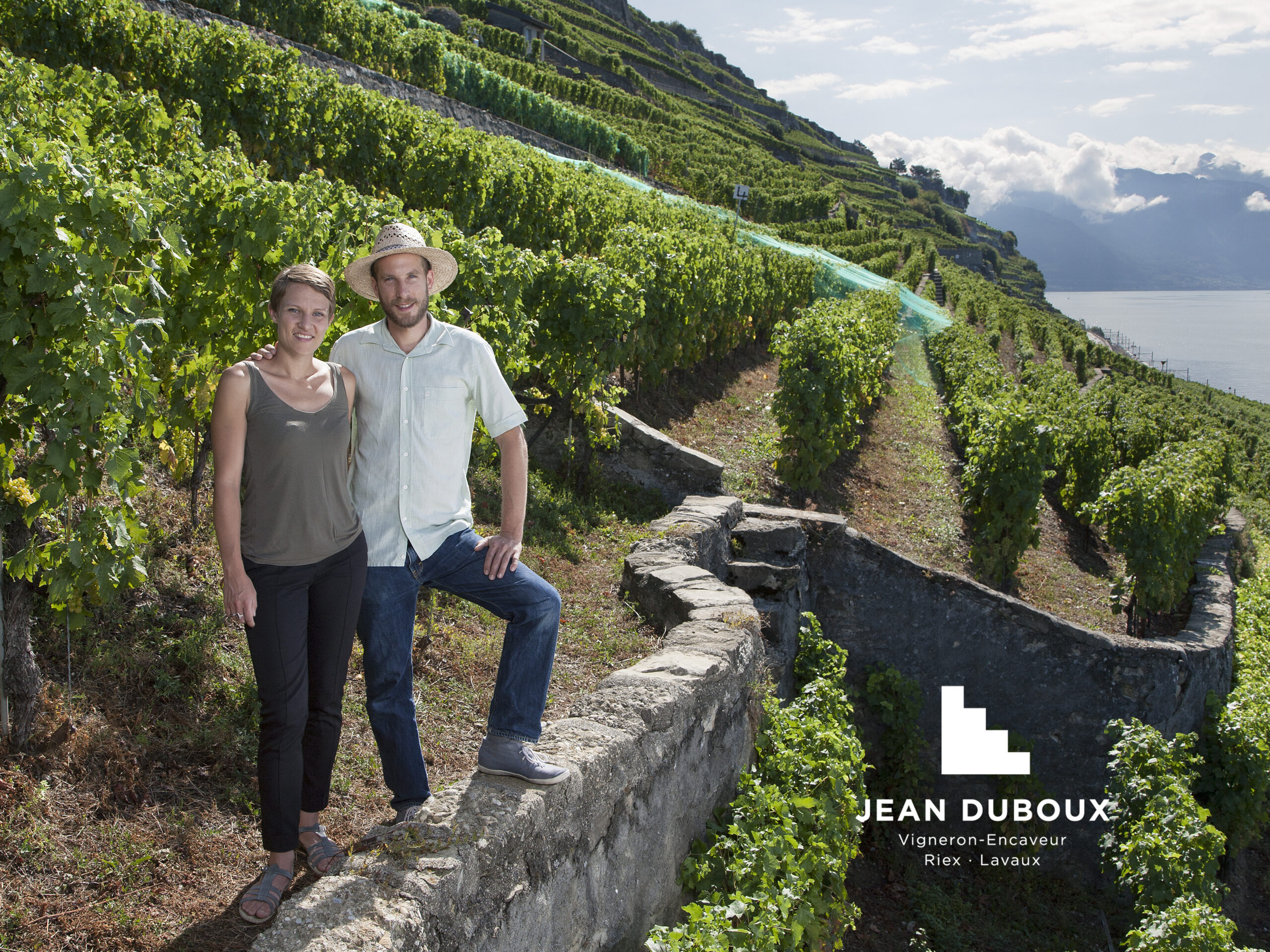 The name is Domaine Jean Duboux, and Jean is my boyfriend (well, a little bit more than my boyfriend, we're together for 12 years now, and have two kids and two dogs). We got the domaine in 2017 Before us, it was the father of Jean, before it was his grandfather, his great grandfather, etcetera. So we are the sixth generation making wine in Riex. Before this the family were already wine makers in the next village in Cully, so we are pretty sure we're the 10th generation making the wine in the family.
In the winery, we try to put as less products as possible inside our wine. During the process, we use only a little bit of sulphites just before bottling because it's better for the quality of the wine. But we don't use any more sulphites during all the process.
WHY DO OTHER FARMS DO THAT?
Oh, it's fighting against the oxygen and bacteria you don't want to have in the yeast. Because there is a lot of bacteria in yeasts, and in the must. But some are really good, but some not really. They bring the smell of cows, farm, wet dog, things like this. Now, we don't use sulphites any more. It's more work, but we think it's better we don't use too much sulphites in our wine.
YOU ARE ONE OF THE PIONEERS OF "INTEGRATED PRODUCTION", OR 'PRODUCTION INTÉGRÉE'. WHAT IS THAT?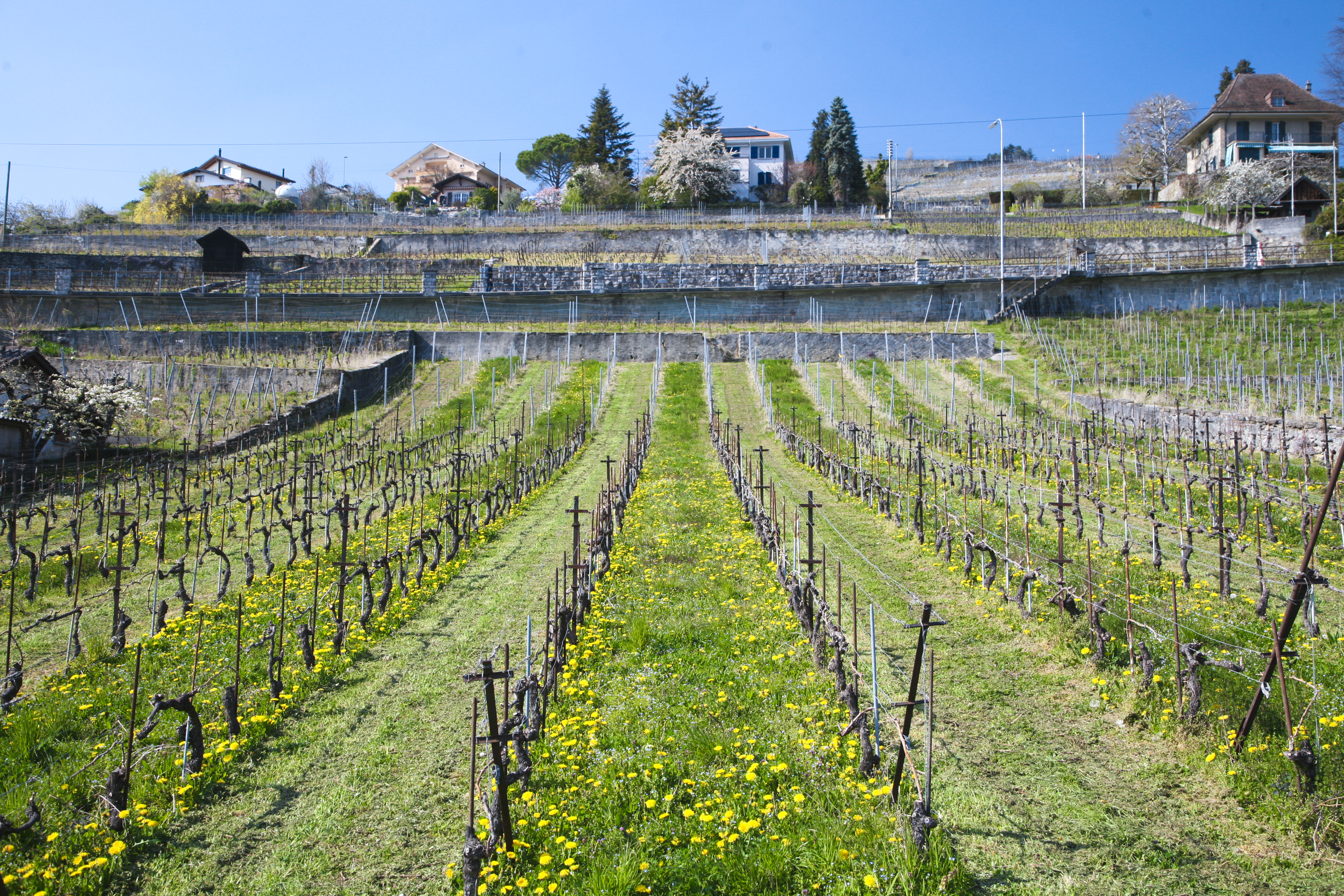 So my father-in-law was one of the first guys who let grass grow freely in the vineyard. Maybe 50 years ago, all the vineyards were totally without grass. It was only directly the soil. In Lavaux we work in terraces, so every year during the winter the winemaker needed to take all the soil from the bottom and bring it up. So, my father-in-law with other friends started to just let the grass grow and see what happens. The quality of the wine didn't change, and they didn't need to bring the soil from down to up during the winter.
All the other winemakers eventually said 'hmm, maybe that's a good idea.' They started doing the same, and now there is grass everywhere in the vineyards. So that's quite great. Because it's really good for the biodiversity. This is one of the best arguments for Integrated viticulture: the biodiversity. For example, we do alternative mowing: where we mow alternative rows and then we switch six week or eight weeks after. This way, with the flowers there is always somewhere for the birds, insects, and bees. Because if you mow everywhere, then there is no more space for the wildlife.
We have as well in our trees some houses for protected species of birds and bats. This year we also planted 12 different trees in our vineyard and we try to plant more every year. This is good for the biodiversity and as well for climate change. it's gonna help us to get more fresh air and more water from the bottom of the soil, bringing it up to the vineyard. We also made a small hill with some stones to make a house for lizards and snakes, because we've got lots of protected species of lizards here. So it's good for them because this way they've got a place to go during winters and summers.
You may also like: How Switzerland inspired our great literary figures
DO YOU THINK HAVING A SUSTAINABLE VINEYARD MAKES IT MORE DIFFICULT TO ORGANISE?
Yeah, it's more work. Maybe I think about 20-30% more work than what we did before. And as well, you've got a slightly smaller harvest. When we got the domaine in 2017, we started to make it 20% more every year. Now, after six years the whole domaine is like this. With the herbicides, we use only natural products to spray our vineyard against mildew, and we do a lot of things for the biodiversity.

THE OTHER DOMAINES IN THE AREA - DO THEY DO THE SAME? OR IN SWITZERLAND? IS THIS IS THIS COMMON?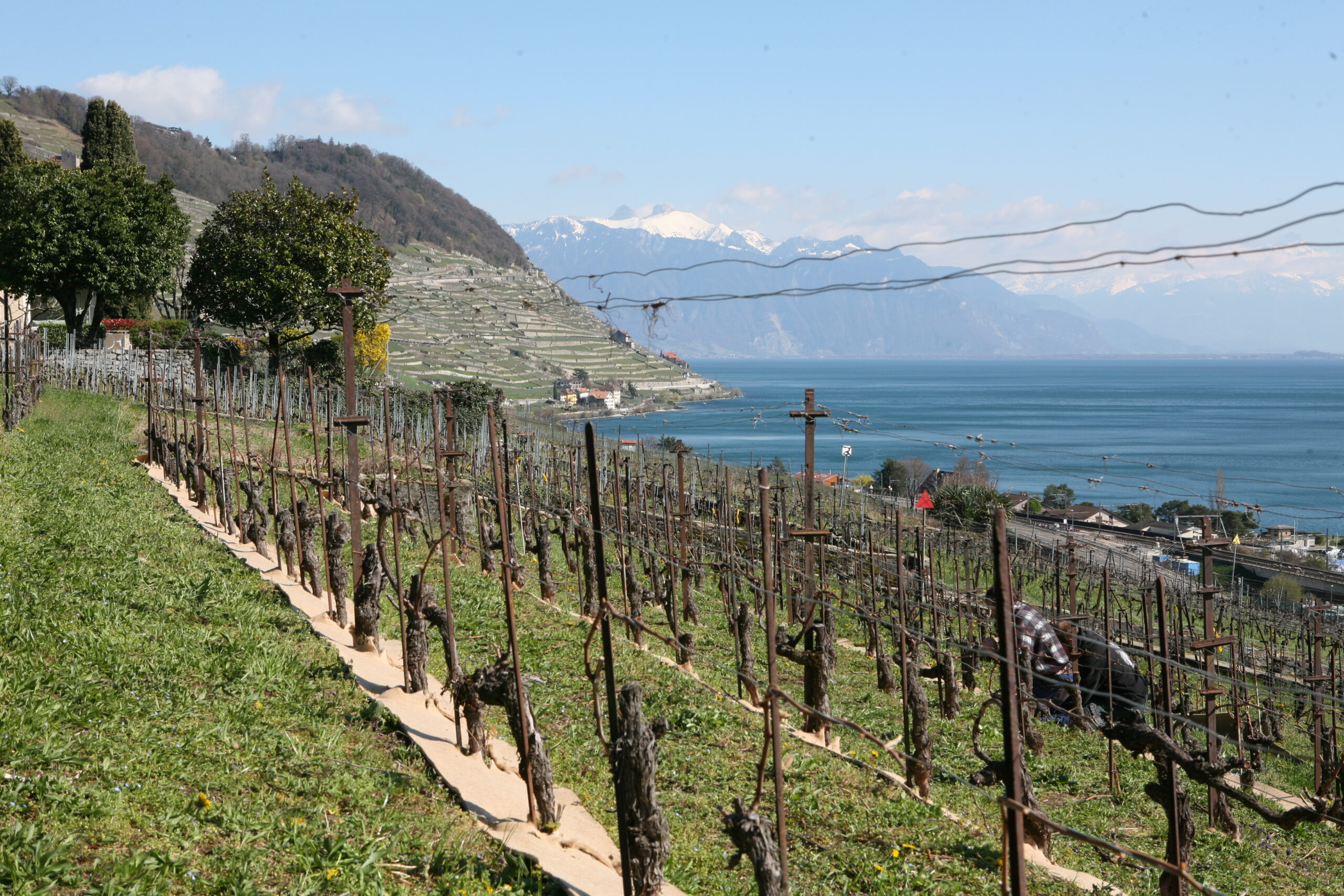 In Switzerland, where you can use tractors this is normal. But in our area where we don't have any tractors, then we have to do everything by hand – it's already a lot of work. I think it's more difficult here, in an area like Lavaux, to not use any chemicals. Here there are 180 winemakers, and only 10 don't use chemicals and are organic. But there is a lot of Integrated viticulture, so a lot of people plant trees and mow alternative rows, and try to use the least herbicide if they can.
You may also like: 7 fascinating facts about Switzerland's world famous glacier express
CAN YOU TELL ME A LITTLE BIT ABOUT WHAT YOU'RE PRODUCING AT THE MOMENT? I SEE YOU CULTIVATE PINOT NOIR, CHASSELAS…
Yeah, so we've got seven acres – 2.7 hectares, and we produce thirteen different wines with that. We love to make different things in the cellar. In Lavaux, Chasselas is the king grape variety, with more than 70% of Lavaux planted with this grape. It's for us as well our main grape variety. So we produce Chasselas, but we don't have only one plot, we've got like 15 different plots.
This is really good because we have different types of soil, different types of exposition to the sun, all which make different types of Chasselas. So we can make different wines, even if it's the same grape variety. We do between four and six different Chasselas, as well as sparkling Chasselas. We also do some reds: a Pinot Noir and Gannett blend, a Syrah, and a Plant Robert, which is another great variety coming from this area.
THERE'S EVEN A WINE NAMED AFTER YOU, CONSTANCE EPHÉMERÉ
Yes, in French, this means 'constant' but 'ephemeral'. Because every year we do it, but it's always a different wine. Could be a special plot, or a special way we make the wine, or special blends. Could be white, could be red, could be rosé, it could be anything. But every year it's a different wine. And every year we do only like 300 bottles, and when there is no more, it's done. This year we did a Chasselas, so a white grape, but I made it exactly like we make red wine. So it was macerated with the skin and seeds for three weeks, and there is no sulphites, and we didn't filtrate it.
SO WHEN GUESTS VISIT, WHAT CAN THEY EXPECT TO DO?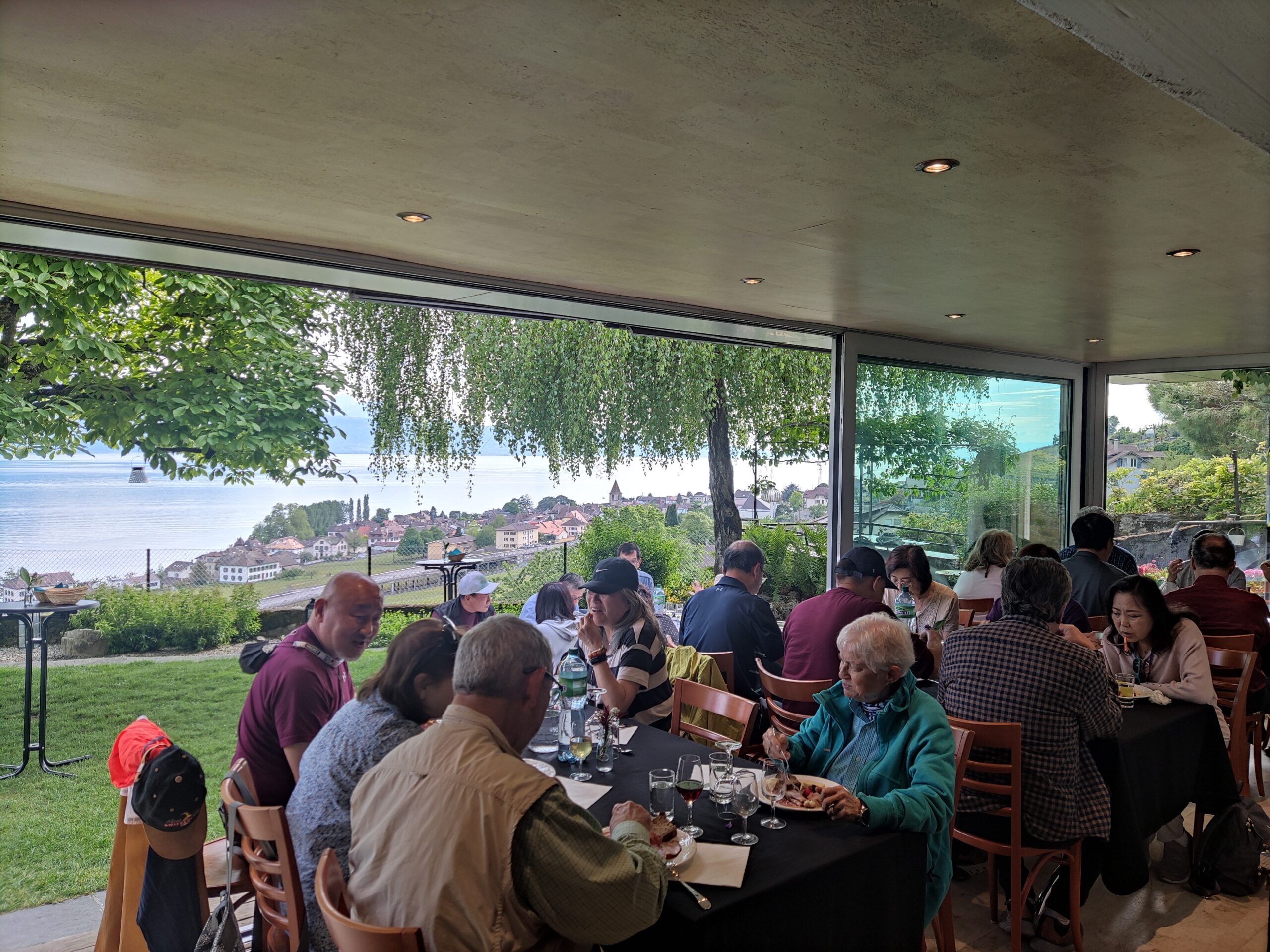 So when they arrive we do a welcome drink of Chasselas made from the plot. They can see the vineyard and drink the wine of the vineyard that they are seeing. After, I present the domaine, I present the region, and I present the wine they are drinking (or local apple juice for those who don't want to drink wine). Then we split into two groups; one goes in the vineyard with Jean, who explains what they do in the vineyard, explains what we do for the biodiversity.
The other group comes with me in the cellar, and I explain how we make the wine. I show them a 150-years old barrel, which is really big and one of the first of the domaine. After, we switch the groups, so everyone can look through the vineyard and the cellar.
Then we come back all together in the caveau and we will have the farm-to-table dinner. It's only with local foods – vegetables from the farm, or from the garden, with yoghurt sauce with some herbs from the garden. You've got some bread, some charcuterie from the butcher, and three different types of cheese. Swiss cheese, of course. Then the dessert: cream and sugar pie and apple or pear pie from the factory, and then a coffee or tea.
You may also like: Insight presents: a special surprise from the heart of Switzerland
CONSTANCE, THANK YOU FOR YOUR TIME
How Insightful are you? Test your knowledge of Switzerland against Constance on ourInsightful Travel Trivia Quiz. Play weekly and go up against our Destination Experts for the chance to win fabulous travel prizes.