A mesmerizing coastal route along Ireland's wild, windswept, and utterly beautiful western edge, the Wild Atlantic Way is an unforgettable journey through nature's grandeur, where the Atlantic Ocean meets dramatic landscapes.
Spanning approximately 1,550 miles, it is the longest defined coastal route in the world. Divided into 14 stages, the Wild Atlantic Way winds southward from the untamed beauty of County Donegal, through the counties of Leitrim, Sligo, Mayo, Galway, Clare, Limerick and Kerry, before finishing in Kinsale, County Cork.
Admire towering sea cliffs and pristine beaches, meander through charming villages and past ancient ruins, and explore rugged islands. Each moment set against the backdrop of the powerful Atlantic. Along the way, you'll encounter warm Irish hospitality, enjoy traditional music sessions in lively pubs and savor the finest fresh seafood. With so much to enjoy, we've picked out some of the highlights you should not miss when visiting Ireland.
See the magic for yourself: Ireland destination guide
Ring of Kerry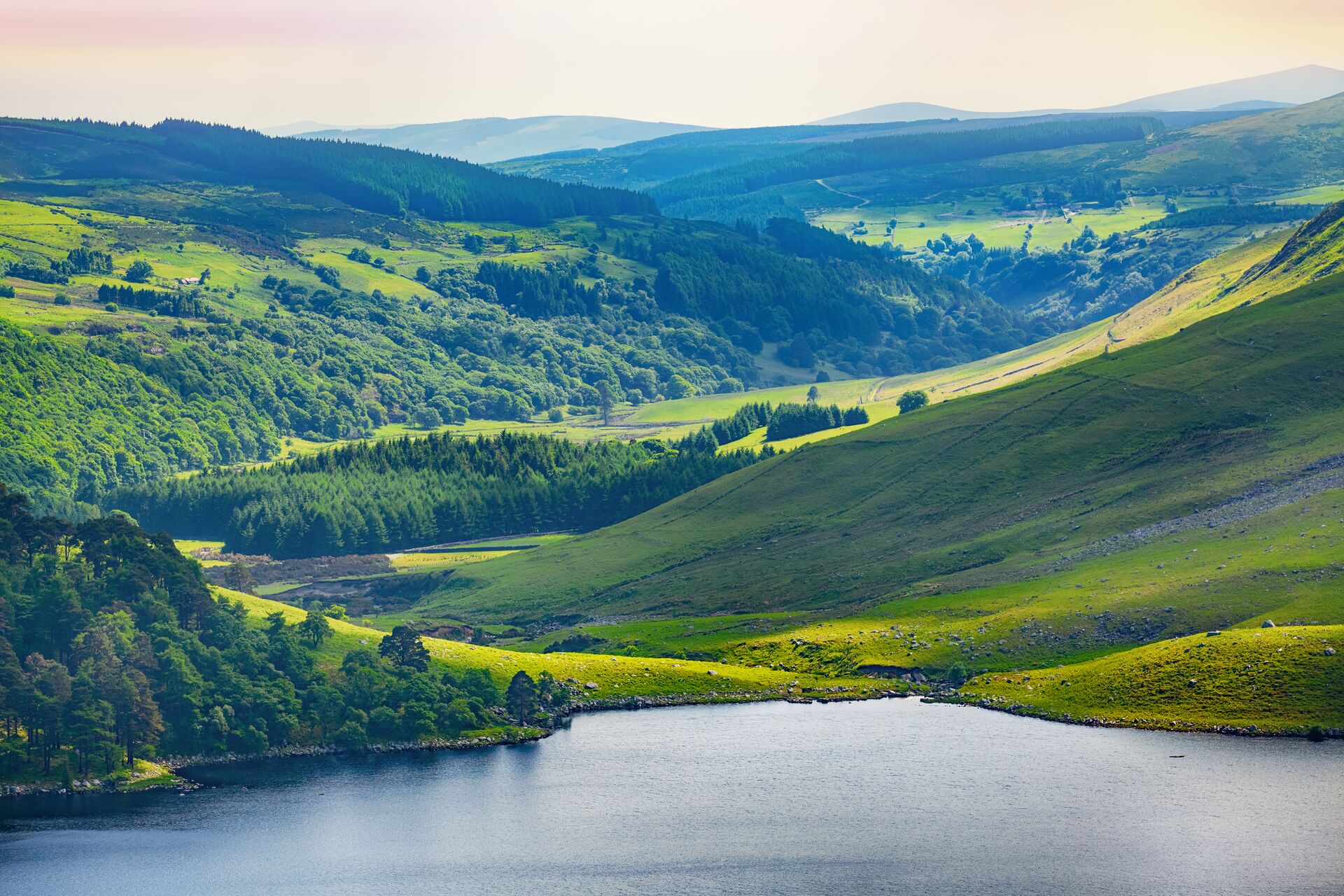 Possibly one of the most iconic areas and popular things to do on the Wild Atlantic Way is to explore the Ring of Kerry. A spectacular scenic drive in itself, where mountains, valleys, lakes and sea blend, the Ring of Kerry is also the perfect place to explore some of Ireland's most quintessential towns.
Here, a true taste of Irish hospitality, hearty cuisine and craic awaits at the stops along the way, including the seafront village of Waterville the Killorglin, and picturesque Sneem with its colorful houses. No trip to Ireland is complete without a visit to a local pub. Warm and inviting, expect a timeless charm with cozy interiors and, in the colder months, a roaring fireplace. More than a place to enjoy a pint of Guinness or local brew, they're centers of community, storytelling, live traditional music and great Irish food. Don't be surprised when strangers strike up conversation and you leave as friends.
A great way to enjoy the beauty of the Ring of Kerry is by a ride on a horse-drawn jaunting car, Ireland's most traditional mode of transport. Great journeys to take are through the Gap of Dunloe, created by glacier action some 25,000 years ago and situated between the MacGillycuddy Reeks and Purple Mountain ranges. Or, on Country Roads of Ireland, enjoy a jaunting-car ride around the beautiful Killarney National Park.
Discover this on: Country Roads of Ireland.
You may also enjoy reading: Go where the grass is greener: a guide to Ireland's most spectacular natural sights
Galway Bay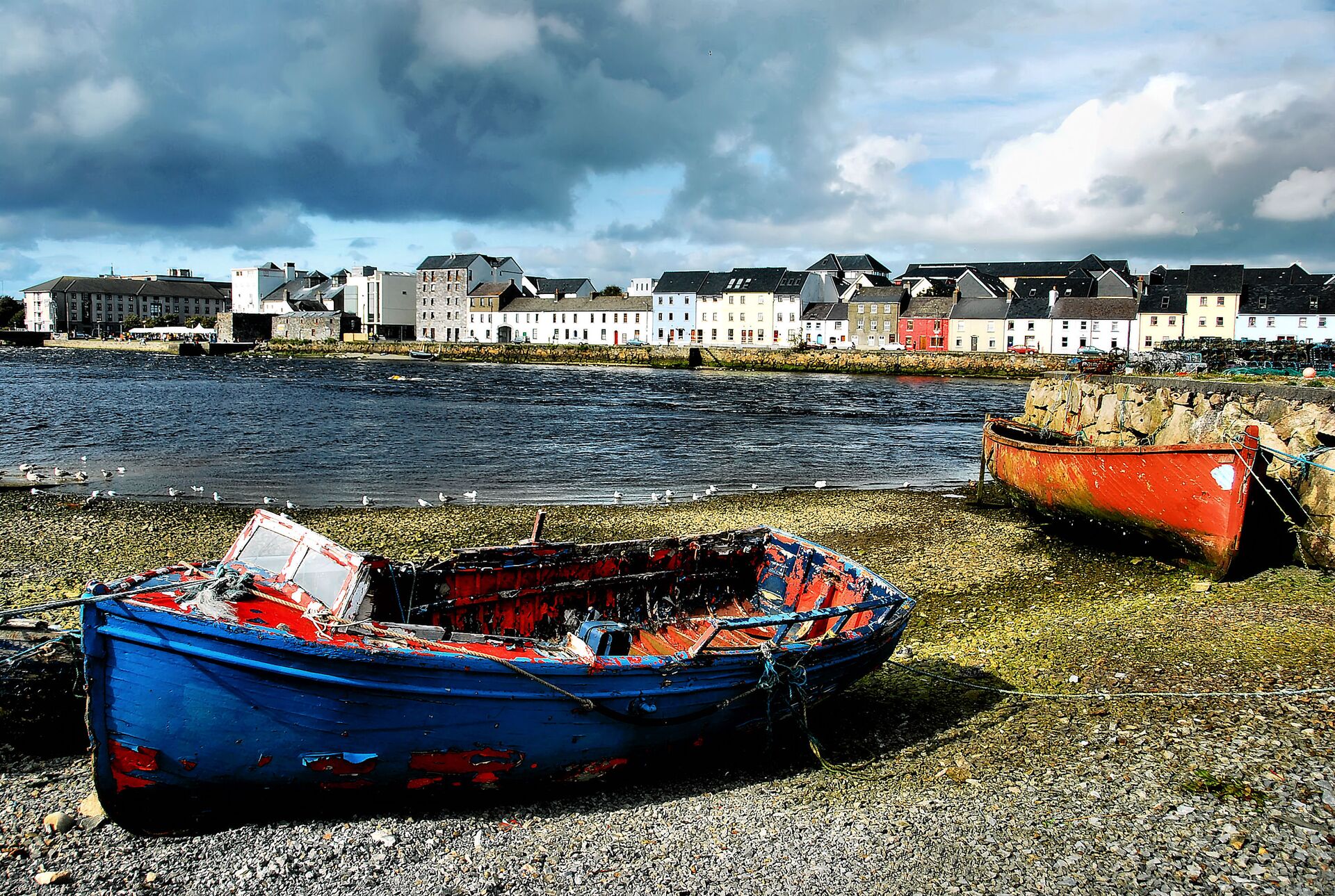 Galway Bay boasts a stunning coastline characterized by rugged cliffs, sandy beaches and charming coastal villages. The bay stretches about 50 kilometres from Galway City to the rugged Connemara region and is the perfect spot for coastal walks along the Wild Atlantic Way. And Galway City has been voted the 'friendliest' and 'most charming' city by a number of global publications including the Lonely Planet and The New York Times.
In the 14th century, Galway Bay emerged as a prominent medieval trading port. Its strategic location made it a hub for maritime trade, particularly in the export of Irish goods such as wool, hides, and fish. It's therefore no surprise that Galway Bay is considered a paradise for seafood lovers, with charming fishing villages like Claddagh and Kinvara offering fresh catches daily. The perfect place to treat yourself to a plate of traditional fish and chips.
Discover this on: Irish Elegance and Britain & Ireland Explorer.
Aran Islands….and more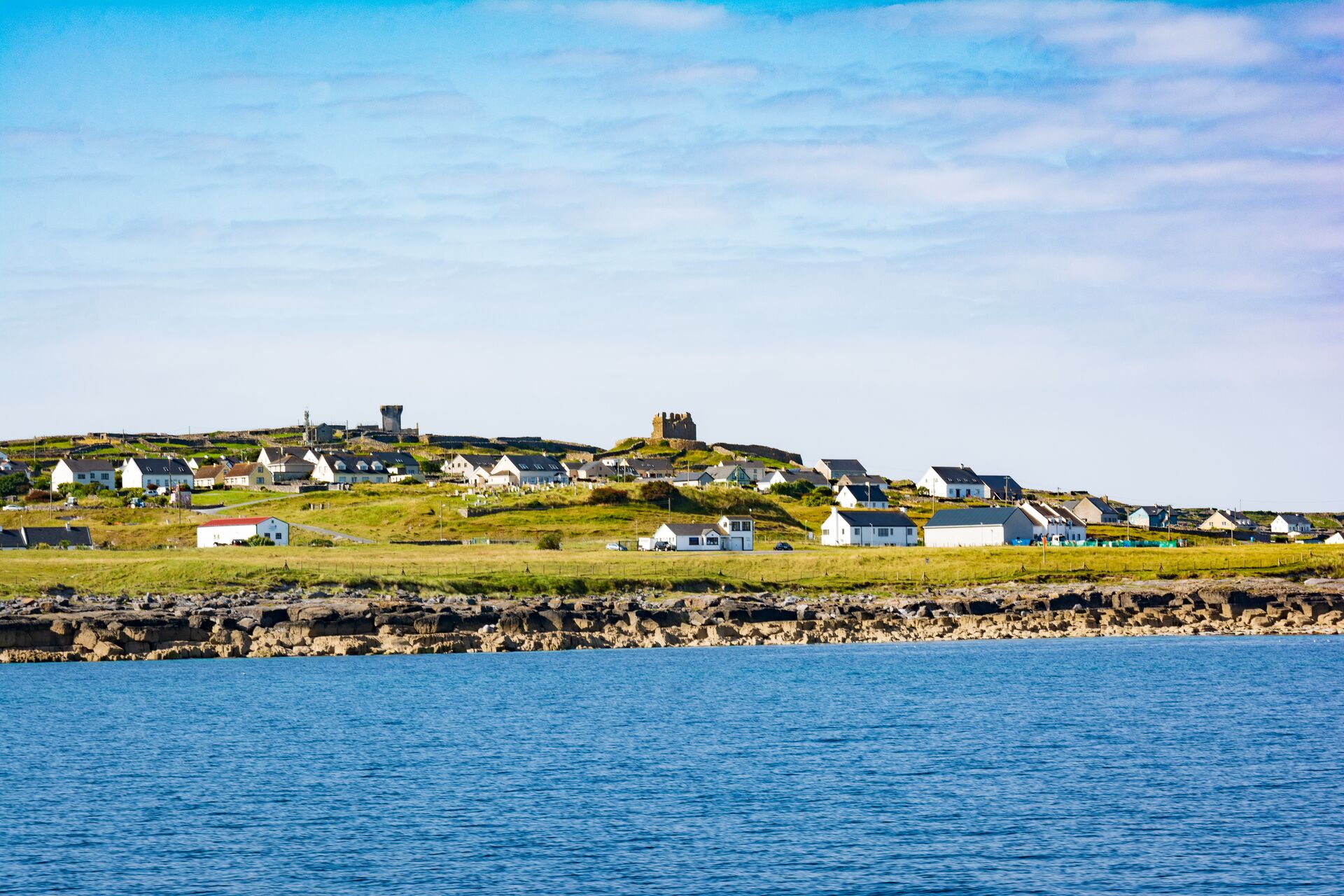 One of the most iconic features of Galway Bay is the Aran Islands, a group of three islands—Inis Mór, Inis Meáin, and Inis Oírr—that lie at its mouth. They're renowned for their Gaelic-speaking communities, traditional Irish culture and ancient archaeological sites, including the dramatic clifftop fortress of Dún Aonghasa on Inis Mór. You can explore the Aran Islands as an optional experience on Country Roads of Ireland.
And if it is islands that you are looking for, there's plenty more on the Wild Atlantic Way. A visit to the rugged and uninhabited Skellig Islands is an adventure in itself. They are located 12 miles off the coast, from Ballinskelligs Bay off the tip of the Iveragh Peninsula in County Kerry, with boat trips from the mainland.
Skellig Michael, the larger of the two islands, is a UNESCO World Heritage site renowned for its ancient monastic settlement. Perched atop its cliffs, this early Christian monastery dates back to the 6th century with beehive huts, oratories and terraced gardens cling to the cliffs. Film buffs may recognize the landscape, as Skellig Michael was used in Star Wars: The Force Awakens. Little Skellig, adjacent to Skellig Michael, is best described as a towering seabird sanctuary, its cliffs teeming with an astonishing variety of birdlife.
You may also enjoy reading: Hooded assassins: meet Ireland's formidable feathered hunters
Beautiful beaches
And if you love beaches, then a trip to Achill Island on this scenic route is a must. Ireland's largest island lies just off the coast of County Mayo in the west and is linked by a bridge to the mainland. From secluded coves to expansive sandy shores, the island is renowned for its stunning beaches, which are some of the best in the country.
Top of the list is in Keem Bay. One of Achill's five Blue Flag beaches, a voluntary eco-label awarded for quality and cleanliness, Keem Strand is a dramatic crescent of golden sand, in the most picturesque setting. You can also enjoy Dooagh Beach, which gained international attention when it disappeared due to a storm in 1984, only to re-emerge in 2017.
You may also like: 10 phrases to get you talking the local lingo in Ireland
Whale watching – the Dingle Peninsula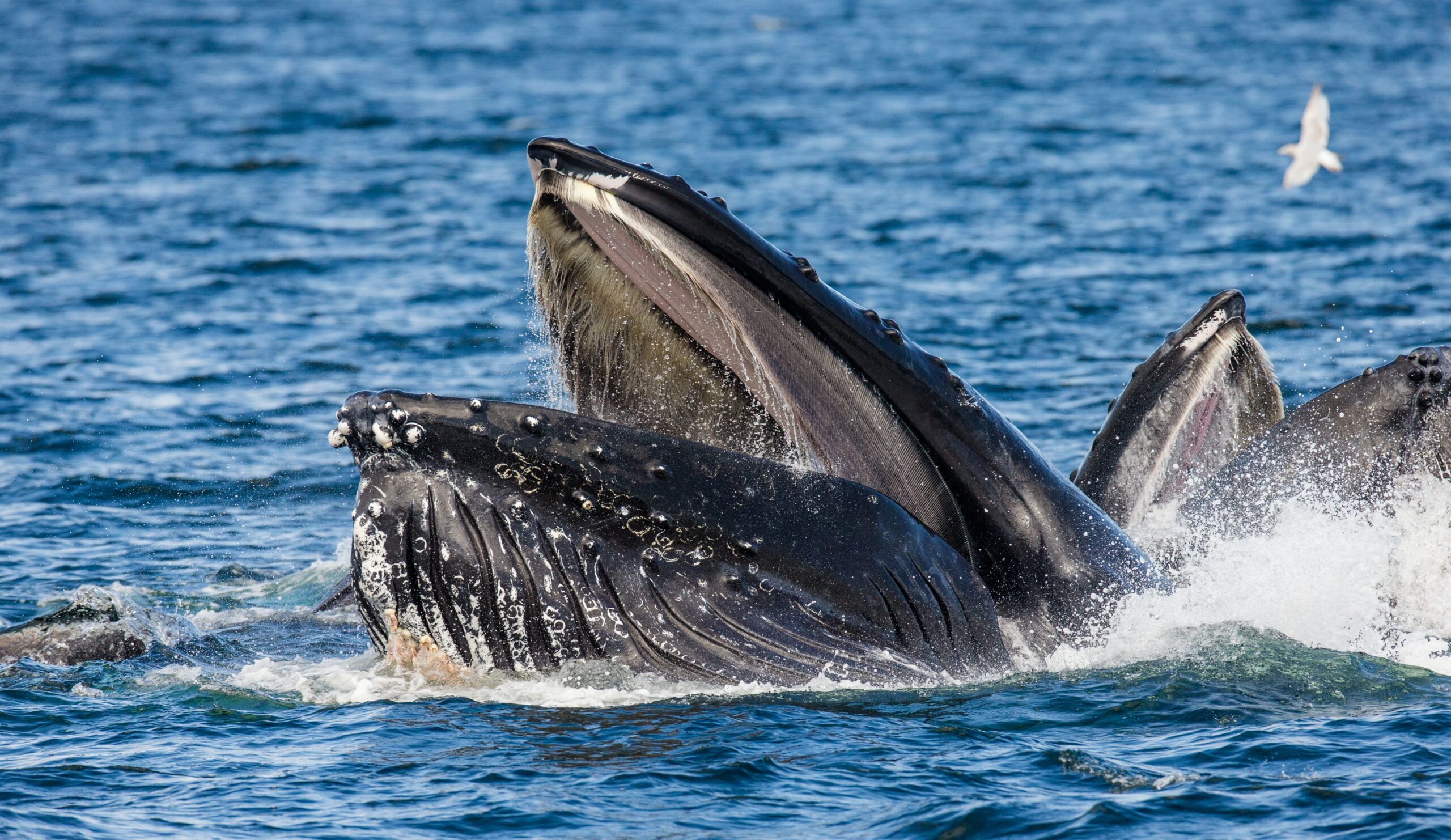 For whale and dolphin lovers, the Wild Atlantic Way has much to offer, and the Dingle Peninsula should be top of your list. Jutting into the wild Atlantic Ocean on Ireland's southwest coast, the peninsula's waters are characterized by steep drop-offs, underwater canyons, and rugged seafloors. These features create ideal conditions for upwelling, which brings nutrient-rich waters from the depths to the surface, supporting a diverse and abundant marine ecosystem.
Situated along the migration routes of several whale species, including humpback whales, fin whales, minke whales, and dolphins, the area also has a strong tradition of conservation and responsible wildlife tourism. The best time for dolphin and whale watching along the Wild Atlantic Way is during the summer months, from May to September. This period corresponds with the migration of various species, increasing your chances of sightings. However, sightings are possible year-round, depending on the species and location.
The charming town of Dingle is the gateway to this region, offering colorful streets, traditional pubs, and ancient archaeological sites. When here, make time to visit the Dingle Distillery and get a taste of Ireland's finest whiskey, gin and vodka. Founded in 2012 with a desire to contribute to the revival of Irish whiskey production, they use traditional pot stills and follow traditional whiskey-making techniques, for a taste of Ireland's past.
Explore the Dingle Peninsula on: Country Roads of Ireland.
You may also enjoy reading: The ultimate 1-week Ireland tour does exist – how Irish Elegance does it all
Towering cliffs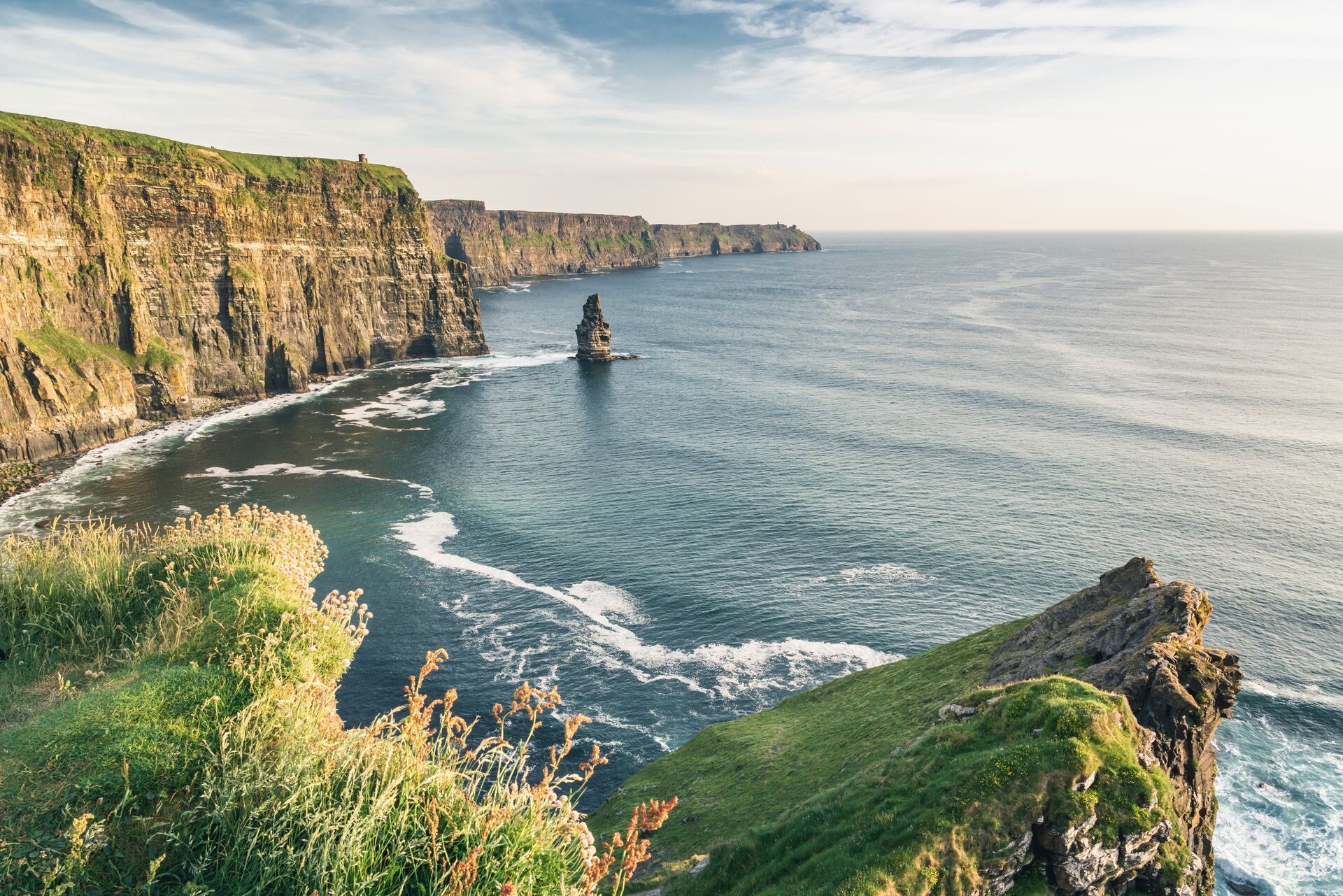 On a coastal driving route such as this it comes and no surprise that it is home to some stunning cliff sights. Most famous are the majestic Cliffs of Moher in County Clare. One of Ireland's most iconic natural landmarks and popular attractions, reaching heights of 700 feet they're quite a sight.
In 2011, the Burren and Cliffs of Moher region received recognition as a UNESCO Global Geopark, acknowledging its geological significance. Covering an area of approximately 205 square miles of terrestrial and marine environments, visitors can learn about initiatives in place to preserve and restore habitats and biodiversity.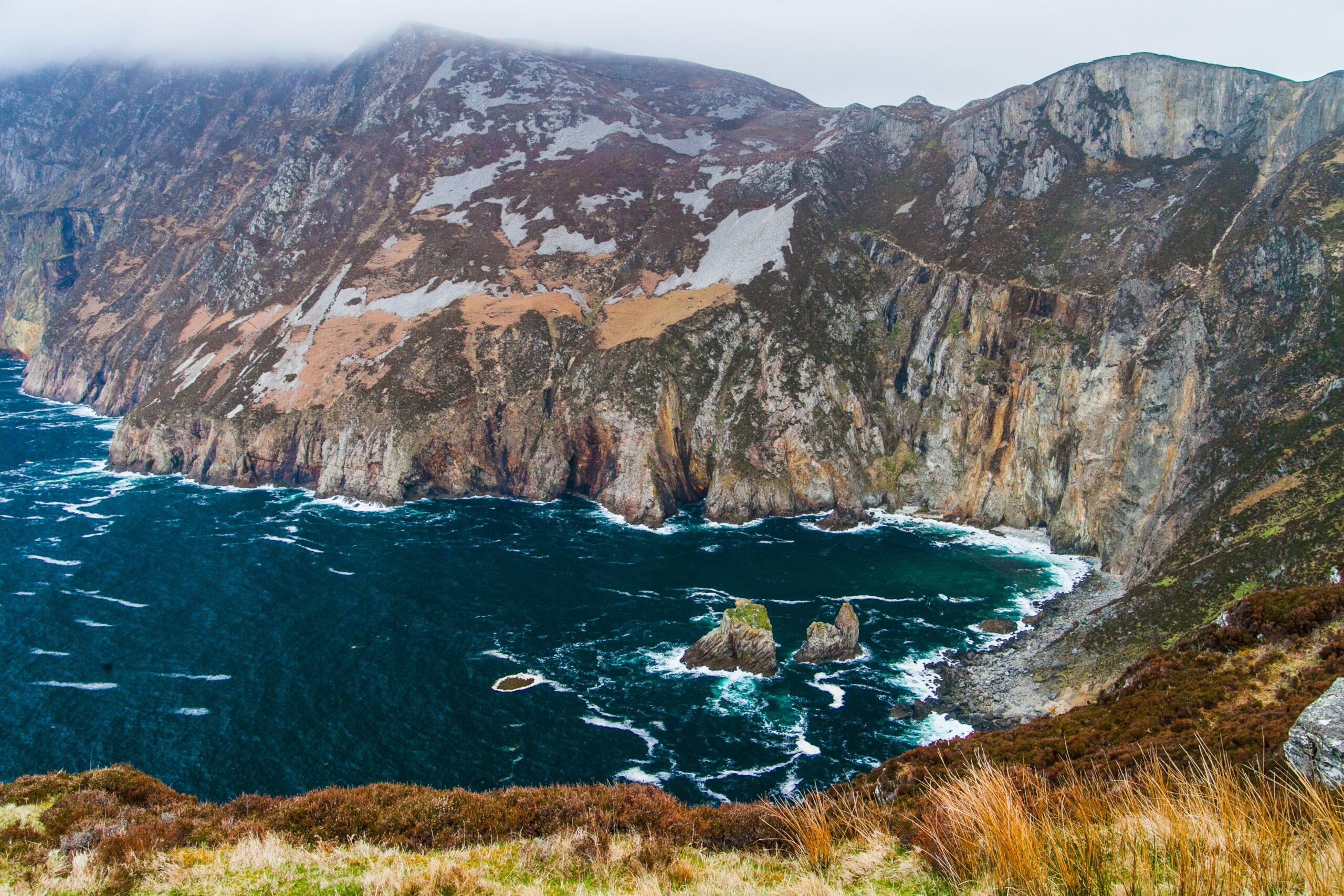 Les well known but no less impressive, the Slieve League Cliffs in County Donegal are among the highest sea cliffs in Europe, reaching a height of approximately 600 meters (1,972 feet) on the edge of the Slieve League Mountain. On a clear day, visitors can see as far as the Sligo Mountains to the south and even the Mountains of Mourne in Northern Ireland.
You can visit the Cliffs of Moher on: Undiscovered Ireland, Focus on Ireland, Irish Elegance