What scenic villages and ski lodges come to mind when you envision the Alps?
A cozy chalet in Switzerland or perhaps a steamy cappuccino on a snowy Italian hillside?
Most travelers immediately think of these two countries, but some aren't aware that the Alps are also shared by six others. Germany hosts the Bavarian Alps, while the Austrian Alps and French Alps naturally share their countries' namesakes. Liechtenstein lies in the Rhaetian Alps, Slovenia is settled in the Julian Alps and the micronation of Monaco makes a home at the base of the Maritime Alps.
And within the 115,000 square miles of the Alps you'll find some of the most beautiful villages in Europe. No matter if you're trying to get away from it all in sweet mountainside serenity or get in as much outdoor adventure as possible, you'll find the vacation you seek in one of these scenic alpine villages.
Destination inspiration: Why you should visit Switzerland in the off season
Hallstatt, Austria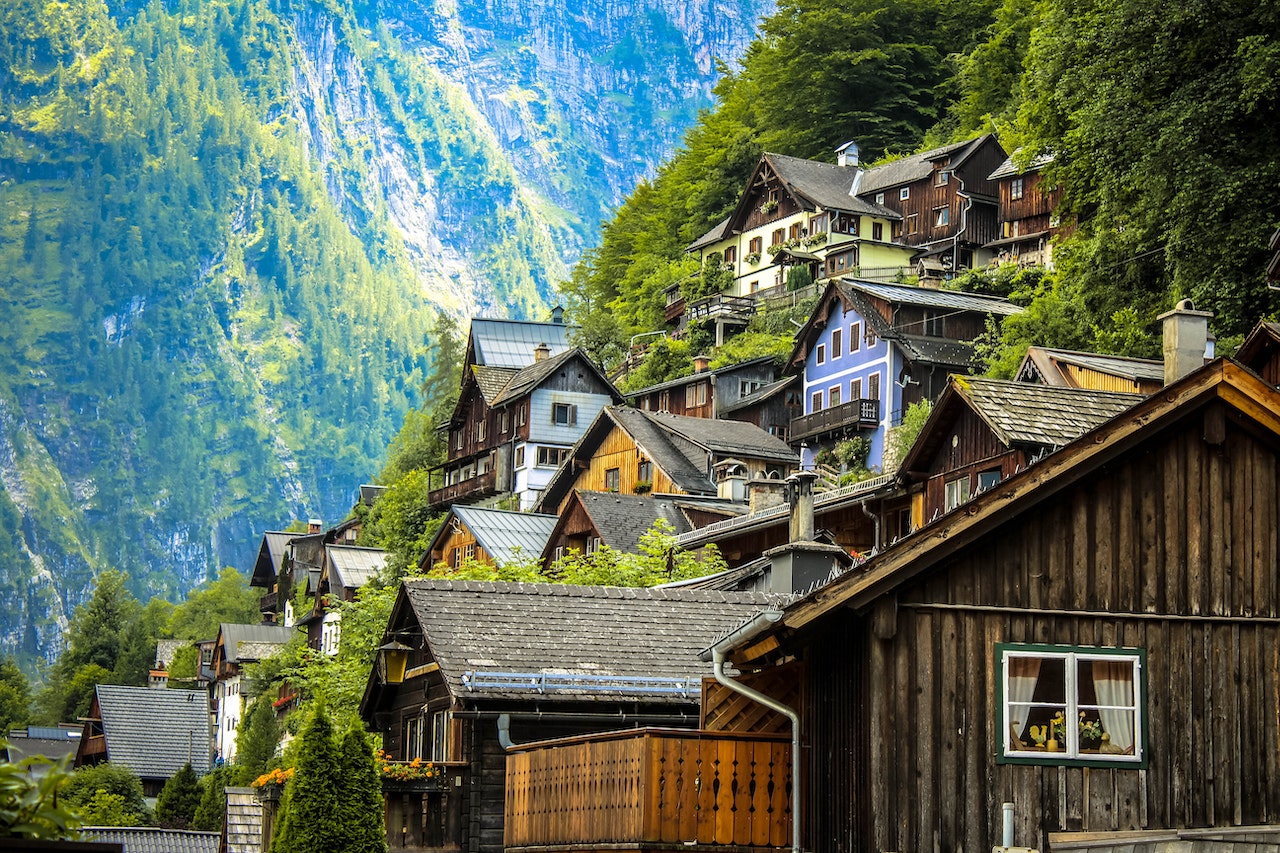 An hour's drive from Salzburg and even closer in the pages of a fairytale, you'd be forgiven for assuming that the village of Hallstatt wasn't constructed for the latest live-action Disney movie. The 16th-century pastel-colored houses filling the cobblestone streets are far from the original abodes in this part of Austria.
Hallstatt has been occupied since prehistoric times and its ancient salt mines have nabbed the Hallstatt-Dachstein/Salzkammergut Cultural Landscape a spot on the UNESCO World Heritage list. The quaint Welterbemuseum Hallstatt museum covers quite a wealth of local history, including ancient salt-mining tools and Roman-period pieces.
When the snow descends on Hallstatt and the crowds thin, you'll find a bratwurst served under bright and cheery lights at the Hallstatt Marktplatz. The main square is the site of Hallstatts annual Christmas market, a visit that's literally worth its salt.
Take our word for it: Austria's Christmas markets rival that of Germany's. We've even built a whole tour around the Christmas Markets of Austria and Bavaria; they're just so magical, we couldn't resist showing visitors the colored lights adorning Innsbruck, Munich, and the palace where Walt Disney found his finest inspiration, Neuschwanstein Castle.
Read next: An exclusive Insight interview with Johannes von Trapp
Tignes, France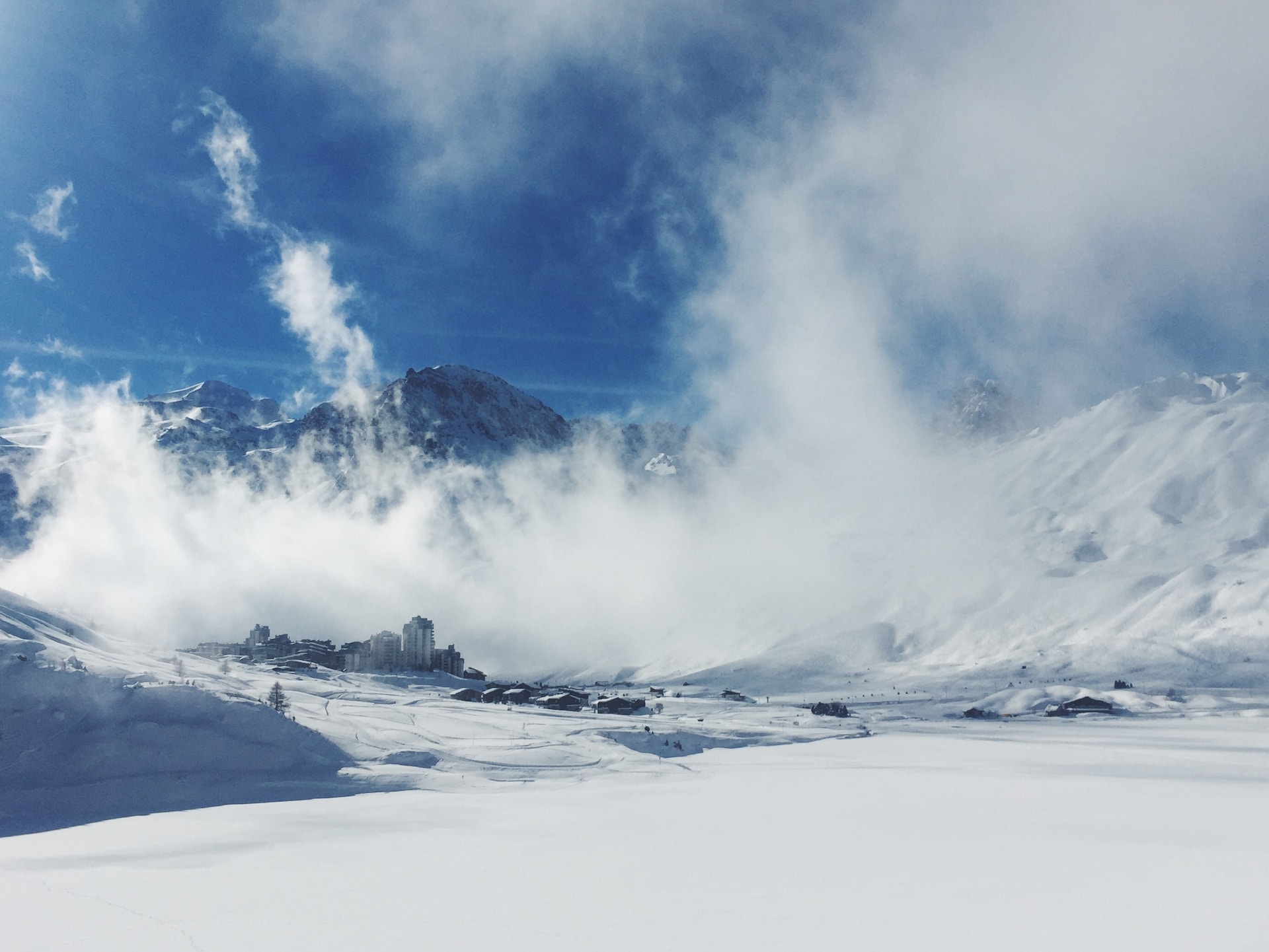 What's better than a single scenic village in the French alps? Multiple, all connected with trails and ski lifts. Tignes is a popular ski resort on the Italian border, but its relatively new villages weren't always the main attraction. In fact, Tignes old town sits at the bottom of Lac du Chevril, an unfortunate casualty of the lake's 1952 damming.
Though Tignes may lack the "traditional" vibes of a centuries-old town, its artificial villages are no less authentic and extremely accessible. Timber and stone resorts collect snow and sunshine beneath the towering mountains, encouraging you to wander wherever the trail takes you for a view into Italy's alpine territory.
If trekking through more traditional villages and cities is your desire, we've tailored a trip just for you. Spend 16 days wandering the Country Roads of France, saying adieu to Paris and visiting places like the medieval village of Saint-Paul de Vence and Annecy, known as the "Venice of the Alps".
Mittenwald, Germany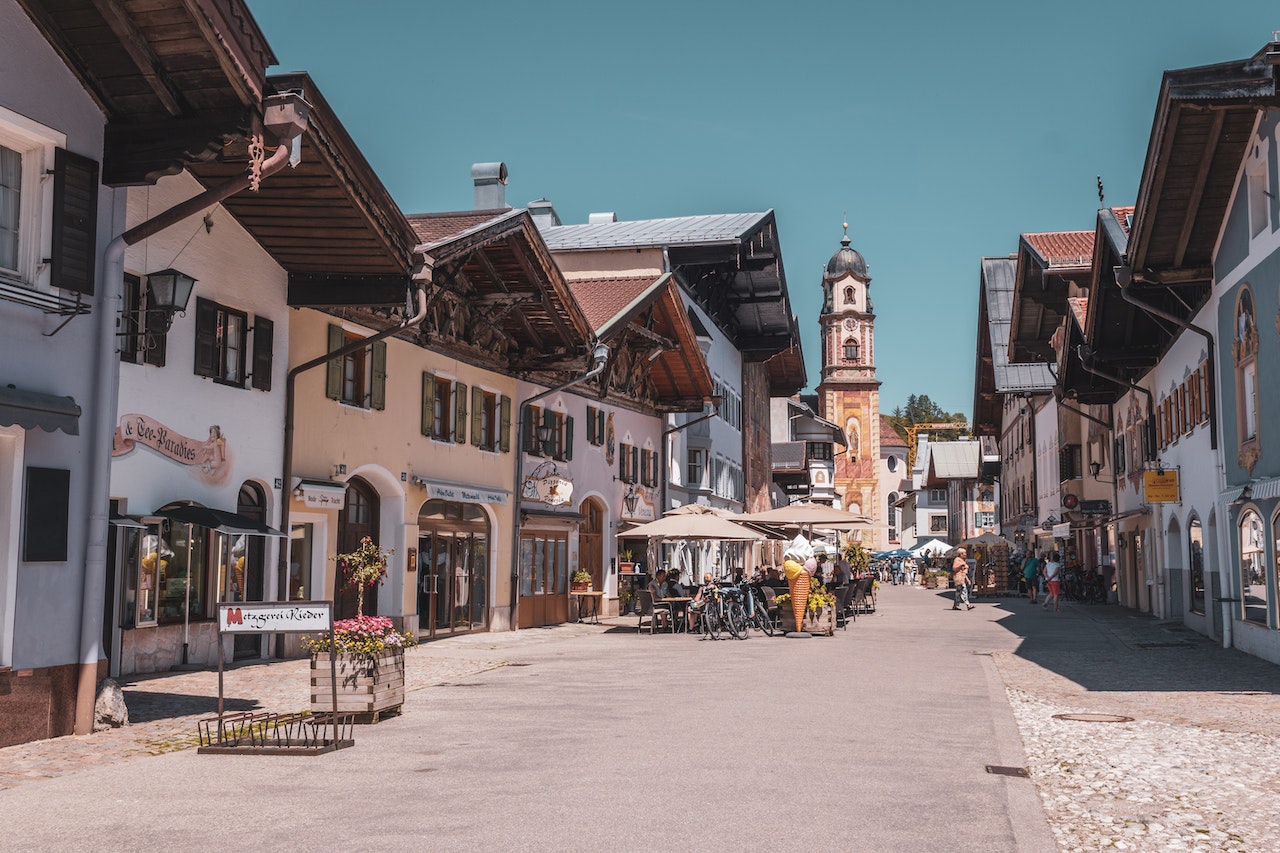 Scenic doesn't begin to describe Mittenwald, a Bavarian village so delicately designed with frescos and exceptional woodworking that even the cliched term "picturesque" finds its true definition in this humble town.
As you stroll through the Obermarkt, gazing at the carved gables and vibrant paintings that seem stolen from the world's finest museums, don't be surprised if a calm soundtrack of classic music fills your ears. The art of modern violin making was mastered in Mittenwald and many a string is plucked by amateurs, professionals, and aspiring tourists alike throughout the year.
When we think of the most beautiful villages in Europe, Germany has too many to count. Exploring the Best of Germany means seeing more than just the landmark sites in Berlin and Munich. Join this 12 day tour and you'll fall in love with the whimsy of the Black Forest and the Romantic Road.
Got time to read more? A conversation with a German artisan cuckoo clock maker
Morgex, Italy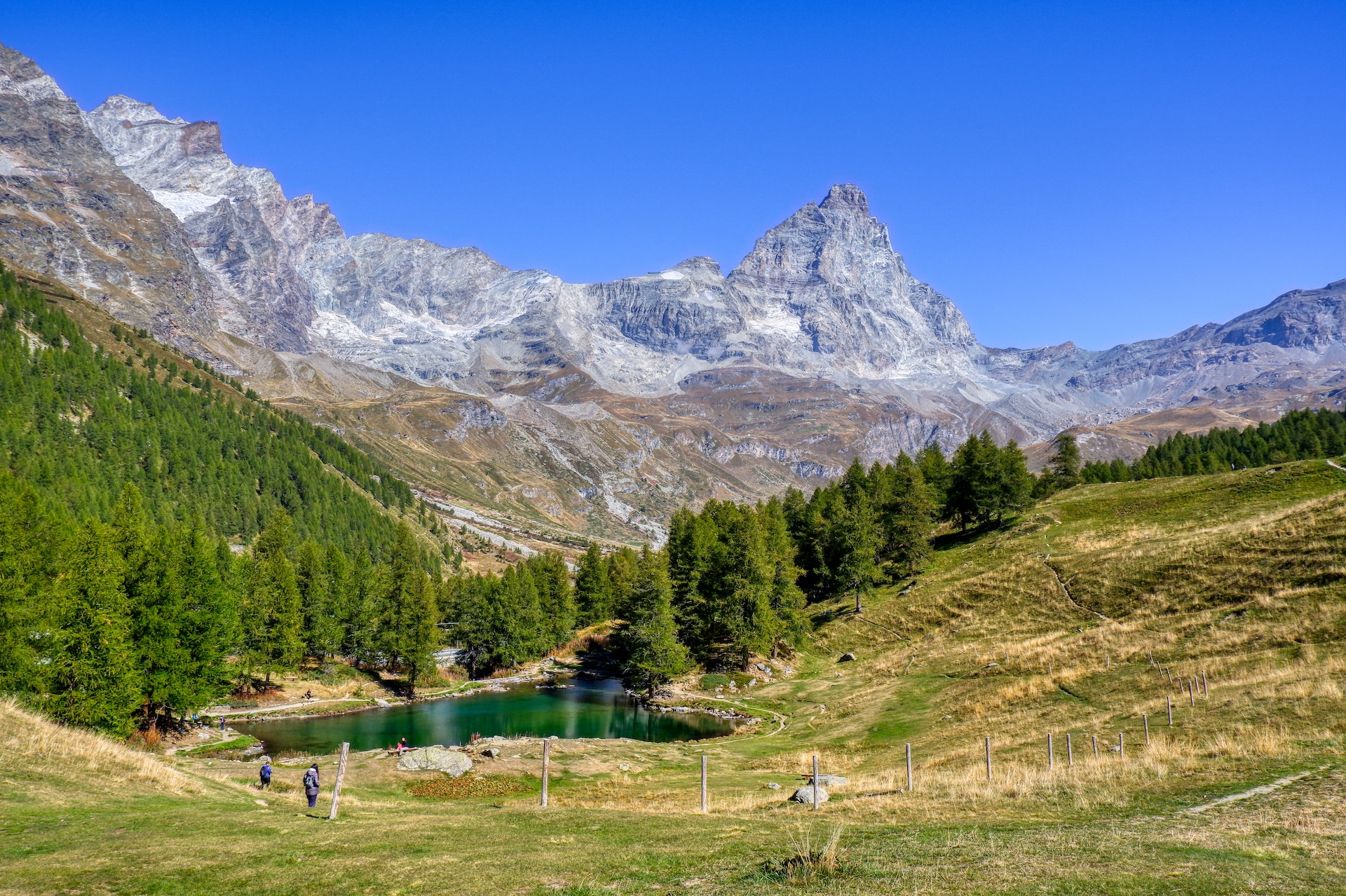 White wine with wonderful views — is there anything else needed for a relaxing Italian getaway? Not to knock the ruins of Rome or Sicily's shoreline, but Morgex showcases a side of Italy that you won't find farther down the boot. With a population of 2,000, give or take a head or two, you're almost guaranteed to have a chill, fuss-free experience in town.
The Aosta Valley is known for its high-quality white wine production, which pairs well with a comfortable seat along the Dora Baltea River. Should you ever get tired of the quiet riverside views, trails abound will lead you up into the gray and green mountains that surround you.
Just don't make an exit from Morgex until you've tasted how Café Quinson earned a place in the Michelin Guide.
Balzers, Liechtenstein
12th-century castle? Check. Rhine River views? Check. A scenic village that puts three countries at your fingertips? Triple check.
Balzers may not be the biggest name in one of the world's smallest countries, but it's no less a spectacular village that welcomes you to eat up the Alps and Rhine views. The Gutenberg Castle stands front and center in the village, keeping watch over the border with Italy .
When seen in the summer months, the faded white stone of the castle sits amongst a sea of green, the jade and sage hues only interrupted by small homes, churches, and other outcrops dotting the Liechtenstein landscape.
Monaco
Let's be real: although Monaco is technically well-within the Western Alps, its place on the French Riviera doesn't exactly scream "rugged alpine adventures". Still, it's worth more than a bit of bar trivia to know that Monaco is part of the Alps.
Consider a trip into Monaco from Nice or Menton a great (and warmer) day trip before escaping to the Italian or French Alps. Trust us: your friends and followers will stare slack-jawed at your feed when you're sunning by a yacht one day and standing atop a snowy peak the next.
Radovljica, Slovenia
If there's ever a medieval town in Slovenia worthy of a "once upon a time…", it's Radovljica. With one eye on the Karavanke Alps and the other on the Julian Alps, this is undoubtedly one of the most scenic villages in the Gorenjska region – and one of the sunniest, despite its surrounding peaks. Polygonal roofs slope through the streets, shaping Linhart Square's unique beauty no matter which angle you look at it.
And there are many ways to get a perspective on Radovljica, beyond its abundance of four-season outdoor activities.
When you're not snapping selfies on the slopes or riversides, you'll find a sweet bit of history in the center of town.
Among the lush green trees and dark moat waters is a touch of black and yellow, courtesy of Radovljica's apicultural history. Bee-keeping in Radovljica long predates even some of the oldest 16th and 17th century buildings, likely as far back as a millennia or longer. Honey-infused confections, as well as chocolates, are perfect inclusions for a high-altitude picnic in the Slovenian Alps.
Grindelwald, Switzerland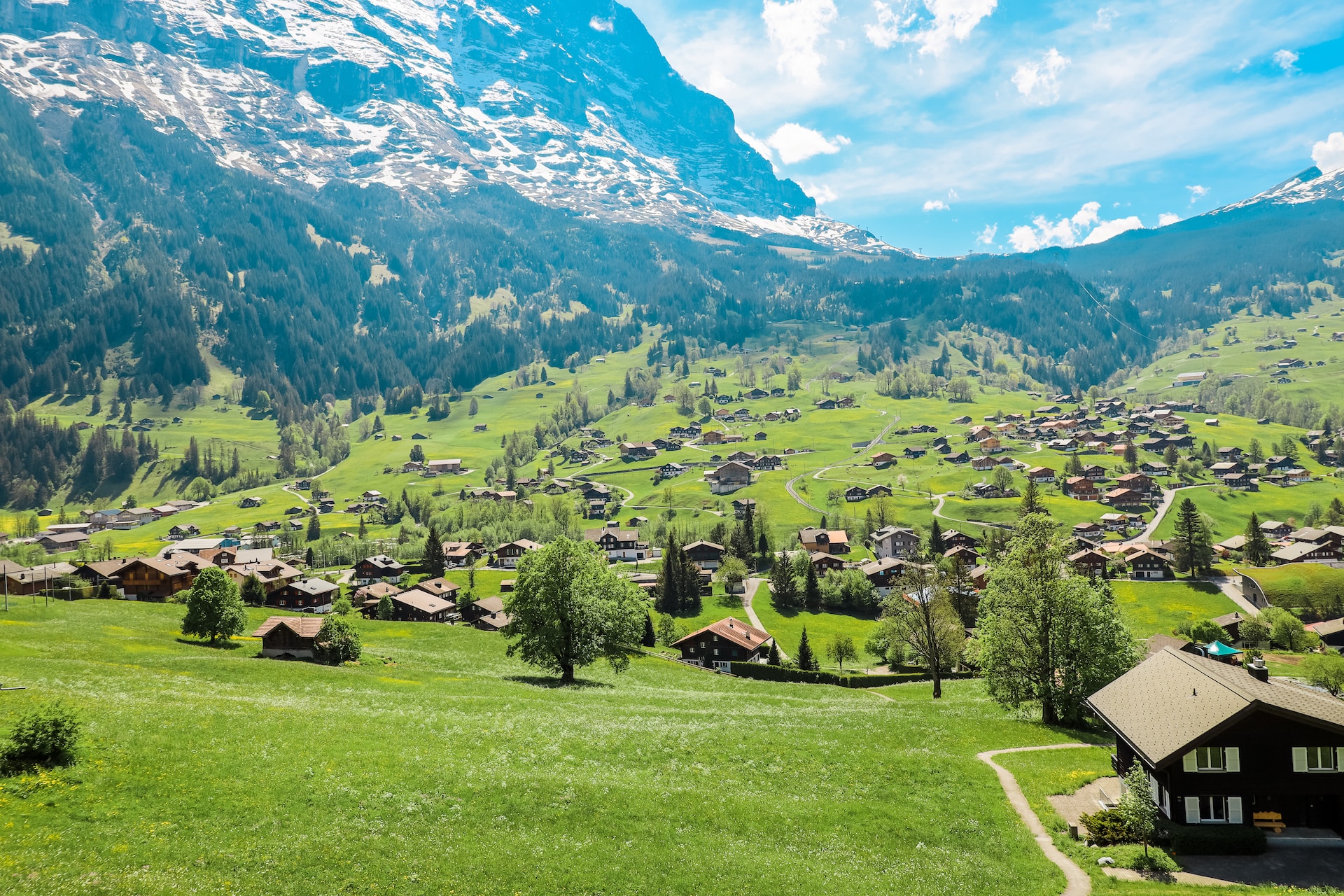 Grindelwald is one of the most scenic villages in the Alps – as quiet, friendly, and modest as its residents. The humble farms and homestays sitting under the shadow of the imposing Eiger mountain are as warm and welcoming as the infamous mountain is rigid and unforgiving.
This edge of the Bernese Alps has all of the hallmark experiences in one compact, scenic village. Summertime hiking on trails that may see happy dairy cows or the last snows of winter, depending on your route and timing. Winters spent sailing above a world of white on a cable car. Year-round opportunities to sample aged Berner Alpkäse cheese and fresh milk from the cows adjacent to your bedroom await those who seek the simplistic beauty of an authentic Swiss alpine village.
Get to know the cows of Grindelwald yourself on the Country Roads of Switzerland tour. It's an alpine good time on this two week tour that circles from Zurich to Geneva, Zermatt, St. Mortiz, and more. Ride cogwheel trains, see some of the highest peaks in the Alps, and eat all of the fondue you desire.
Read next: 7 fascinating facts about Switzerland's Glacier Express
Got a favorite spot in the Alps you're dying to revisit? Share a little destination inspiration with us in the comments!