A Mediterranean haven, Sicily's history is deeply rooted in diverse civilizations, including Greeks, Romans, Arabs, Normans and Spanish. This mosaic of influences is vividly reflected in its art, architecture, cuisine and traditions, making for an unforgettable vacation. From the archeological sites of Taormina to the bustling markets of Palermo, every corner of Sicily exudes a sense of heritage.
With warm hospitality and a strong sense of community also integral to Sicilian culture, there's no better way to experience the island than through local and personal interactions. Take a look at five ways you can experience Sicily's history and culture on Sicily in Depth, up close and personal.
Experience this on: Sicily in Depth
Discovering the history of Erice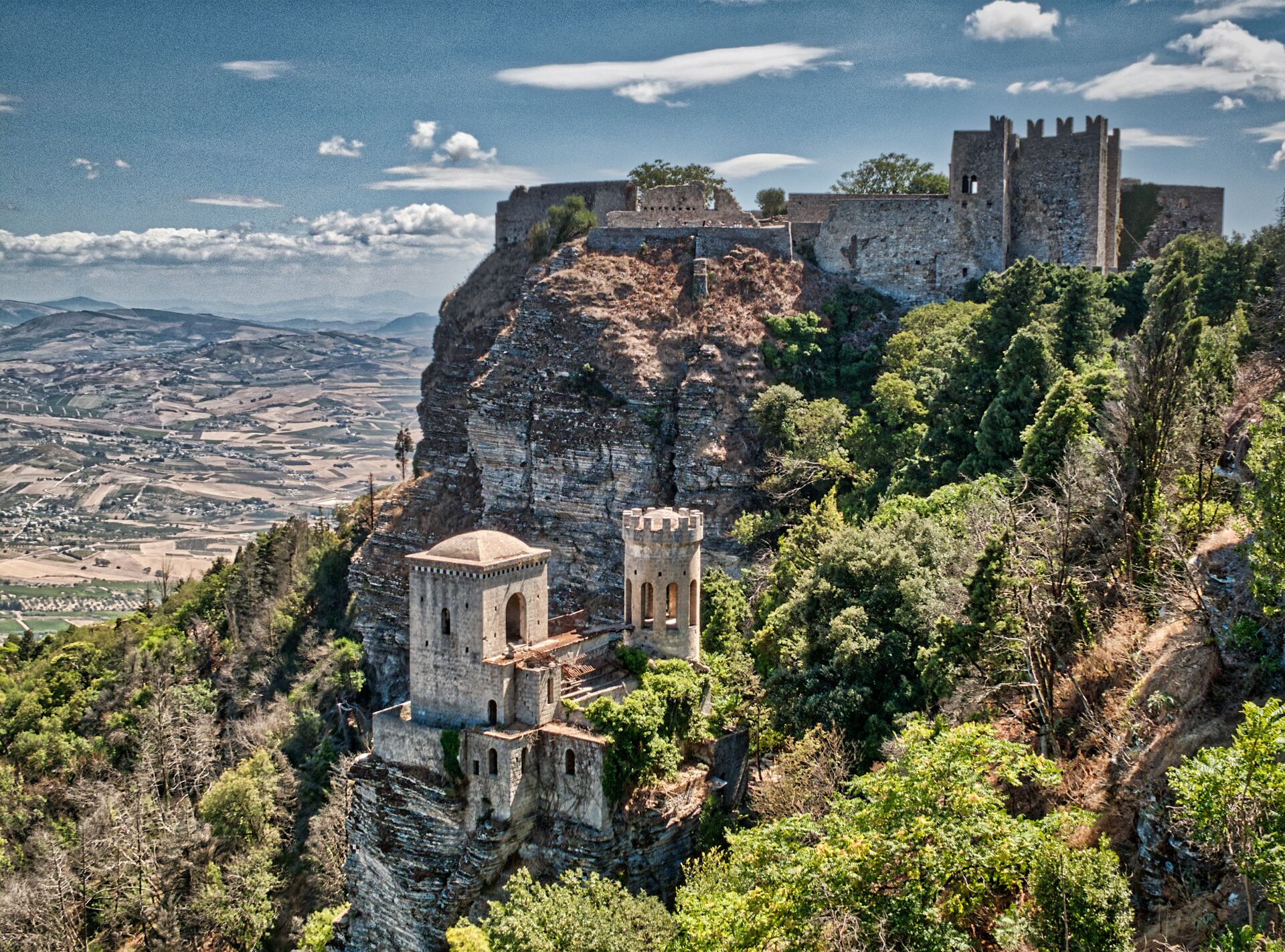 Step into the Middle Ages in the ancient walled town of Erice. Perched on a mountain in western Sicily, 751 m above sea level, you'll be swept away by the views. Meander medieval streets, ancient fortifications and churches showcasing a fusion of architectural styles.
With origins dating back to the ancient Elymian civilization (who thrived before the Greeks), Erice later became a Phoenician settlement. It was subsequently conquered by the Normans and other civilizations, coveted for its strategic location, offering breathtaking views of the surrounding landscapes and the Mediterranean Sea.
The town's connection to myths and legends, further adds to its appeal. The Castle of Venus was built on the site of the ancient temple of Venus (Aphrodite in Greek), allegedly founded by Aeneas. According to Greek mythology, it was the giant Erice who made the Temple of Aphrodite on the top of the city. Erice was the personification of the homonymous mountain (the highest of the Mountains of Trapani) and protector of the local population.
For a tasty reminder of the Arab influence on Erice and Sicily's history, when you travel to Sicily try the town's renowned pastries, particularly the marzipan sweets.
You may also enjoy reading: Blossoming romance: why May is the best time to visit Italy
Sample fine wines at Baglio Donna Franca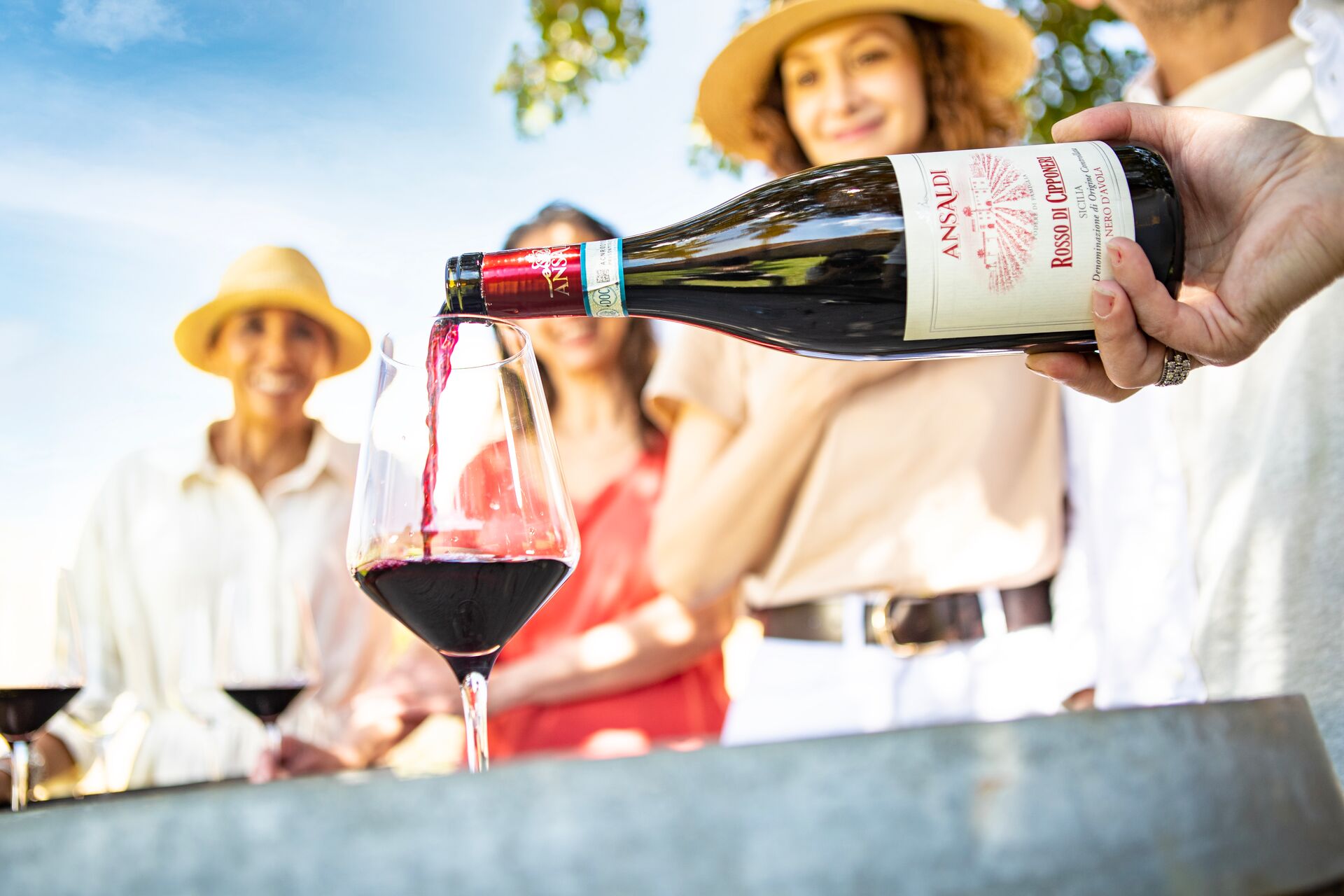 Sicily's history of winemaking dates back thousands of years. In fact, paleontological evidence has shown that three indigenous tribes of Sicily, the Sicani, the Siculi and the Elymians have been in Sicily for 10,000 years and may have been making wine for 6,000 years.
Touched by numerous outside influences, Sicilian wine has always held a reputation as some of the world's finest. The Island's strategic placement in the Mediterranean, with its ideal climate and fertile soils, makes it the ideal place for cultivation of grapes and vines.
Join a MAKE TRAVEL MATTER® Experience to taste some of the Island's finest wines at Baglio Donna Franca, in the heart of Marsala countryside. Taste exquisite vintages and rediscover traditional values. Through your visit you'll learn about the relevance of viticulture to Sicily's history, about organic farming and native vines, and discover why wine is so integral to Sicily's culture.
An organic farm that believes in the 'zero kilometer' philosophy, the estate champions sustainable farming practices. This includes the cultivation of rare ancient grains, the use of water management systems to reduce waste and obtaining raw materials from local markets.
You might be interested to read: MAKE TRAVEL MATTER®: Why developing meaningful travel experiences has never been more important
Visit Palermo's Vucciria market with a Local Expert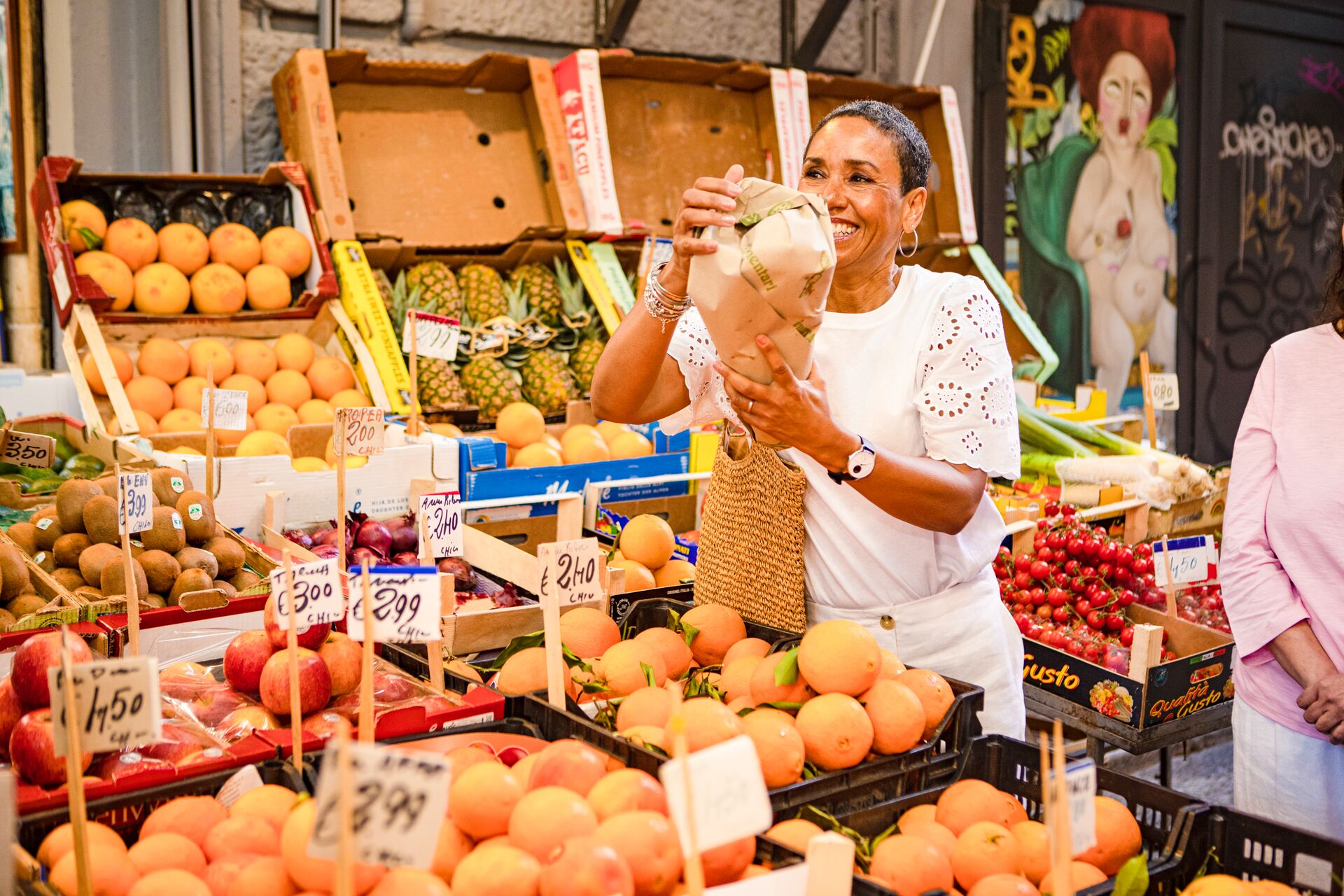 There's no better way to experience local life than a visit to Palermo's vibrant Vucciria market. And no better way to discover and delight in local produce than with a Local Expert as your guide. Pulsating with energy during both daytime and the bustling evenings, despite modernization Vucciria remains a testament to the city's enduring traditions.
A kaleidoscope of colors, aromas and sounds, this bustling market is a staple of Sicily's history. It has long been a hub of trade, commerce and local life and an essential part of Sicily's culture. With origins dating back to the 16th century, the name Vucciria comes from the French word boucherie, referring to the butcher stalls that once dominated the area.
Navigating through its narrow alleyways you'll discover a tantalizing array of Sicilian gastronomic treasures. Feast your eyes and taste buds on fresh seafood, local cheeses, cured meats and aromatic spices, as well as an array of local crafts, textiles and trinkets.
You may also enjoy: What's so special about Sicilian cuisine? Everything, says Travel Director Mark
Farm to table dining at Castello di San Marco in Taormina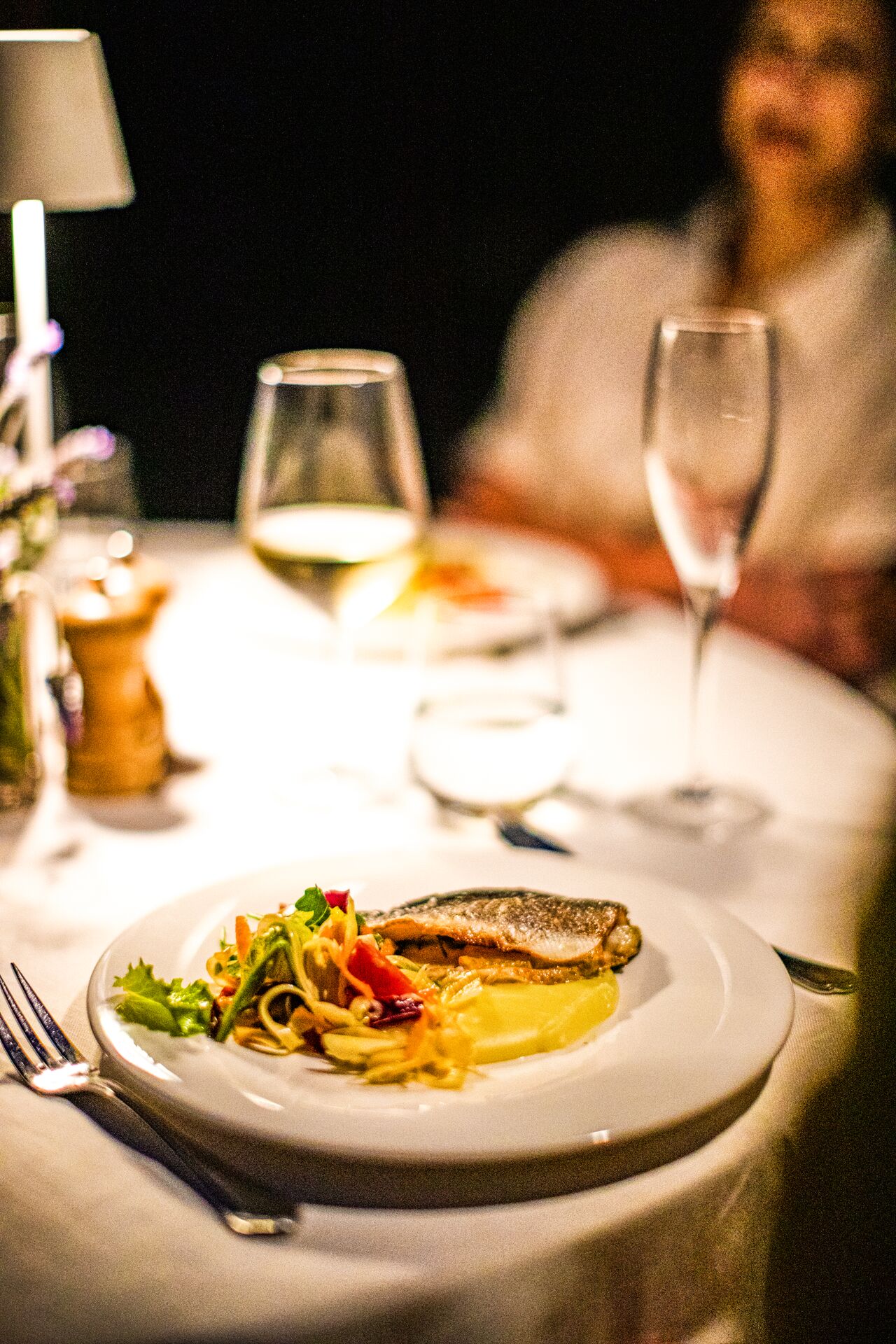 Experience traditional Sicilian fare and exquisite Italian wines at the Castello San Marco restaurant on the Taomorina riviera. Located in a princely 17th century Baroque castle, the restaurant is surrounded by beautiful gardens that grow much of the fruit and herbs used in the cuisine.
On arrival you will be greeted by the Maître who will make a short introduction to the meal, explaining the provenance of the ingredients. The chef uses only Sicilian ingredients, many of them coming direct from the rich fertile soils produced by Mount Etna. Fresh fish and seafood come directly from the Mediterranean coast, literally on the doorstep of the castle. Enjoy dishes such as citrus flavored Sicilian Pork meatballs covered with lemon tree leaves, and pasta with chard and aged Sicilian cheese.
To top off your Celebration dinner, their wine bar, Il Palmento 1892, features one of the most impressive and best-preserved wine presses of eastern Sicily. Steeped in history, enjoy a superior selection of international spirits, Italian grappa, dessert wines, and the most representative wines of Sicily and Italy.
You may also like to read: Farm to Table, and beyond: how dining with Insight does a world of good
Stand in the seat of Sicilian Parliament at Palazzo Corvaja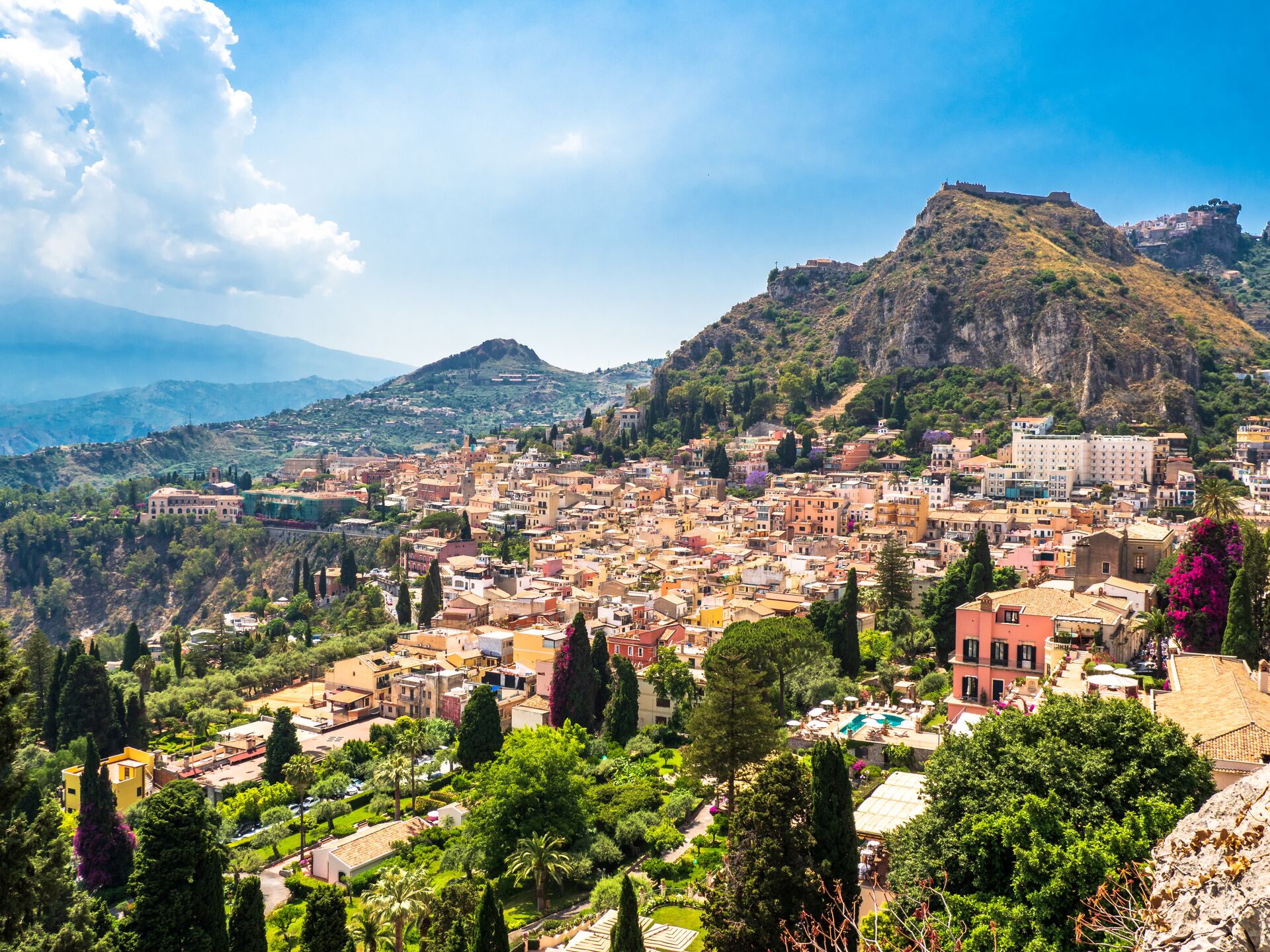 Palazzo Corvaja is not only notable for its architectural features but also for its historical and cultural significance. Originally built in the 10th century by the Arabs who then ruled Taormina, having conquered the town in 902, it has been used for various purposes throughout its history.
Arguably its most famous function was as the seat of the Sicilian Parliament in 1411, a key moment in Sicily's history. It was here, in the presence of Queen Blanche I of Navarre that a historic meeting took place, to decide the election of the King of Sicily after the death of Martin II.
Named after the Corvaja family, one of the oldest and most noble families in Taormina, the Palazzo Corvaja is also known as Parliament House or the Palace of Queen Bianca of Navarra. Adorned with magnificent, sculpted panels of Siracusa stone and a room full of fine frescos, the structure consists of different levels and wings, each added during different historical periods. Its architecture includes elements of Norman, Arab, and Gothic styles, showcasing the diverse cultural influences of the region.
Today, Palazzo Corvaja houses the Museum of Popular Arts and Traditions. Founded in 1997 it provides insights into the traditions of Sicily's culture, its crafts and daily life of Sicilian communities. The museum's exhibits include folk art, costumes, tools, and artifacts that offer a glimpse into the cultural heritage of the region, a must see when you travel to Sicily.
You may also like to read: Fascinating Sicilian history to discover in the ancient town of Taormina
To explore Sicily's history and enjoy these experiences for yourself take a look at Sicily in Depth. Combined with magnificent hotels and delicious dining, it's a stylish getaway any time of year.